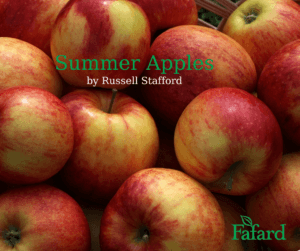 Some apple varieties offer a foretaste of fall by ripening their fruits in summer. The following outstanding early apples are ready for eating in late July or August in most areas of the Northeast and Midwest. Several of them (including Ginger Gold, Jersey Mac, and Paula Red) are commonly available at orchards and farm stands. Others you will probably have to grow yourself. You'll need at least two varieties for cross pollination and fruit set (most apples are not self-fruitful)
Dwarf (8- to 12-feet tall) and semi-dwarf (12 to 16 feet) apple trees make the best fit for most yards, as opposed to a 20-foot-plus full-sizer. Apple trees of whatever variety or size thrive in full sun and deep, well-drained, humus-rich soil (apply a half-inch mulch of Fafard Organic Compost in spring to make your trees extra-happy). Most varieties also need several hundred hours of sub-45-degree temperatures to produce a good crop.
Akane
Bright red, medium-sized apples with tart-sweet, firm, juicy flesh ripen in late August or so. This circa 1950 Japanese hybrid is as good for cooking as it is for eating out of hand. Trees grow vigorously and bear heavily and precociously.
Early McIntosh
Two classic heirloom apples – Yellow Transparent and McIntosh – teamed to produce this aptly named hybrid. The sweet, slightly tart, crispy, white-fleshed fruit is close to that of its namesake, but ripens several weeks earlier. Early McIntosh tends to be a biennial cropper, bearing abundant fruit every other year.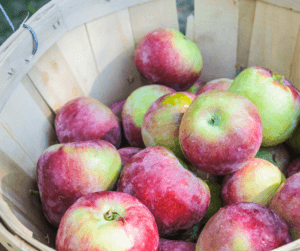 Ginger Gold
This chance seedling of Golden Delicious possesses a zestier, spicier flavor than its parent, as well as a much earlier ripening season. The medium to large, yellow-skinned, juicy, white-fleshed fruits hold for several weeks in storage, in contrast to most early apples. If you grow your own, expect to harvest your first apples within 3 years of planting.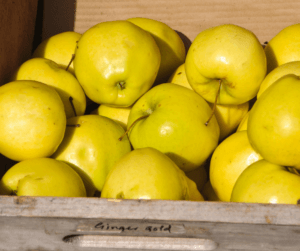 Jersey Mac
Although McIntosh is not in the lineage of this Rutgers Agricultural Station introduction, its dark red skin and sweet-tart, juicy, greenish-white flesh give a good impression of its famous namesake. An excellent multi-purpose variety, it's great for eating, cooking, or pressing into cider. It produces a reliable annual harvest, with fruits ripening over several weeks from August to September.
Paula Red
Sometimes referred to as Early Mac (not to be confused with Early McIntosh), this chance seedling from Michigan produces medium-sized, solid-red apples that ripen over several weeks. Sweet with a bit of tartness, it makes an excellent eating, cooking, or cider apple. Thin fruits in late spring and early summer to encourage annual cropping.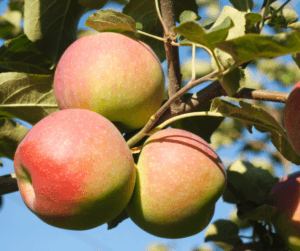 Pristine
Researchers at Purdue University made several crosses between apples and crabapples in the 1970s, resulting in several outstanding new early-bearing varieties. Pristine is prized for its zesty, medium-sized, pale yellowish green fruits that are ready for eating as early as late July. Spicy and tart when freshly harvested, the crispy, juicy fruits sweeten with age. Thin fruits to prevent overly heavy bi-yearly cropping.
Red Astrachan
An eighteenth century heirloom variety from Russia, Red Astrachan is still one of the earliest and best summer apples. The medium-sized, soft-fleshed fruits begin to ripen bright red in July, continuing over several weeks. White and reddish-stained inside, with a piquant, tart flavor, they are good for cooking when slightly under ripe, and for eating or cider when mature. Bi-yearly crops are the norm.
Sunrise
A Canadian hybrid involving Golden Delicious and McIntosh, Sunrise inherited its oblong shape, yellow-green undertones, and hints of strawberry-like sweetness from the former, and its bright red marbling and refreshing tartness from the latter. The fruits do not keep well and are best kept in the fridge. An excellent variety for home-growers, it produces reliably from an early age.
William's Pride
Like Pristine, 'William's Pride' is a disease-resistant, flavorful early eating apple bred at Purdue University from an apple/crabapple cross. Heavily streaked with dark red against a green background, the medium to large apples are crisp and spicy-sweet, with a bit of tartness. They are prolifically borne on vigorous trees that tend to crop in alternate years. Not the best keeper, William's Pride is best for home orchards.
Zestar!
The University of Minnesota bred and selected this recent introduction for its cold-hardiness, early ripening, and (of course) flavor. Sweet-tart with sugary undertones, the red- and green-skinned apples have crispy white sweet-tart flesh with sugary undertones. They store well for several weeks.
About Russell Stafford
---