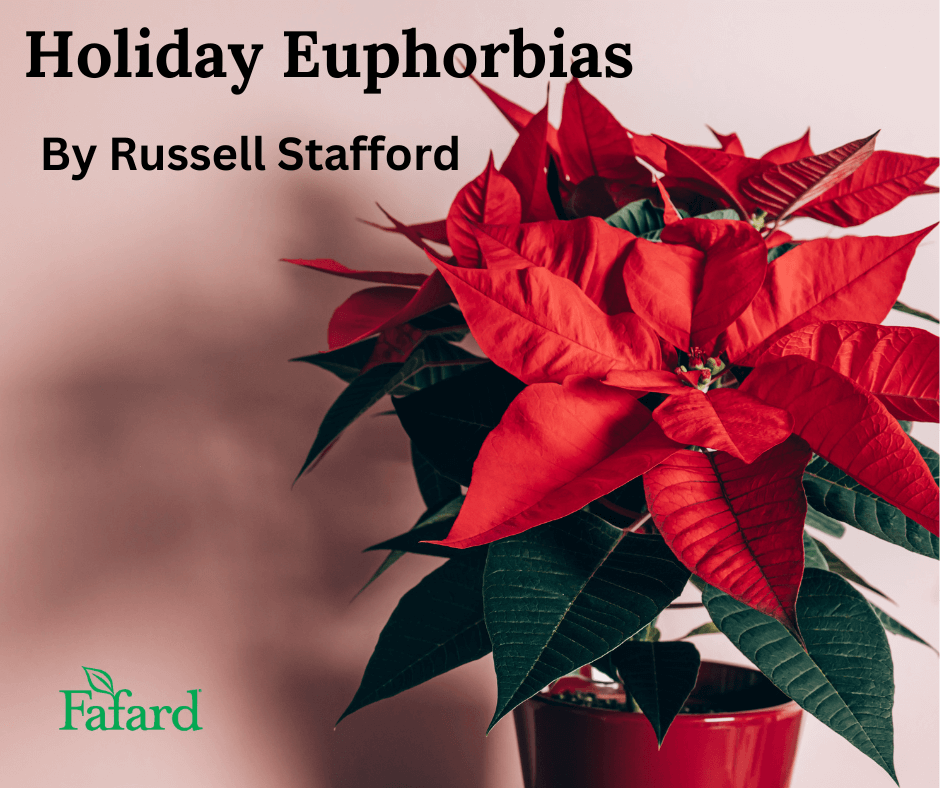 The often spiny, often tropical genus Euphorbia has given us two of our most familiar holiday houseplants.
Although it's spineless, the ubiquitous holiday centerpiece commonly known as poinsettia is, in fact, a Euphorbia, botanically speaking. The name Poinsettia was retired many years ago, when taxonomists moved the entire genus to its present nomenclatural location. (As an interesting side note, several species in the former genus Poinsettia are native to rather chilly regions of North America, including parts of the United States.)
But the common name poinsettia lives on.  It commemorates one Joel Poinsett, a Carolinian aristocrat of the early eighteenth century. Myth has it that Poinsett introduced the species to the U.S. from its native Mexico while he was envoy there.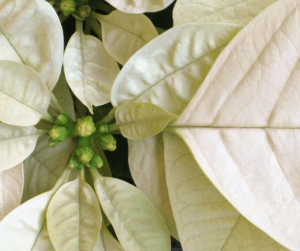 Under whatever name, Euphorbia pulcherrima received little horticulture notice for the first 100 years after its introduction to cultivation in the late 1820s. It was too scraggly and lanky (not to mention cold-tender) for most gardens, and as a cut flower it was too short-lived.
Its potential as a holiday plant was considerable, however. Euphorbia pulcherrima naturally blooms around the turn of the year, and the blossoms (which are actually leaf-like bracts surrounding a small cluster of yellow flowers) can be quite showy. All the species needed was a bit of tweaking to accentuate its showiness and reduce its ranginess.
Enter Paul Ecke, his son, Paul Ecke, Jr., and the rest of the Ecke tribe. At their ranch in Encinitas, California, they developed an exclusive technique for propagating compact Euphorbia pulcherrima plants that bear full heads of bloom and fit easily on a table. The family also had a knack for marketing. By the 1960s, they had successfully established poinsettias as THE Christmas flower, and had captured the bulk of the poinsettia trade, grown at their Encinitas ranch. Many varieties of poinsettia are still developed at Ecke Ranch, although the plants are grown for market elsewhere.
Poinsettia varieties now number in the hundreds, in hues of pink to red to white to yellow, sometimes in combination. Dwarf varieties are also available.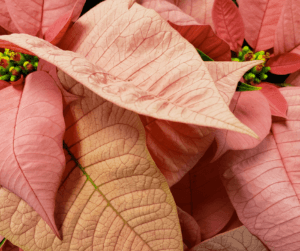 It's easy to keep poinsettias going after they've reached your holiday table. Bright indirect light, warmth (55F minimum), and moderate humidity are all to their liking. Water only when the soil surface is dry and the pot is appreciably lighter due to drying.
Instead of discarding your poinsettias after the holidays, you can keep them growing until next winter, and beyond. Repot rootbound plants in spring, using a somewhat coarse potting soil such as Fafard® Professional Potting Mix. If desired, shear them to a few inches in spring and pinch their shoots in summer to promote relatively compact bushy growth. Plants can be moved to a brightly shaded position outside after the last-frost date.
Poinsettias require long nights to flower. Bring them inside and give them at least 14 hours of darkness per day starting in early fall. With luck, you'll have a free display of blooms for holiday season 2022/23!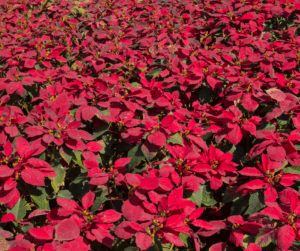 A second – and characteristically prickly – holiday icon from the genus Euphorbia is crown of thorns, Euphorbia milii. Inflorescences comprising paired red-orange lip-shaped bracts cluster toward the tips of this spiny, sparsely branching, 2- to 3-foot shrub. Plants that receive ample light flower almost continuously. Spoon-shaped leaves are spaced along the branches, with plants becoming bare toward their base with age.
Numerous selections and hybrids of Euphorbia milii with larger flower bracts in a wide range of colors are available from specialty growers. Arguably the splashiest of these are the so-called "Thai Giant" cultivars that originated in Southeast Asia horticultural circles late last century (including the self-descriptive 'Pink Charm' and 'Red Hot'). These plants have quarter-sized flower bracts that resemble a large-flowered begonia rather than a typical crown of thorns. Among the other variations on the crown of thorns theme are dwarf and variegated cultivars. All prefer lots of light and infrequent watering (water only when the soil mix is dry).