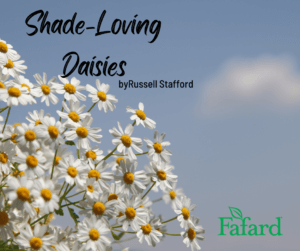 The cheerful blooms of members of the daisy family (known botanically as the Asteraceae) assume starring roles in perennial and wildflower borders as fall approaches – and arrives. Sun-loving Asteraceae – including New England asters, hardy chrysanthemums, and showy coneflowers – are long-time fall garden favorites (with pollinators such as bumblebees and butterflies also expressing their approval). Less well-known to gardeners, however, are the many fall-blooming Asteraceae that favor shade rather than sun. If you're looking to establish a wildflower planting or informal perennial border in shade, the following members of the daisy tribe should rank high on your list of possible candidates.
White snakeroot (Ageratina altissima)
Chances are that this durable and adaptable eastern/central U.S. native is already in your neighborhood as a "volunteer". Fleecy clusters of white flowers top its 3-foot stems in late summer and fall, often resulting in spontaneous seedlings. If it does pop up in your garden, consider leaving it rather than editing it out. It fits well in naturalistic borders, attracting pollinators in the process. White snakeroot is best known in the form of the cultivar 'Chocolate', named for the dark hue of its leaves.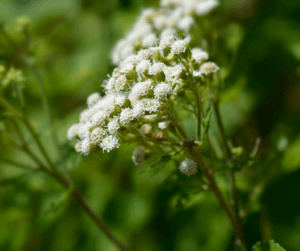 White wood aster (Eurybia divaricata)
A surprising number of ornamental species in what was formerly the genus Aster make their homes in shade. Arguably the most familiar of the lot, white wood aster carries swarms of diminutive white daisies, on branching stalks that typically reach 30 inches or so. The variety 'Eastern Star' features a more compact habit (18 to 24 inches) and black-purple stems. Native to woodlands of eastern North America, white wood aster does well in a wide range of habitats.
Bigleaf aster (Eurybia macrophylla)
Even before its sprays of pale blue flowers open in late summer, this eastern U.S. native provides ornamental value with its clump-forming rosettes of bold broad leaves, which contrast splendidly with finer-leaved shade plants such as sedges and ferns. The hybrid between bigleaf aster and the rhizomatous Eurybia spectabilis (known as Eurybia x herveyi) makes an effective ground cover for sun and shade, spreading into large 2-foot-tall colonies topped with lavender-blue flowers. It's best known in the form of cultivar 'Twilight'. Eurybia spectablis is also an effective ornamental plant on its own, especially where it has room to ramble. All of the above are not fussy as to soil.
Short's aster (Symphyotrichum shortii)
Named for a botanist and not for its stature, Short's aster deploys a profusion of relatively large pale blue flowers on 3-foot-tall clumps during the usual asterian late-summer-to-fall blooming season. Perhaps the showiest of the woodland asters, it's excellent juxtaposed with pink-flowered Anemone tomentosa 'Robustissima'. It's an excellent candidate for wildflower borders within its Midwest to Southeast range, where it naturally occurs in dry habitats.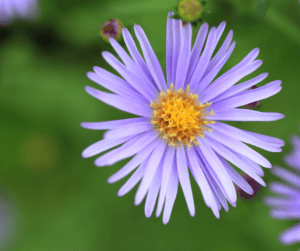 Wreath goldenrod (Soldiago caesia)
Closely related to the asters, goldenrods form one of the largest groups of Asteraceae. Several – including Solidago caesia – are woodland plants, echoing the yellows of sun-loving daisy family members such as sunflowers and coreopsis. Native throughout much of eastern and central North America, wreath goldenrod features arching, blue-washed, sparsely leaved stems that branch into flaring clusters of sunny flowers which begin opening in August. A clumper rather than a "runner", it tends to stay below 2 feet tall because of its arching habit.
Zigzag goldenrod (Solidago flexicaulis)
The leafy, spreading habit of this native of eastern and central North America differs markedly from that of wreath goldenrod. It's thus perhaps best used in ground-covering masses, rather than as individual plants. Tufts of bright yellow flowers occur along the stems, showing effectively against the broad dark-green leaves.  Like Solidago caesia, it blooms for many weeks beginning in late summer, and prospers in good, not overly dry soil – but it also accepts much less. Both would be more than happy with an application of Fafard Organic Compost.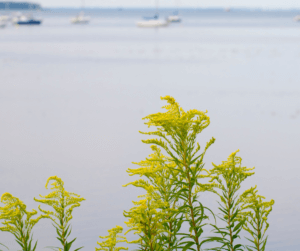 Silverrod (Solidago bicolor)
Upright wands of small, white, yellow-dotted flowers continue from midsummer into fall on this earliest and whitest of Eastern U.S. goldenrods. It's a charming novelty that will do well in just about any partly shaded to sunny garden niche.
About Russell Stafford
---