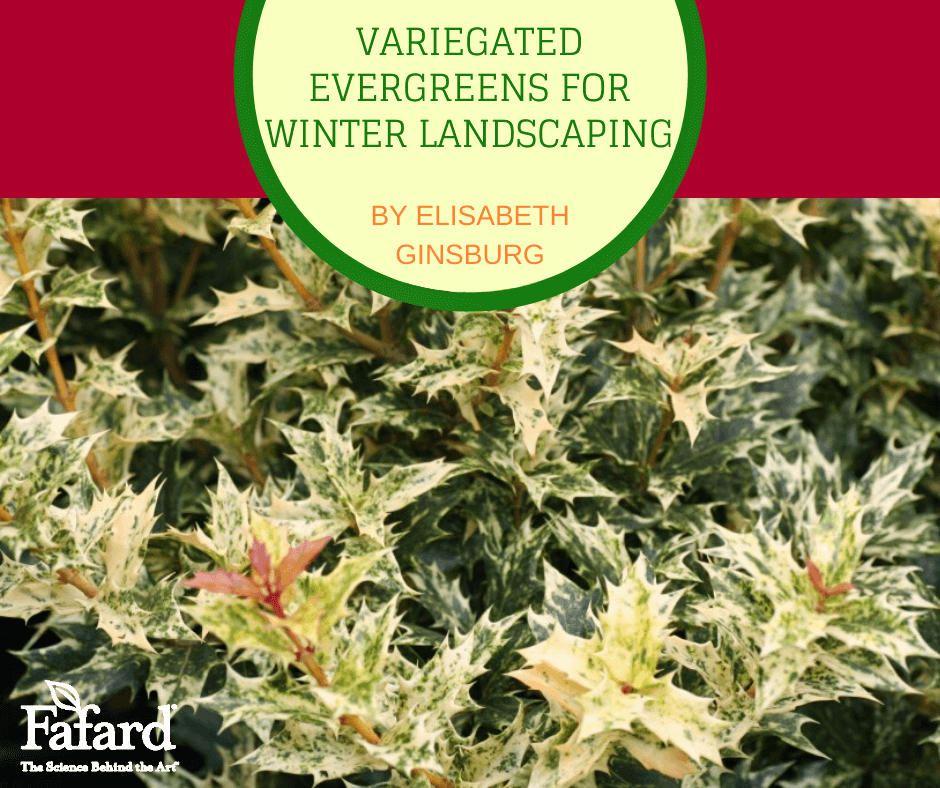 Daylight starts its annual return with the Winter Solstice, but cold gray days continue well into the New Year. Gardens, shorn of flowers and deciduous leaves, are stark. In winter, evergreens make all the difference. And variegated varieties, their leaves edged, striped or splashed in contrasting tones, add zest and color to the landscape. With choice specimens available in many sizes and shapes, the only constant is variety.
Variegated Holly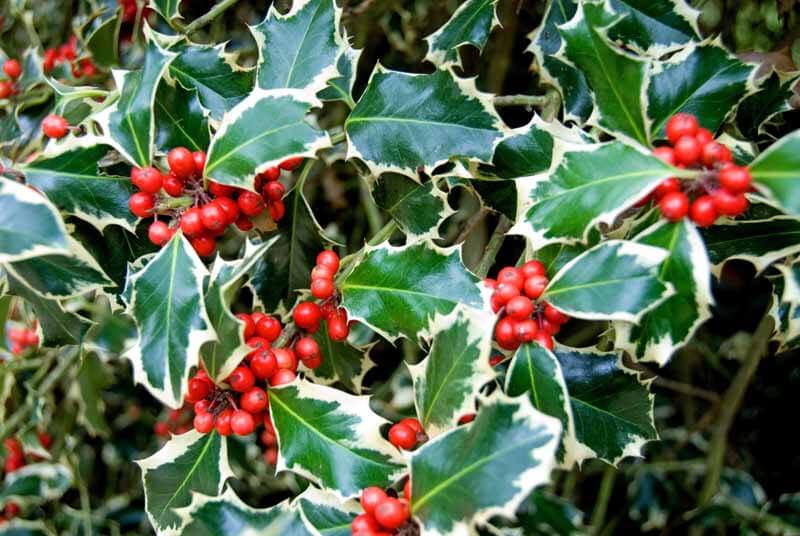 English holly (Ilex aquifolia), brightens landscapes and winter arrangements with glossy green leaves and vibrant red berries on female plants. Variegated varieties include 'Argenteomarginata', with white leaf edges and 'Aureomarginata', featuring yellow borders. Both can be grown as large shrubs or small trees, reaching up to 20 feet tall and 12 feet wide, with a pyramidal habit. Variegated English holly thrives in full sun to light shade. Nearby male varieties provide necessary pollination for female plants.
'Golden King' is one such male. It is an English holly hybrid (Ilex x altaclerensis) that features slightly more rounded leaves than its parent and golden variegation on the leaf edges. Developed at England's Highclere Castle, home to TV's "Downton Abbey", it grows up to 24 feet tall and 12 feet wide.
Variegated Winter Daphne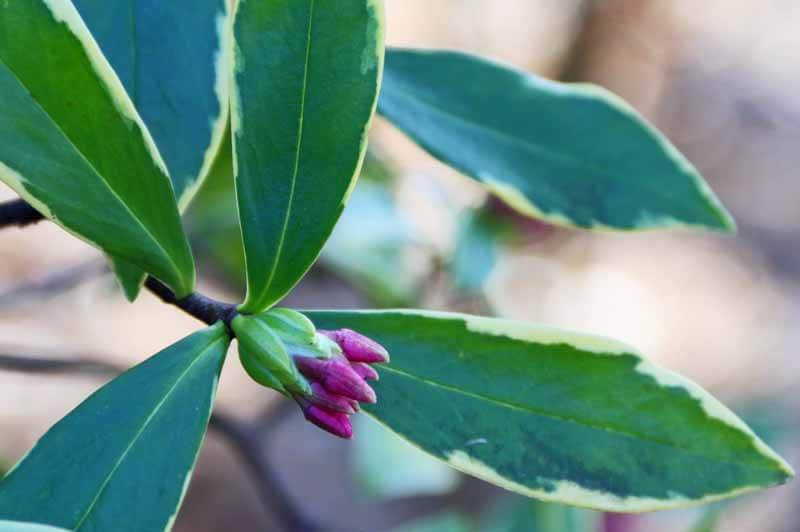 Winter or fragrant daphne (Daphne odora) is aptly named. The fragrant flowers appear very early—in late winter or early spring. With leathery leaves and a mounding habit, shade-tolerant winter daphne makes a good hedging or specimen plant, especially in alkaline soil. Tempting variegated varieties include 'Aureomarginata', with yellow leaf margins, 'Rubra Variegata', featuring rosy-pink flowers and white-edged foliage, and 'Variegata' with soft pink blooms and bright yellow leaf margins.
Variegated False Holly
It's easy to mistake false holly or holly olive (Osmanthus heterophyllus) for the real thing. The dense, spiny leaves resemble those of English holly, though the leaves are smaller and denser, and false holly does not produce its namesake's bright red fruits. Osmanthus is a densely-leafed, upright shrub that grows into an oval shape and usually tops out at 8 to 10 feet tall and wide. It can also be clipped into standard form.
Variegated false hollies abound, including 'Aureomarginata', with yellow leaf edges, the eye-catching 'Goshiki', bearing foliage marked with flecks of gold, cream and green, and 'Kembu', featuring white leaf margins and flecks, and 'Variegatus', with white-edged leaves.
Variegated Euonymus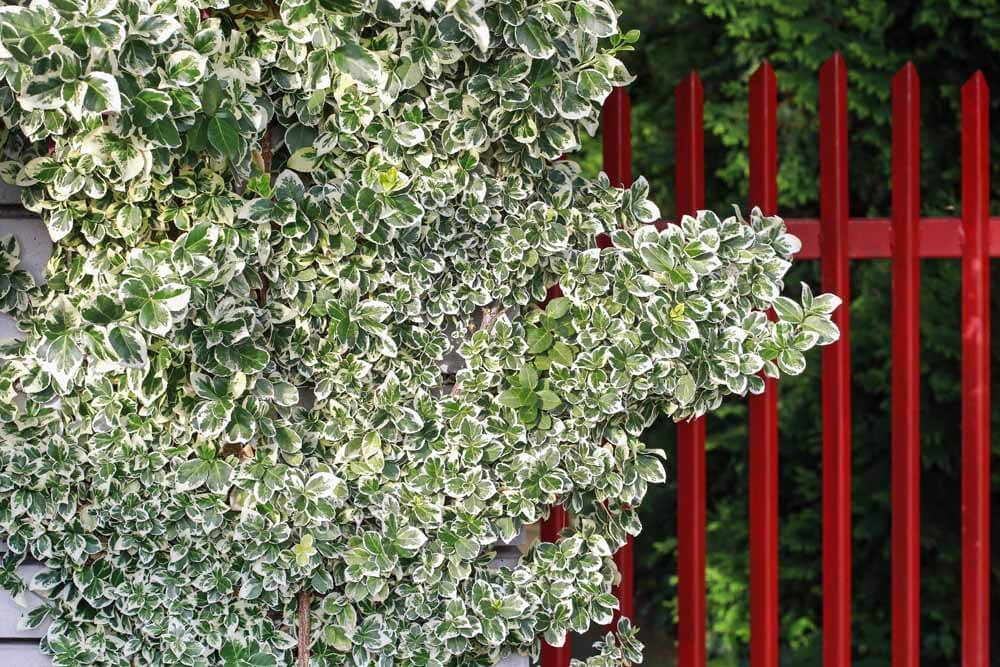 The large euonymus genus contains many variegated evergreens. Wintercreeper (Euonymus fortunei) is one of them. Some of the best-known varieties are low-growers, less than 12 inches tall, with small, dark green or blue-green leaves. With its spreading habit and adaptability to varying light situations, wintercreeper works as a groundcover, rock garden subject, low wall cover, or erosion controller. Among the many variegated varieties are 'Emerald 'n Gold', with yellow leaf margins on leaves that turn pinkish in winter, the taller 'Gold Splash', which grows to 3 feet tall and wide, 'Moonshadow', with green-edged yellow leaves, 'Silver Queen', featuring yellow margins that age to white, and 'Sunshine' with its gray-green leaves edged in gold.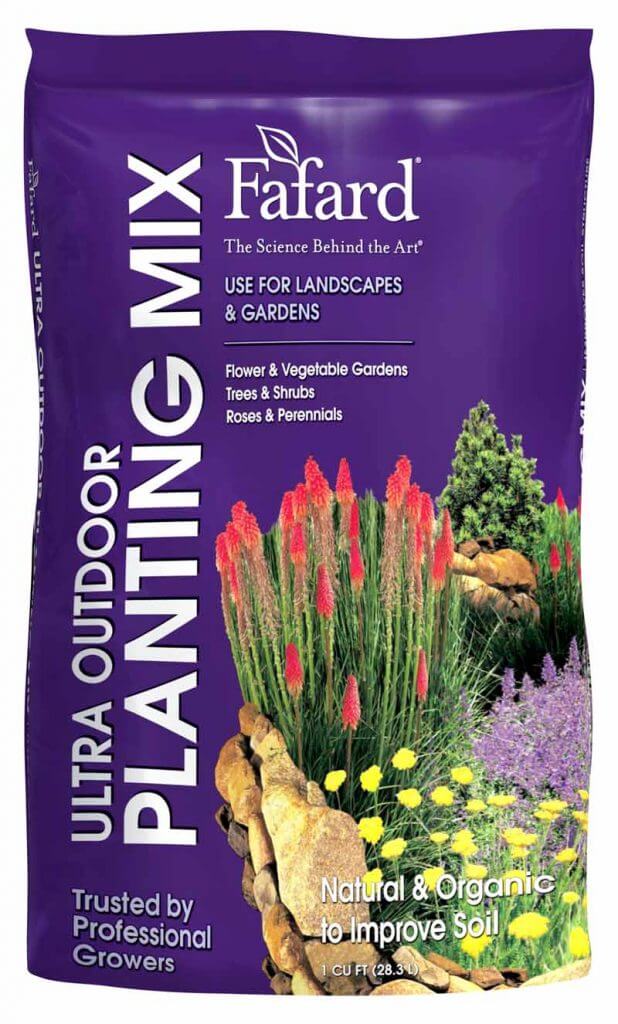 Use wintercreeper carefully. It has been reported as invasive in some areas. One way to keep it in check is to grow it in large pots and trim as necessary. (It can take very heavy pruning so shear and shape it at will.) Give containerized wintercreeper a good start by using a quality potting mix, like Fafard Ultra Outdoor Planting Mix.
Japanese Euonymus (Euonymus japonicus) is a shrubby plant, topping out at 10 to 15 feet tall and half as wide. Like most euonymus, the species bears shiny green, ovoid leaves. Variegated varieties of this rather formal hedging plant include 'Albomarginatus' and 'Aureomarginatus', bearing white and gold leaf edges respectively. 'Latifolius Albomarginatus' also features leaves with white margins, but has broader leaves than 'Albomarginatus' and gray-green leaf centers.
Variegated Spotted Laurel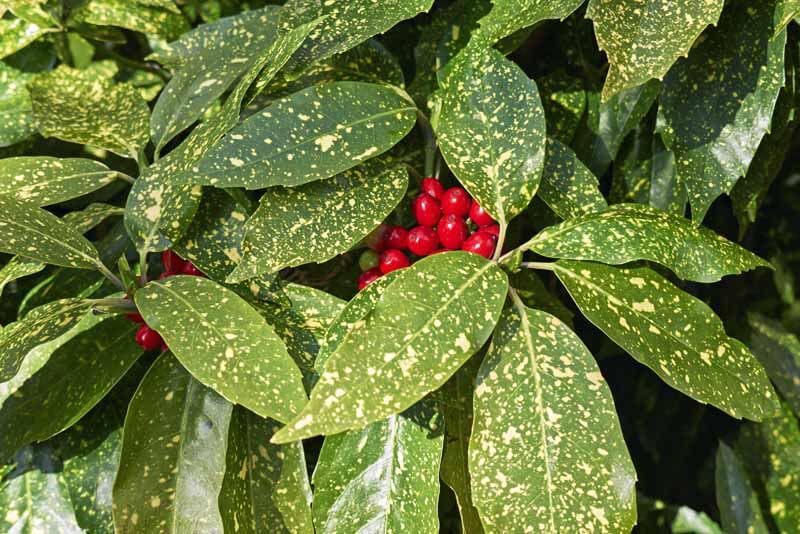 Shade-loving spotted laurel (Aucuba japonica) is easy to spot. The hardy plants, often used for hedging, grow up to 10 feet tall, with a nearly equal spread. Spotted laurel leaves are somewhat leathery and up to 8 inches long. Purple spring flowers are an added bonus, giving way to red fall fruits on female plants. 'Mr. Goldstrike', a male plant that can serve as a pollinator for female spotted laurels, is dramatic and generously dappled with golden speckles. 'Variegata' is a gold-flecked female variety, originally introduced in 1783 and known as the "gold dust plant." Another notable spotted laurel is 'Goldieana', featuring a solid splotch of gold on each long, green leaf.
Evergreens provide the horticultural music in quiet winter gardens. Variegation makes that music swing.