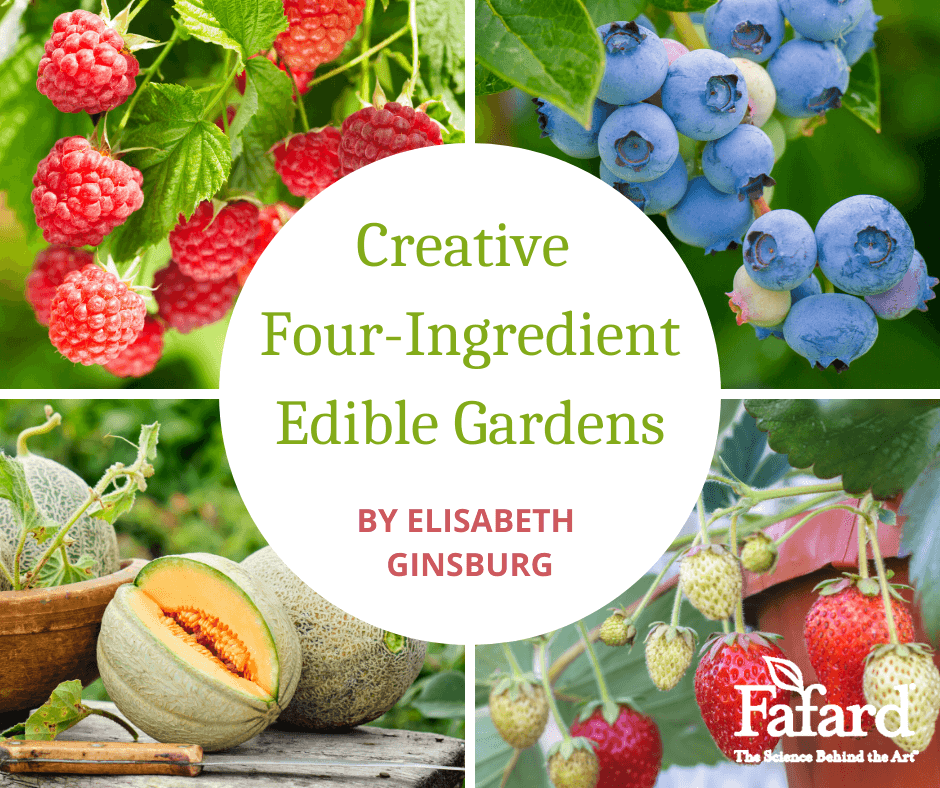 Now that spring is well underway, it's time to think about interesting ideas for simple, productive gardening. Even the most efficient gardeners tend to glaze over when confronted with a long plant list, but most of us can cope with cleverly devised, four-plant gardens.
Below are "recipes" for three different themed planting combinations containing edible and ornamental elements that can be contained or planted in gardens as space permits. The end results combine garden multi-tasking with great flavors and high ornamental value. And, if you want more options, you can create your own!
Herbal Tea Garden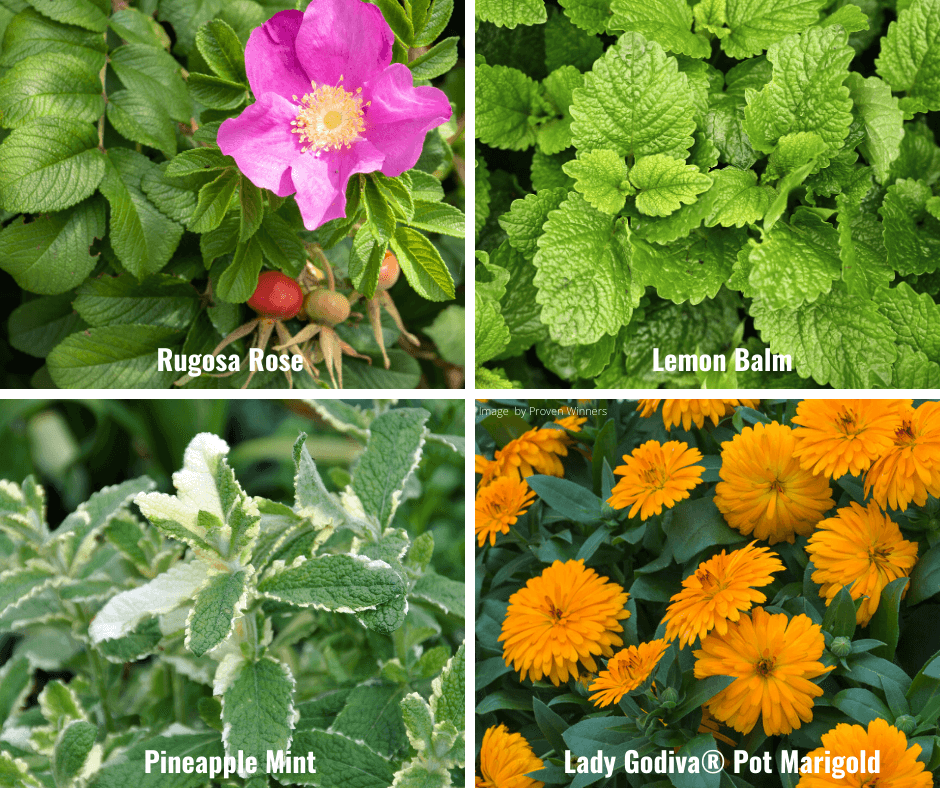 Ingredients:
Variegated Pineapple Mint (Mentha suaveolens 'Variegata', USDA Hardiness Zones 5-9)
Everblooming Pot Marigold (Calendula officinalis
Lady Godiva® Orange)
Lemon Balm (Melissa officinalis, Zones 3-7)
Rugosa Rose (Rosa rugosa, Zones 2-7)
Turn leaves or flowers of these easy-to-grow plants into tasty teas. The requirements are simple: full sun (at least six hours per day for roses) and well-drained, average soil. Make sure to avoid spraying the plants with any product not formulated for use on edible crops.
If you have a bit of space, create a dedicated four-ingredient tea garden with a rose at the center, surrounded by lemon balm, pot marigolds, and variegated pineapple mint. Container gardeners can grow the ingredients in separate pots, or mixed in a large container or two.
Rugosa roses are fragrant enough for their petals to be of value in teas, but their hips are the most common herbal tea ingredient. They will not form if the roses are cut, so let the flowers set fruit. Rugosas are noted for their large hips, which resemble cherry tomatoes. Mature hips will be bright orange-red and give slightly when pressed.
Among the best hip producers are those of fragrant hybrids, like the pink-flowered 'Fru Dagmar Hastrup' or the double white 'Blanc Double de Coubert'. They also bear thorny stems, so harvest carefully. Use the hips fresh or dry until brittle in a slow oven (110 degrees Fahrenheit) or dehydrator. Drying time varies depending on the size and quantity of hips.
Lemon balm and pineapple mint are vigorous members of the mint family, but both are wonderfully fragrant with leaves that maintain their flavor when dry. Lemon balm has been known to self-sow and escape garden confinement if neglected, so shear off its tiny blooms as they appear. Likewise, pineapple mint spreads by rooting stems, so it is best contained in a pot. Fortunately, the variegated form is more ornamental and less aggressive. Harvest pineapple mint and lemon balm leaves before the flowers form and air dry by arranging the leaves on trays and setting them aside for several days until dry and crumbly.
Pot marigold is the only annual in the garden, so it will need to be planted yearly. Standard types set lots of seed and tend to self-sow, but Lady Godiva® does not. As a result, it is not messy, and it blooms all summer long, unlike the others. Gather fresh pot marigold flowers for tea. Dry them as you would balm and mint leaves.
Marinara Garden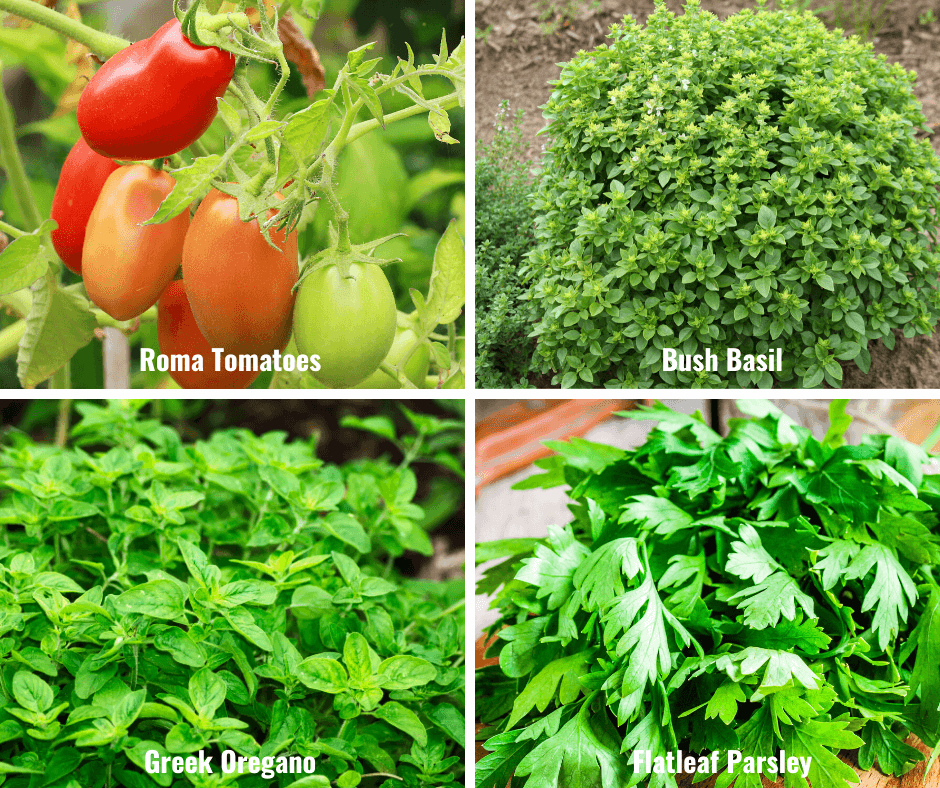 Ingredients:
Bush Basil (Ocimum basilicum 'Spicy Bush')
Greek Oregano (Origanum vulgare ssp. hirtum)
Italian Flatleaf Parsley (Petroselinum crispum var. neapolitanum)
Roma Plum Tomatoes (Lycopersicum esculentum Roma varieties)
Put an Italian accent in your garden and kitchen with these four plants. Start with the tomatoes. Bush-type (determinate) Roma tomatoes are squat, meaty, and full of flavor for sauces and paste. Provide them with at least eight hours of sunlight per day. Choose quality varieties, such as the high-yielding 'Paisano' or tasty golden 'Sunrise Sauce'. A spacious half whiskey barrel filled with a rich potting mix, like Fafard® Ultra Outdoor Planting Mix, and a caged tomato plant in the center is a great starting point. Install the low-growing herbs around the outside edges of the barrel. Be sure to feed with a fertilizer formulated for vegetables and herbs. (Click here to learn more about growing tomatoes in pots.)
Rich, aromatic annual basil is probably the best-known herb for flavoring tomato sauce and the easiest to grow, given full sun and good soil. There are many available basils, but compact sweet basils, such as 'Spicy Bush', are best for container growing. (Click here to learn more about growing basil in containers.) Use them as an exuberant edging around tomato plants, either alone or alternating with other herbs. Pinch off the flowers before they bloom to encourage foliage, and harvest leaves regularly for best taste. Macerate them in olive oil and freeze to store.
A low-grower with good heat and drought tolerance, Greek oregano is another indispensable marinara ingredient. Grow it along with basil and parsley in beds or containers by the kitchen door, or alternate with basil and parsley in a dedicated tomato bed. Its leaves are best dried for longterm use.
Low-growing flat-leaf parsley is the fourth member of the marinara quartet. With its fresh flavor, it can stand up to the bold tastes of basil, oregano, and tomatoes. It can also stand with them in plantings, brightening up a window box or planted in a large container alongside basil and oregano. Versatile and full of vitamins, flat-leaf parsley is also a champion seasonal edging plant. Preserve it as you would basil.
Summer Fruit Salad Garden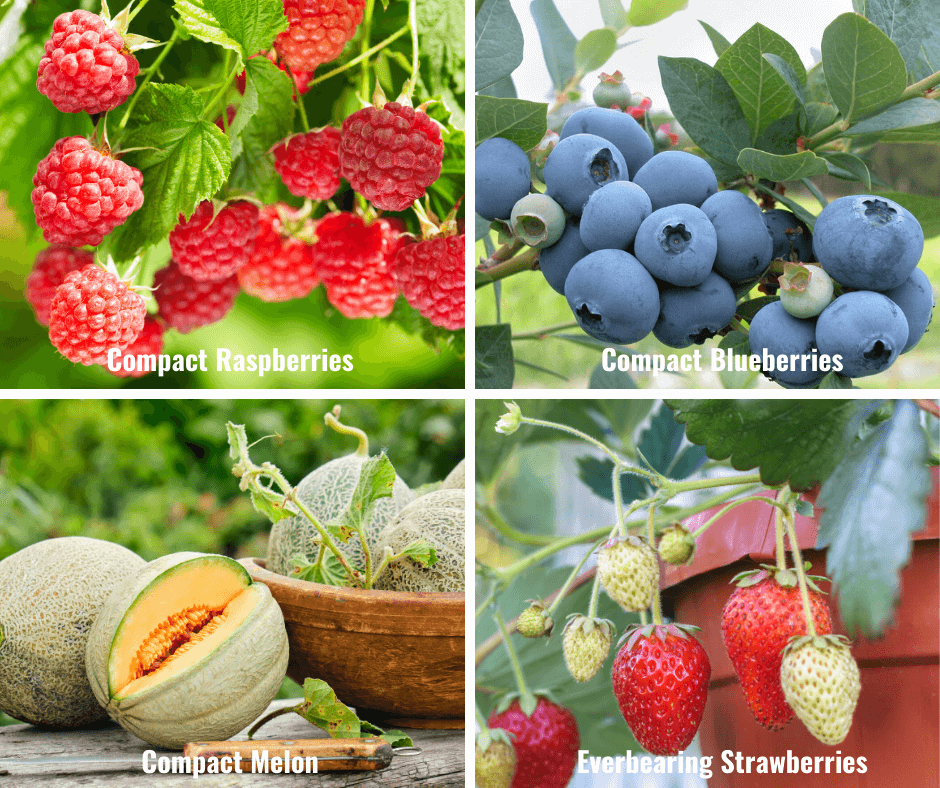 Ingredients:
Everbearing Strawberry (Fragaria x ananasa 'Tristar')
Compact Cantaloupe (Cucumis melo 'Green Machine')
Compact Raspberries (Rubus idaeus Raspberry Shortcake®)
Compact Blueberries (Vaccinium corymbosum Jelly Bean®)
You don't have to own an orchard—or even a garden plot—to grow your own fruit. A mixed planting of blueberries, raspberries, and strawberries will provide snacks and desserts through much of the summer.
Blueberries bushes feature pink or white, bell-like flowers in spring, followed by tasty berries in July and lovely red leaves in the fall. Use a compact variety, like Jelly Bean® (1-2 feet), along with a petite raspberry bush-like Raspberry Shortcake® (2-3 feet) as the centerpieces of your sunny planting scheme. The little shrubs will flourish in garden situations or large containers. Surround them with smaller pots or edge with strawberries, like the everbearing 'Tristar', which provides lots of berries in June and then a consistent flow of berries until fall.
A short-vined, small-fruited melon, such as the "ice cream" muskmelon 'Green Machine', will provide you with delectable melons in a small garden space or pot. Give them full sun and great garden soil amended with Fafard Premium Natural & Organic Compost or potting mix, and the vines will give you sweet melons that are just the right size for a scoop of ice cream. (Click here to learn more about how to grow edibles in containers.)
Your fruitful garden will need consistent moisture throughout the growing season. Investing in netting or other protection to keep away hungry birds and guarantee you a taste of the sweet fruits of your labors.