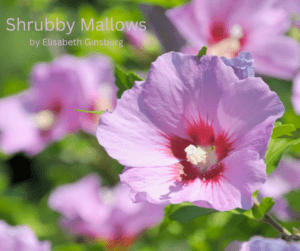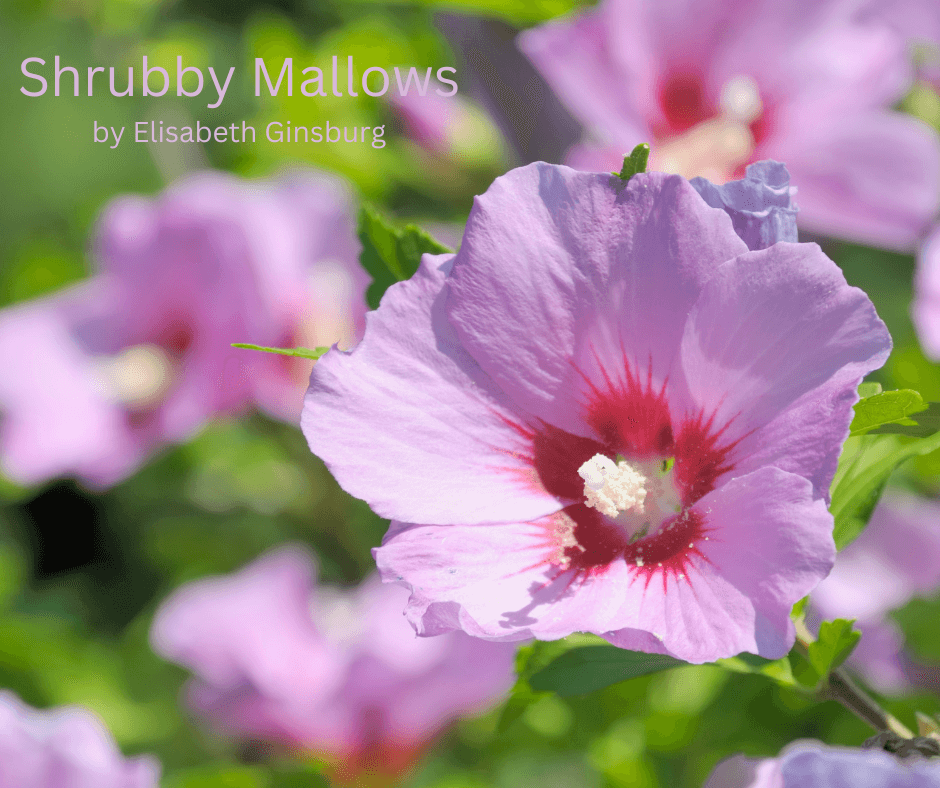 Everything has a season and midsummer is the time for mallows.  If the word "mallow" does not ring a bell, think of hollyhocks, okra and hibiscus.  All are part of the large mallow or Malvaceae family, with five-petaled flowers that look like crepe paper and distinctive central staminoid columns.  The familiar hollyhock flower is an archetypal mallow bloom.
Some mallows, like rose of Sharon, are true shrubs.  Others, including swamp mallow (Hibiscus moschuetos) and tree mallow (Lavatera arborea and Lavatera trimestris) are not true mallows, but have shrubby growth habits that make them excellent landscape specimens.  Like their mallow relatives, the shrubby  mallows are on display now in gardens across the country.
Rose of Sharon
The botanical name for rose of Sharon is Hibiscus syriacus.  This is confusing, because the plants do not hail from Syria, but grow wild in parts of China and India.  Hardy in USDA zones five through eight, the deciduous shrubs also grow exceptionally well in home gardens, rising to a height of eight to 12 feet tall and six to 10 feet wide.  Roses of Sharon can also be trained in standard or tree form.  If you grow the plant as a shrub, it can also be kept to reasonable dimensions by pruning.
Species roses of Sharon boast blooms that are pink with a darker red central "eye zone".  Breeders have had their way with the species and now varieties are available in colors ranging from pure white through a range of pinks, reds and blue-purples.  Single-flowered cultivars sometimes have the characteristic contrasting eye zones.  Double-flowered roses of Sharon are full and fluffy with a multitude of petals.
To say that roses of Sharon are unfussy is an understatement.  If you have a space that receives full sun or light shade, chances are the plant will grow regardless of the soil type.  Once the shrub is established, it will withstand drought, pollution, and the toxins secreted by any black walnut trees that happen to be nearby.  Four-legged varmints avoid them as well.
The hollyhock-like blossoms are lovely at this time of the year, and the seed pods that succeed them are decorative.  Though the leaves do not color up in fall, the branches add structure to the landscape in the cold weather months.
If roses of Sharon have one flaw, it is their prolific nature.  Older varieties self-seed with wild abandon, making it necessary to be vigilant about locating and grubbing out unwanted seedlings.  To avoid this problem, prune the shrubs after they flower.  You can also invest in newer types, like the popular 'Lavender Chiffon', that are better mannered and do not self-seed.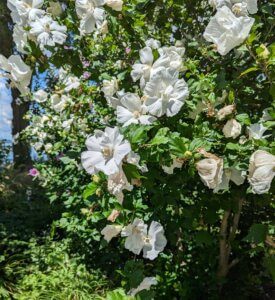 Swamp Mallow
Though not technically a shrub, perennial swamp mallow (Hibiscus moschuetos) grows like one, with a woody stem and somewhat branching habit.  Rising between three and seven feet, with a spread of two to four feet, the plants have an impressive appearance, with lobed, toothed green leaves that may be up to eight inches long.  The real glory of the swamp mallow lies in the plant's large summer flowers, which feature the traditional hollyhock-like configuration in an impressively large size—sometimes up to six inches wide in species plants, and even larger in hybrids and varieties.  A mature plant can produce scores of blossoms at once and serve as an eye-catching specimen in a yard or garden.
Species swamp mallows, which are hardy in USDA Zones five through nine, boast white or pink blooms with darker central "eyes".  Plant breeders have created highly commercial varieties and hybrids, like the Southern Belle group of Hibiscus moschuetos, all of which have "belle" in their varietal names.  These mallows have a slightly more compact stature—four to six feet tall—and slightly less compact blooms, with flowers ranging from eight to ten inches wide in shades of white, pink and red, with the characteristic dark "eyes".    At three to four feet tall, 'Kopper King', a hybrid of swamp mallow and another mallow species, Hibiscus coccineus, is more compact still, with distinctive dark maroon foliage and huge, light pink flowers, each bearing a red "eye".
True to the "swamp" part of its common name, swamp mallows like uniformly moist soil and sun to light shade.  In cold winter climates, the plants die back to the ground, but return once the growing season is underway.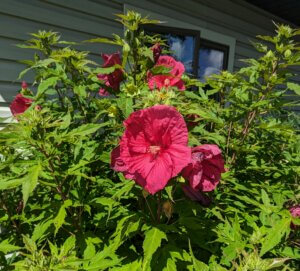 Shrubby and Manageable
The small and manageable tree mallows (Lavatera arborea and Lavatera trimestris) also have shrubby growth habits.  The annual trimestris species is native to the Mediterranean and grows two to four feet tall and two to three feet wide, making them good specimen plants, container subjects or low hedges.   The hollyhock-like blooms open in summer, or, depending on climate, early fall.  Normally about two to three inches wide, the blooms are white or pink and sprout from the axils of the lobed green leaves.  Lavatera trimestris is often grown from seed and can be started indoors six to eight weeks before the last frost date.  The plants may also self-seed if the spent blooms are not deadheaded.
At three to six feet tall, Lavatera arborea is somewhat larger than the trimestris species, and is native to parts of Europe and northern Africa.  It is a perennial, but is only hardy in warm winter climates, so these tree mallows should be treated as annuals or overwintered indoors.  Like the trimestris mallows, Lavatera arborea blooms in mid to late summer, producing pinkish purple blooms that are attractive to pollinators.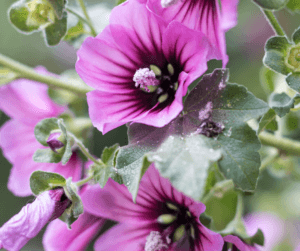 Both tree mallows like full sun to light shade and moderate moisture levels. Gardeners with heavy clay soil should add organic material, like Fafard® Garden Manure Blend, to give lavateras a good start.  As with other shrubby mallows, the tree mallows are easy to care for and provide lots of floral beauty for a relatively small investment of time, effort and money.