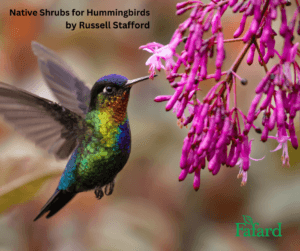 Every hummingbird garden could use a native shrub or two (or more!). Here are seven of the best hummingbird-pollinated shrubs from central and eastern North America.
New Jersey tea (Ceanothus americanus)
How the Garden State was credited with this wide-ranging U.S. native is anyone's guess. In any case, New Jersey should be flattered. Give Ceanothus americanus a sunny site and well-drained soil, and it will give you a knockout display of fragrant conical white flower clusters from late spring into summer. At around 3 feet tall and wide, it is a great fit for mixed borders, entry plantings, and of course wildflower gardens. Western U.S. gardeners can choose from Ceanothus native to their region, including the wealth of species and hybrids known collectively as California lilacs. One of the great joys of Pacific Coast gardening, their flowers open over a long season and come in several colors including white, blue, and pink.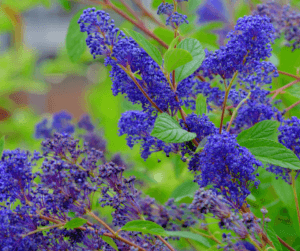 Buttonbush (Cephalanthus occidentalis)
Occurring in wetlands over much of the North American continent, buttonbush does just fine in any moisture-retentive garden soil – although it may need occasional watering during prolonged droughts. If your soil is on the sandy side, amend it with Fafard Premium Natural & Organic Compost. Where happy, buttonbush produces numerous fuzzy spheres of white flowers in early summer on rounded 6- to 10-foot plants. If that is too big, you can give plants a severe pruning in early spring (plants will flower on the resulting new stems), or use a compact selection such as 'Sugar Shack'. When not in flower, buttonbush features large, handsome, glossy rich-green leaves, which turn muted yellow and pink shades in fall.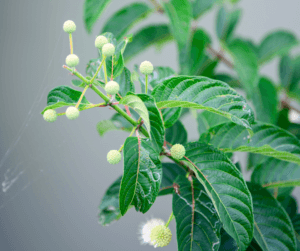 Summersweet (Clethra alnifolia)
Another moisture-loving shrub, summersweet forms thicketing clumps of upright 4- to 6-foot stems that terminate in bottlebrush columns of small white or pink flowers in summer. The flowers carry a pleasant, somewhat root-beer-like fragrance. Also of ornamental interest are the shiny, oval, mid-green leaves, which turn a butter-yellow in fall. Found in damp semi-shaded habitats across its Nova Scotia to Texas natural range, summersweet will also do fine in full sun if the soil is consistently moist. Red spider mites and other pests and diseases can be a problem in overly dry sites. Available varieties include deep pink flowered 'Ruby Spice', and 3-foot-tall, white-flowered 'Sixteen Candles'.
Southeastern gardeners have another outstanding native Clethra for the garden, cinnamon bark pepperbush (Clethra auminata). Its steepled white summer blooms occur on 10- to 15-foot plants with attractive peeling cinnamon-brown bark. This large shrub or small tree is hardy as far north as USDA Zone 6.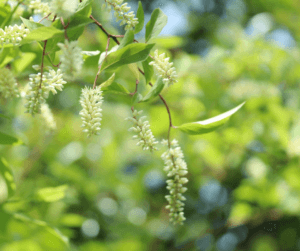 Bush honeysuckle (Diervilla spp.)
If you are looking for native shrubs for dryish shade, you will want to consider these handsome suckering cliff dwellers from wooded uplands of eastern and central North America. Close relatives of honeysuckles (Lonicera spp.), they bear yellow funnel-shaped flowers in summer on arching, 2- to 4-foot-tall stems. Diervilla lonicera is native to the northeastern and north-central U.S. and northward into Canada, whereas Diervilla sessilifolia and the much rarer Diervilla rivularis have a more southerly range. All bush honeysuckles have sunset-toned fall foliage, with some selections and hybrids such as 'Copper' producing brightly hued new leaves.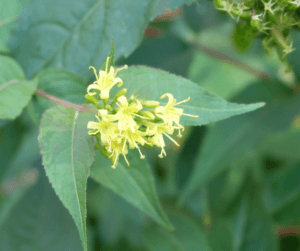 Chokecherry  (Prunus virginiana)
A cherry species that is as American as cherry pie, this small tree is found in all of the lower 48 states, as well as in most of lower Canada. Tolerant of heat, bitter cold, drought, salt spray, and other environmental stresses, it makes an ideal street tree for most soil types. Among the best and undoubtedly the most widely planted varieties is 'Canada Red', with leaves that open green but mature to maroon in early summer. The white flowers spring flowers and purple summer fruit are ornamentally inconsequential.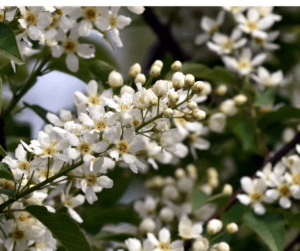 Fragrant azaleas (Rhododendron spp.)
All members of the rhododendron tribe attract hummers, but among the best for native gardens are two spicy-flowered species – roseshell azalea (Rhododendron prinophyllum) and swamp azalea (Rhododendron viscosum). The funnel-shaped blooms of these two eastern and central North American natives carry a far-reaching clove-like scent, which may not attract hummingbirds but certainly draws in humans. Roseshell azalea produces pink flowers in mid-spring, weeks before the white blooms of swamp azalea (with some swamp azaleas such as 'Pink and Sweet' producing pink flowers). They do best with moist to average soil and a bit of shade.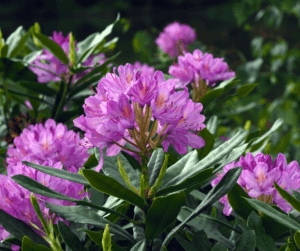 Highbush blueberry (Vaccinium corymbosum)
Who doesn't love our most familiar eastern and central North American species of blueberry? Hummingbirds are certainly in on the love, paying nectar-sipping visits to the white urn-shaped spring flowers of this large shrub. Of course, among the results of these pollinating forays are the tasty blue early-summer fruits. Other Vaccinium species also attract hummers, including the widely cultivated Southeast native rabbiteye blueberry (Vaccinium virgatum), and the Pacific Coast native California huckleberry (Vaccinium ovatum).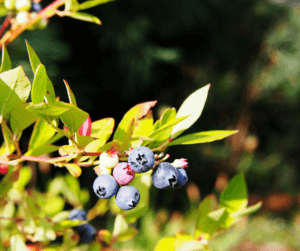 About Russell Stafford
---