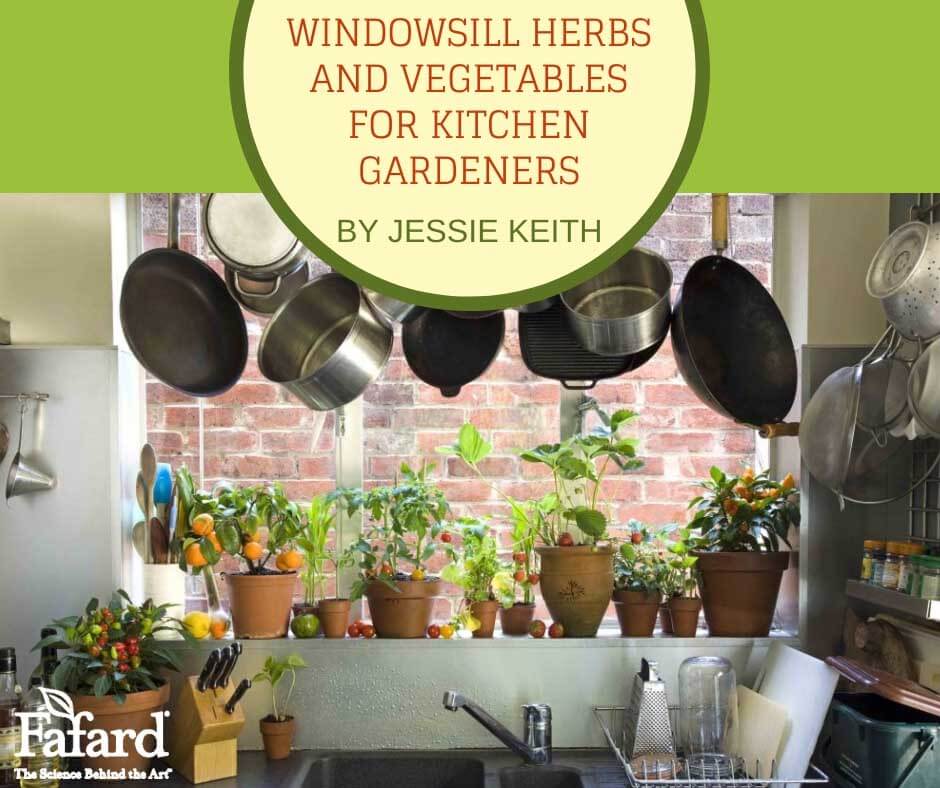 Homegrown fresh herbs and vegetables are not just a product of the warm growing months. Several can be easily cultivated along a sunny, south-facing windowsill during winter. Then when temperatures grow warmer, you can plant them outdoors to extend your summer gardening efforts.
Herbs for Indoor Growing
Basil– Fresh sweet basil pesto can just be an arms-length away if you have a sunny kitchen window. Some grocery stores or retail greenhouses sell plants in colder months, but you can also quickly grow your own from seed. Many varieties take only 40-50 days to grow to a harvestable size.
Small bush varieties, such as 'Piccolino' and 'Pluto', are the fastest-growing sweet basil types to grow from seed. The large-leaved 'Pesto Party' is also fast-growing and tasty. Sow seed on the surface of a small pot filled with Fafard Natural & Organic Potting Soil, which is approved for organic gardening. Keep the soil moist and place your pot in a sunny window. In just one week, the seeds should sprout. Give them even moisture, full sun, and they should thrive.
Rosemary– Pruned rosemary plants are often sold in winter for home growing. New growth can be trimmed off to flavor meats and or pasta sauces. Just be sure to give rosemary lots of sun, and turn window-grown plants every few days for even growth. Refrain from overwatering them because their roots are sensitive to rot caused by excessive moisture.
Thyme– Pots of low-growing French thyme (Thymus vulgaris) or lemon thyme (Thymus x citriodorus) look pretty and taste great on vegetables, meats, or added to fresh salad dressings. If you have an outdoor plant, you can easily root cuttings for indoor growing. Simply take 6" cuttings, remove the leaves from the bottom 2-inches of the stems, and place them in a clean glass of water. Refresh the water if it starts to look murky. In just a couple of weeks, they will root and can be potted. Like rosemary, thyme requires light watering and lots of sunlight.
Cilantro-This cool-season annual herb is one of the easiest to grow indoors. Like basil, it is best grown from seed—with leaves ready for harvest in just 50 days. Try the tidy variety 'Calypso', which resists flowering and produces lots of edible leaves for salsa making. Start the seeds as you would basil.
Parsley-Pot-grown parsley thrives in sunny windowsills and quickly regrows new leaves as you trim fresh foliage for cooking. On occasion, plants are sold at grocery stores or in retail greenhouses, but seed-grown plants are probably your best bet. Parsley takes two months to reach a harvestable size from seed, so it is best seeded in late fall for winter growing. Start it as you would basil.
Vegetables for Indoor Growing
Greens—Lettuce, spinach, and arugula are all fast-growing salad greens that grow well in indoor pots. In fact, some compact varieties are specially bred for indoor growing. Lettuces in the Salinova® series are compact, cut-and-come-again varieties that grow fast and produce well in pots. Try the curly Salinova® Green Sweet Crisp and red-leaved Salinova® Red Butter. Surface sow the seeds in a rectangular windowsill pot on a sunny sill, give them light moisture, and they will sprout quickly. In just 45-55 days they will be ready to harvest. The fast-growing 'Corvair' spinach (21 days) and 'Esmee' arugula (21-40 days) can be grown the same way.
Peppers– Tiny pepper plants with fruits of all colors and heat levels can be grown in super sunny windows. The Brazilian beak pepper 'Biquinho' is a new red hot pepper that reaches only 1 to 2 feet high and yields fruits in just 60 days. Lunchbox mixed sweet pepper plants reach 2 to 3 feet, and bear small green peppers in just 55 days (75 days to turn from green to red and orange).
Start seeds in small pots of Black Gold Seedling Mix, keep them just moist and place them in a sunny window. In one to two weeks they should sprout. When they reach 6-inches high, move them into a 1-gallon pot filled with Fafard Natural & Organic Potting Soil, and add a stake to support growing plants. Feed them regularly with a water-soluble tomato and vegetable fertilizer
Tomatoes– If you have very sunny south-facing window or sunroom, you can grow tomatoes indoors. Bush-type (determinate) tomatoes bred for northern growing will grow and fruit the best. Start them indoors from seed in mid to late fall for winter fruiting. Maintaining room temperatures above 65° F will encourage fruit production. In just 60 days, 'Gold Nugget' cherry tomatoes bear small, golden tomatoes on short plants reaching 2-feet. For classic red tomatoes, try the high-yielding, disease-resistant 'Polbig', which reaches 2-3 feet. Start tomatoes as you would peppers. Support plants with stakes to manage growth, and prune back any leggy stems
Planting herbs and vegetables indoors this winter will keep fresh food on your table until spring. These attractive edibles also provide welcome indoor greenery to brighten cold, snowy days.