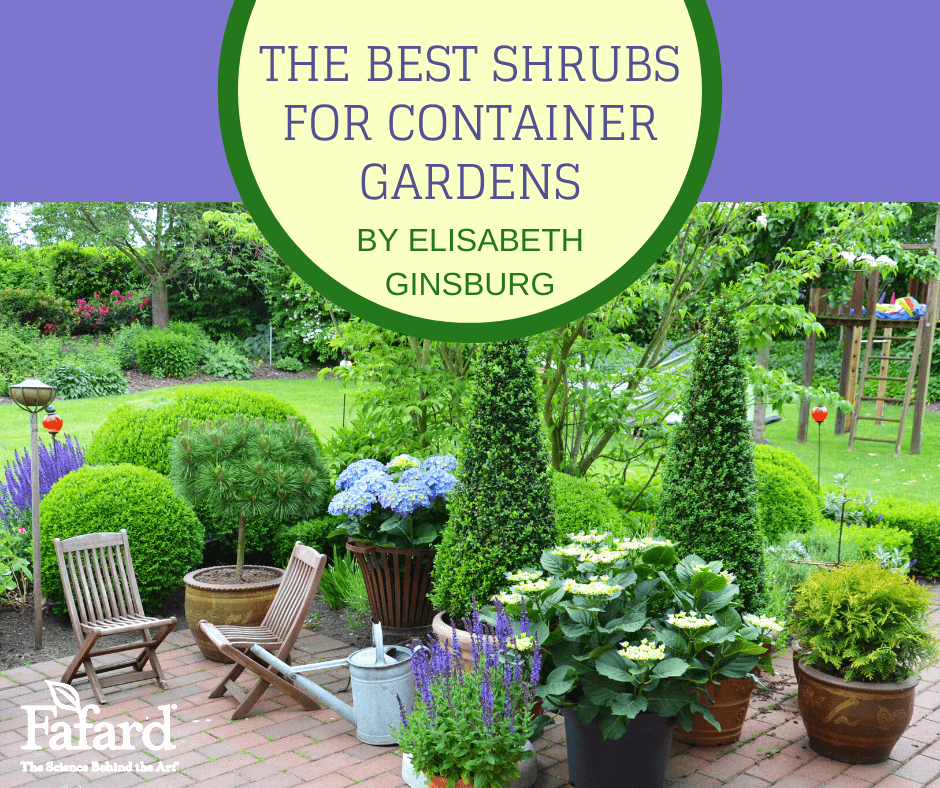 There are lots of reasons to grow shrubs in containers. You may have a small garden or no garden at all. The only sunny spot on your property may be covered with concrete, or your soil may be so poor that even poison ivy fails to thrive. Then again, your "garden" space may be a porch, terrace or balcony. Perhaps you have acres of space but want distinctive potted garden accents. Whatever the reason, container gardening is in vogue, with the selection of beautiful, small shrubs and landscape pots at an all-time high.
Why Compact Shrubs?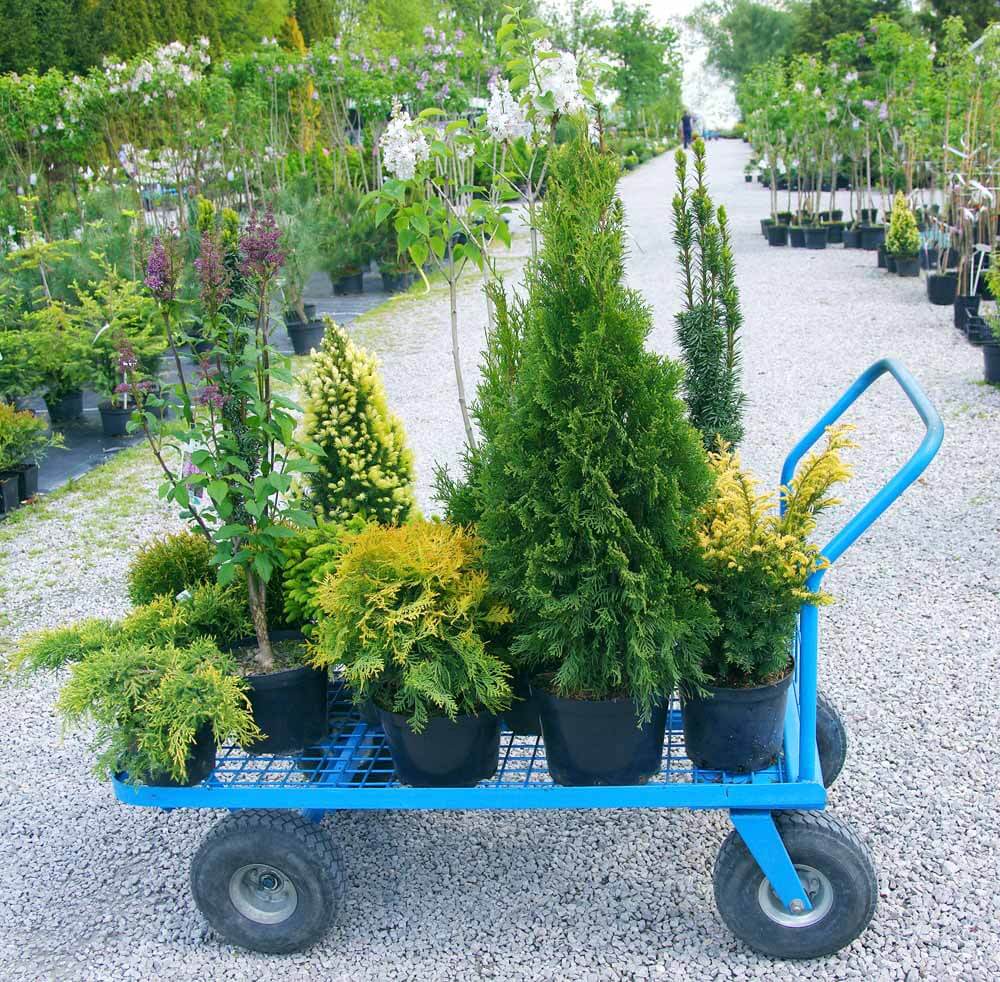 Breeders are riding the container-gardening trend, producing compact versions of many of the most popular shrubs. But, don't assume that words like "compact", "miniature" or "dwarf" are synonymous with a "manageable size." The compact version of an 8-foot shrub may still be 5 feet tall—too big for many containers. Always check plant tags and reference sources for the mature size of any plant before purchase.
Most small shrubs can flourish in containers that are between 18 and 24 inches wide and equally deep. If you live in a cold-weather climate, and the containers are going to stay out all winter, avoid thin ceramic or terra cotta pots, which will crack in very cold weather. Heavy, high-fired, glazed ceramic pots as well as metal, plastic, and resin containers won't crack. (Click here to learn more about the best containers to overwinter outdoors.)
So, commit to container-grown shrubs. Pick your favorite shrub species, and do a little research to find small varieties. Attention to cultural requirements—sun or shade, drought-tolerant or moisture-loving—will prepare you to enter the universe of compact shrubs for containers. The following are a few of the better shrub options for the task.
Compact Evergreen Shrubs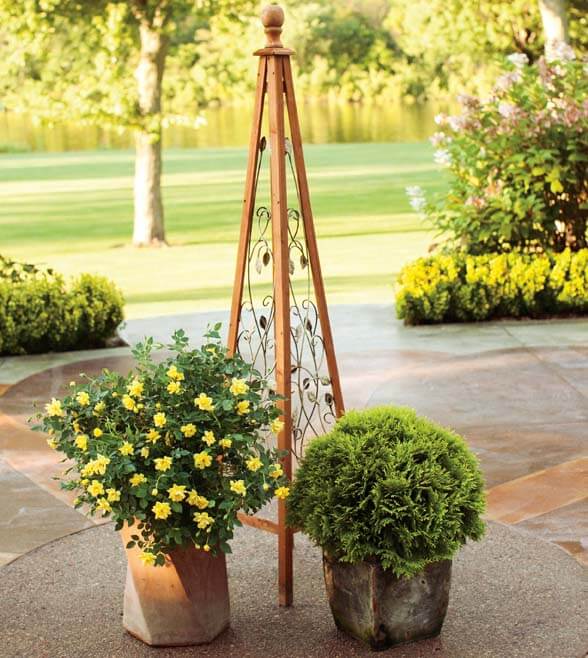 For lovely rounded shape, it is hard to beat Anna's Magic Ball arborvitae (Thuja occidentalis Anna's Magic Ball®, USDA Hardiness Zones 3-7, 10-15 inches). Thriving in sunny spots, the Proven Winners' plant boasts soft, almost ferny evergreen foliage that holds its color through the winter. At maturity, it tops out at around a foot tall and wide. Another rounded specimen, Wee Willie Korean boxwood (Buxus sinica var. insularis Wee Willie®, Zones 5-9, 2 feet tall and wide), has all the boxwood virtues—neat rounded appearance and fine green leaves, plus manageable dimensions. A pair of potted Korean boxwoods look wonderful framing an sunny or partially sunny entrance. For something a little less formal and a little bluer, try the sun-loving Blue Star juniper (Juniperus squamata 'Blue Star', Zones 4-8, 2-3 feet tall by 3-4 feet wide). Another sun lover, it has textural foliage of dusty blue-green.
Cavatine andromeda (Pieris japonica 'Cavatine', Zones 5-8, 2-3 feet tall and wide) combines small size with a floriferous habit and evergreen nature. The prolific spring bloomer covers itself with honey-scented bells and performs well in light shade.

Compact Shrubs Full of Flowers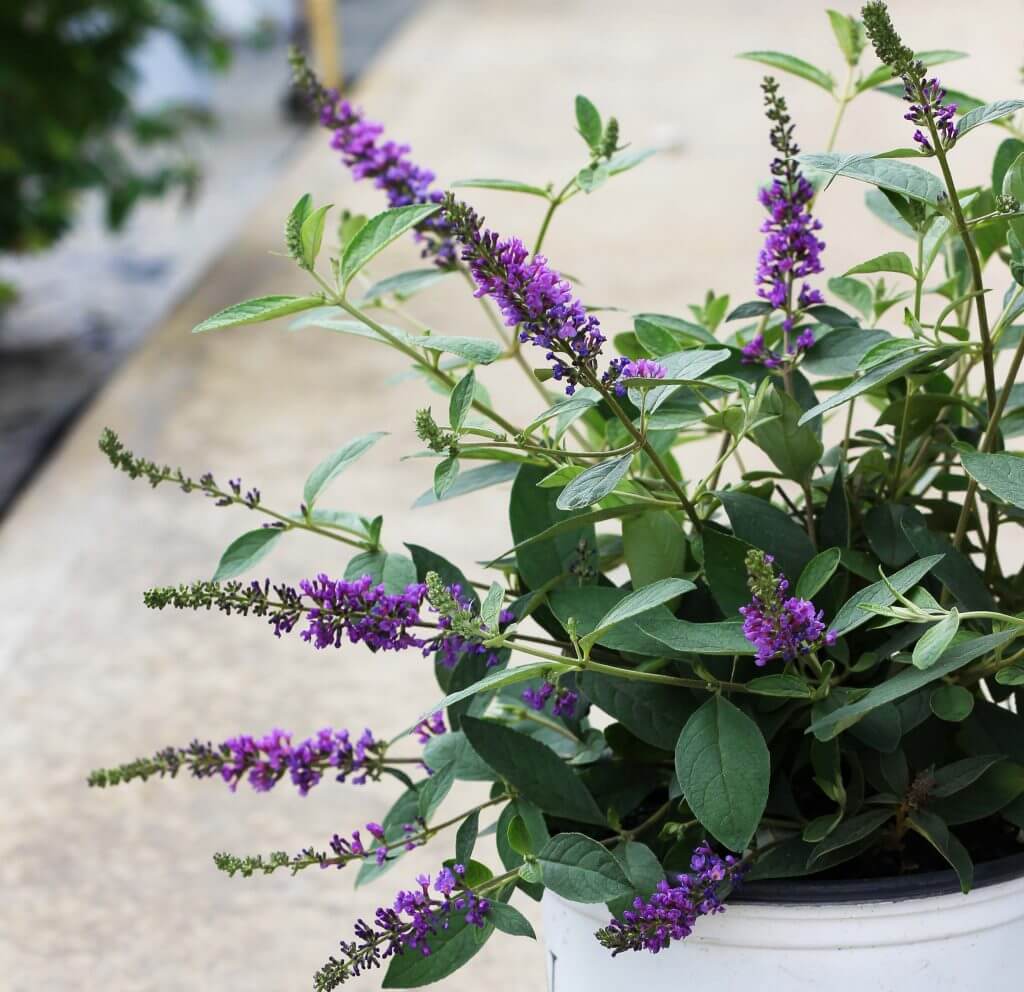 Flowering shrubs grown in containers give great garden value, and it's easy to find old favorites in smaller sizes. Rhododendron lovers can rejoice in Ginny Gee rhododendron(Rhododendron 'Ginny Gee', Zones 5-8, 1-2 feet tall and wide), a pink-and-white flowered beauty perfect for containers. The leaves are dark green and small, and the habit is dense. Like most rhodies, 'Ginnie Gee' flourishes in light shade.
Hydrangea breeders have extended the range of offerings of this popular shrub and one of the best is Invincibelle® Wee White hydrangea(Hydrangea arborescens Invincibelle® Wee White, Zones 3-9, 1-2.5 feet tall and wide ). This early summer bloomer pumps out pink, globe-shaped flowerheads that age to white. Unlike older hydrangea varieties, Invincibelle® Wee White also flowers on new woods, so blooms appear throughout the growing season. Give it full sun to partial shade, good potting soil, and regular moisture.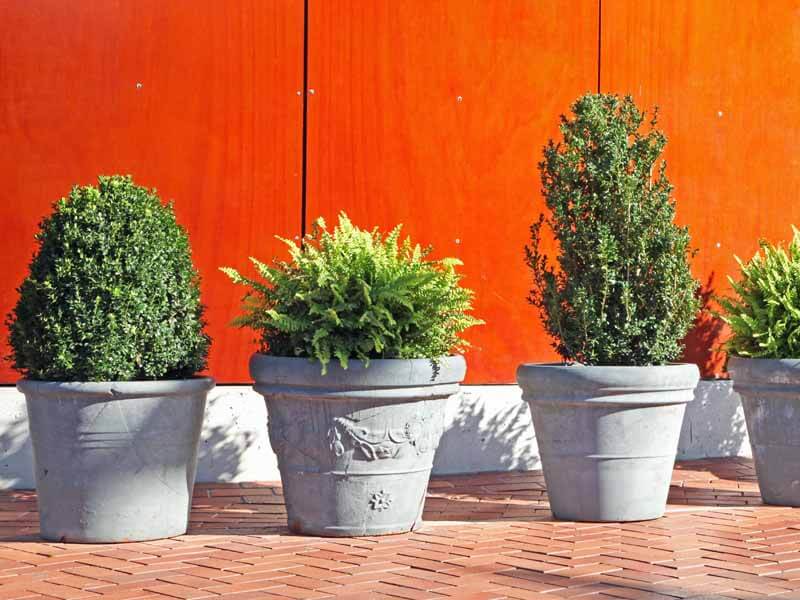 There are plenty of little butterfly bushes (Buddleia hybrids) to attract all kinds of garden pollinators, whether the shrubs are in-ground or in containers. Lo & Behold® Blue Chip Jr. butterfly bush (Buddleia Lo & Behold® Blue Chip Jr., Zones 5-9, 1.5-2.5 feet tall and wide ) features deep blue-purple flowers that bloom in mid-summer and beyond. All Junior requires is a sunny spot and don't self-sow prolifically, like standard buddleia.
Roses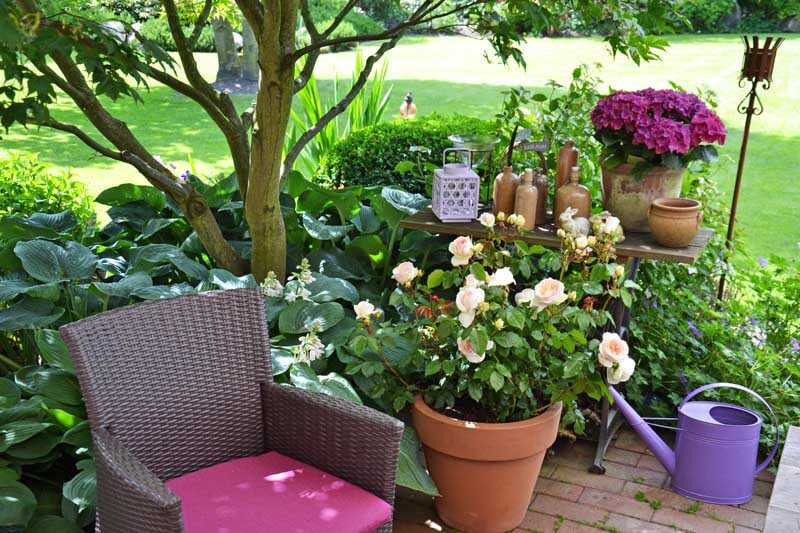 Container gardeners can also cultivate wonderful rose gardens full of color and scent. Patio roses boast all the winning qualities of their larger relatives in smaller packages. Some of the newest and best are all of the colorful, compact landscape roses in the Oso Easy ® Series. The double-pink-flowered Oso Easy® Strawberry Crush (Zones 4-9, 2-3 feet ) and yellow-double-flowered Oso Easy® Lemon Zest (Zones 4-9, 2-3 feet) are both effortlessly beautiful high performers.
Or you could consider an English patio rose. The rose-red, repeat flowering Sophy's Rose (Zones 5-11, 4 feet) is the largest size one would consider for a container rose. James L. Austin (Zones 5-11, 4 feet), with its large, fully double flowers of fuchsia pink, is another good choice. Those wanting a less demanding color should consider the highly fragrant, palest yellow, double rose Vanessa Bell (Zones 5-11, 3 feet).
Colorful Leaves for Extended Interest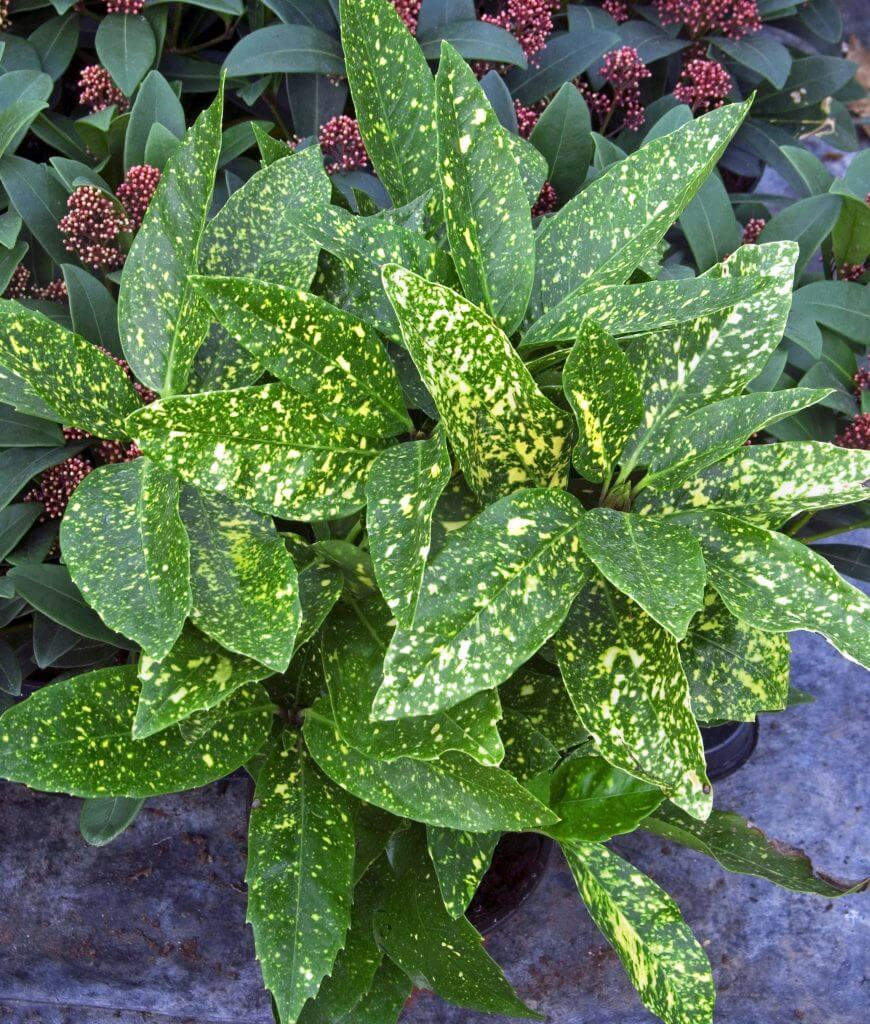 Container-grown shrubs, like their in-ground relations, can be the workhorses of the garden, providing interest in multiple seasons. The leaves of the southern favorite dwarf variegated aucuba (Aucuba japonica 'Variegata Nana', Zones 6-10, 4 feet tall and 2-4 feet wide) are dark green splashed with gold, lighting up the garden. This shrub is best in a large pot placed in partial shade to full sun.
Lil Miss Sunshine® Bluebeard (Caryopteris x clandonensis L'il Miss Sunshine, Zones 5-9, 2-3 feet) is a stunner, sporting golden-green leaves and azure blue flowers in late summer. Grown in full sun, this sunshiny plant will provide interest throughout the growing season.
Bearing Fruit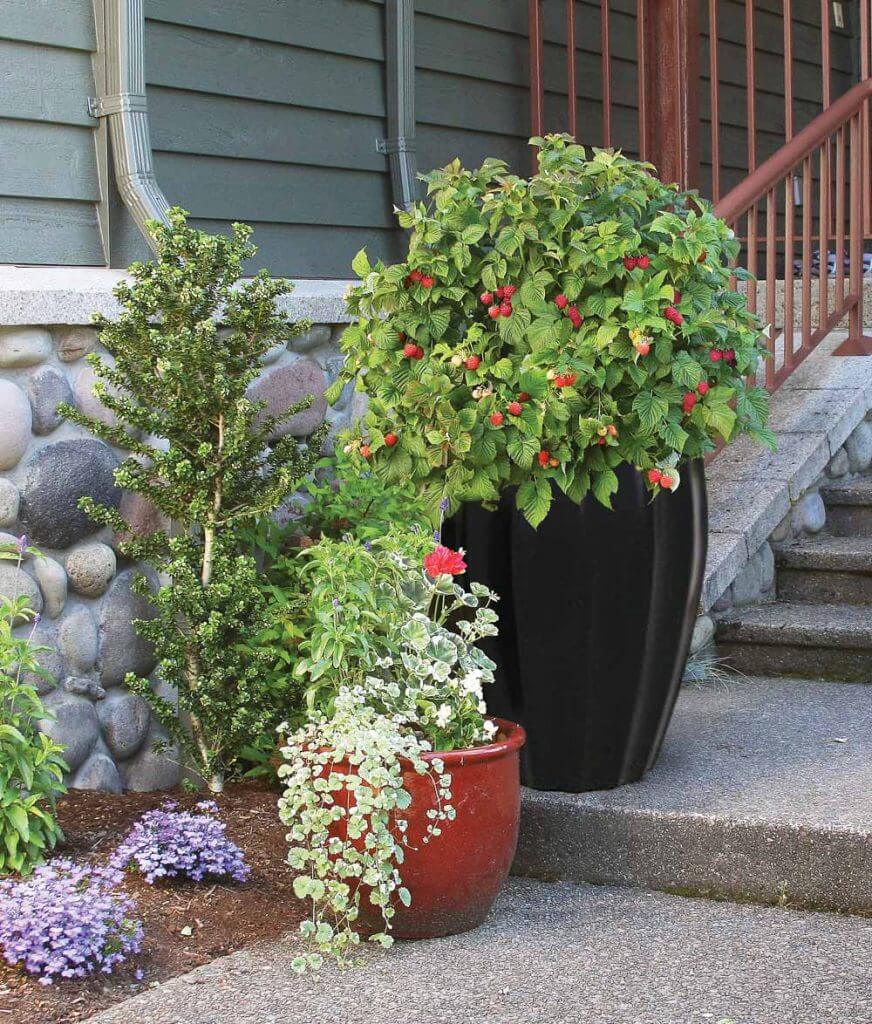 Compact fruit-bearing shrubs are also gaining momentum, and the little blackberries, blueberries, and raspberries in the Bushel and Berry® series have quite a following. One to try is Bushel and Berry® Peach Sorbet blueberry (Vaccinium Bushel and Berry® Peach Sorbet, Zones 5-10, 1.5 feet tall and 2 feet wide ). The leaves attract attention, ripening from peachy-pink to green and eventually turning red in the fall. Bell-shaped white flowers appear in spring, followed by blueberries in early summer. Supply full to partial sun, fertile acidic soil, regular water, fertilize and blueberry harvests are guaranteed.
Raspberry lovers can rejoice in Bushel and Berry® Raspberry Shortcake® (Rubus Raspberry Shortcake®, Zones 4-9, 2-3 feet tall and wide). Single, white, spring flowers give way to big red raspberries. The canes are also thornless, which will please raspberry pickers. Like most other fruiting plants, Raspberry Shortcake ® produces best in full sun.
A Few Words About Culture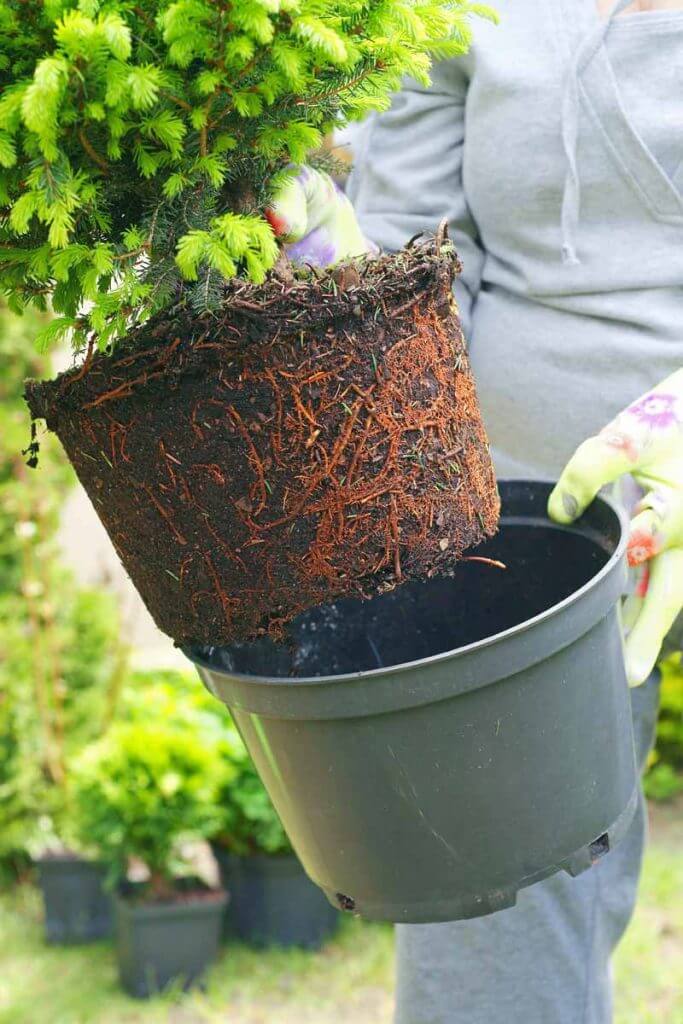 Success with shrubs in containers starts with the right pot. Make sure it is three times wider than the plant's root ball and contains drainage holes at the bottom and a saucer to catch water. When you have matched a shrub to a container, fill the container with a quality potting mix, like Fafard® Ultra Container Mix with Extended Feed that feeds plants for up to 6 months. The addition of a continuous-release fertilizer will help plants grow their best.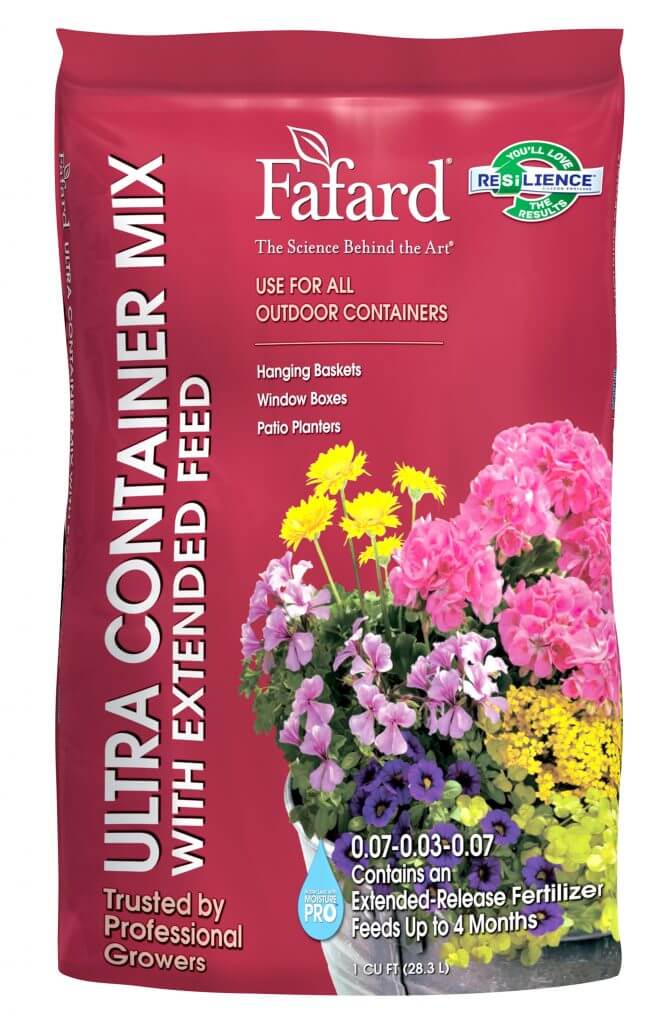 At planting time, make sure the plant's roots are not pot bound and intertwined when you remove it from the container. If they are, gently loosen them. Make sure the final soil level is 2 inches below the rim of the container, and firm the soil around the new shrub, making sure there are no air pockets. The top space will allow plenty of room for water. Water thoroughly until it percolates through to the bottom of the container. Potted plants require more water than those grown in-ground, and that often means daily watering while the plant establishes roots, as well as in dry seasons. In general, water when the top three inches of soil feel dry to the touch.