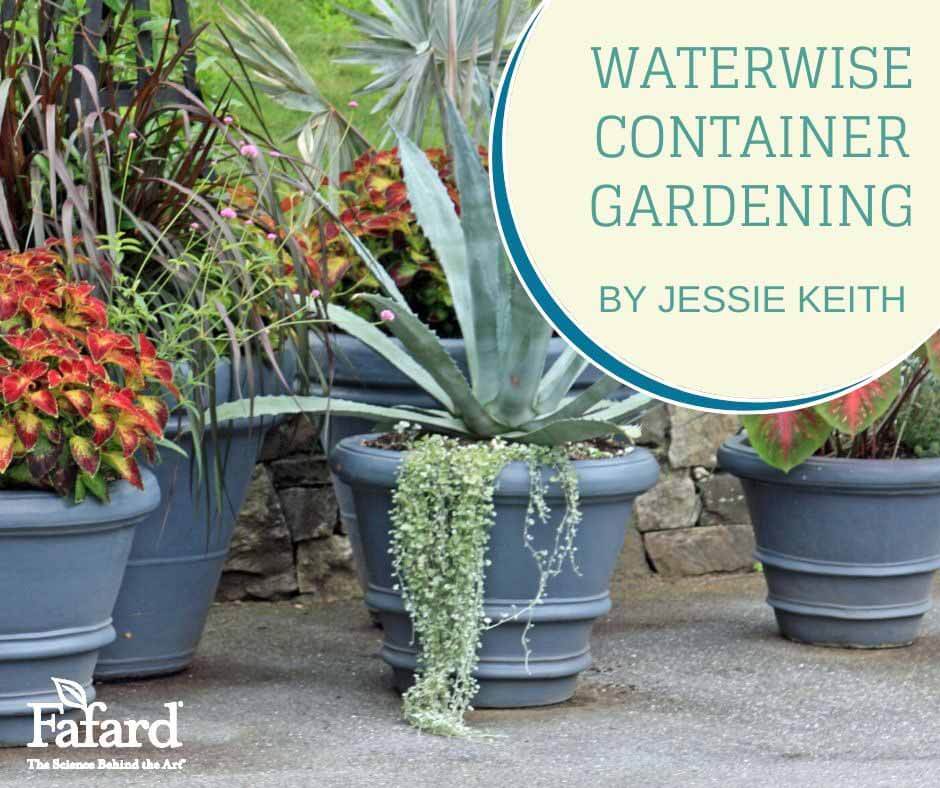 Container plantings are notorious for drying out quickly and needing extra water through the worst summer months, lest they dry and shrivel in a day's time. Miss one morning watering and the most beautiful contained petunias or impatiens can go from great to ghastly full wilt by evening. Thankfully, there are ways to reduce the need for daily container watering while also ensuring lots of pretty potted plants for porch and patio.
The four factors to consider when designing water-wise container gardening are 1. pot size and type, 2. soil and soil additives, 3. plant drought tolerance, and 4. pot placement. Get these factors right and your containers may require half the water normally supplied to summer pots.
Container Size and Type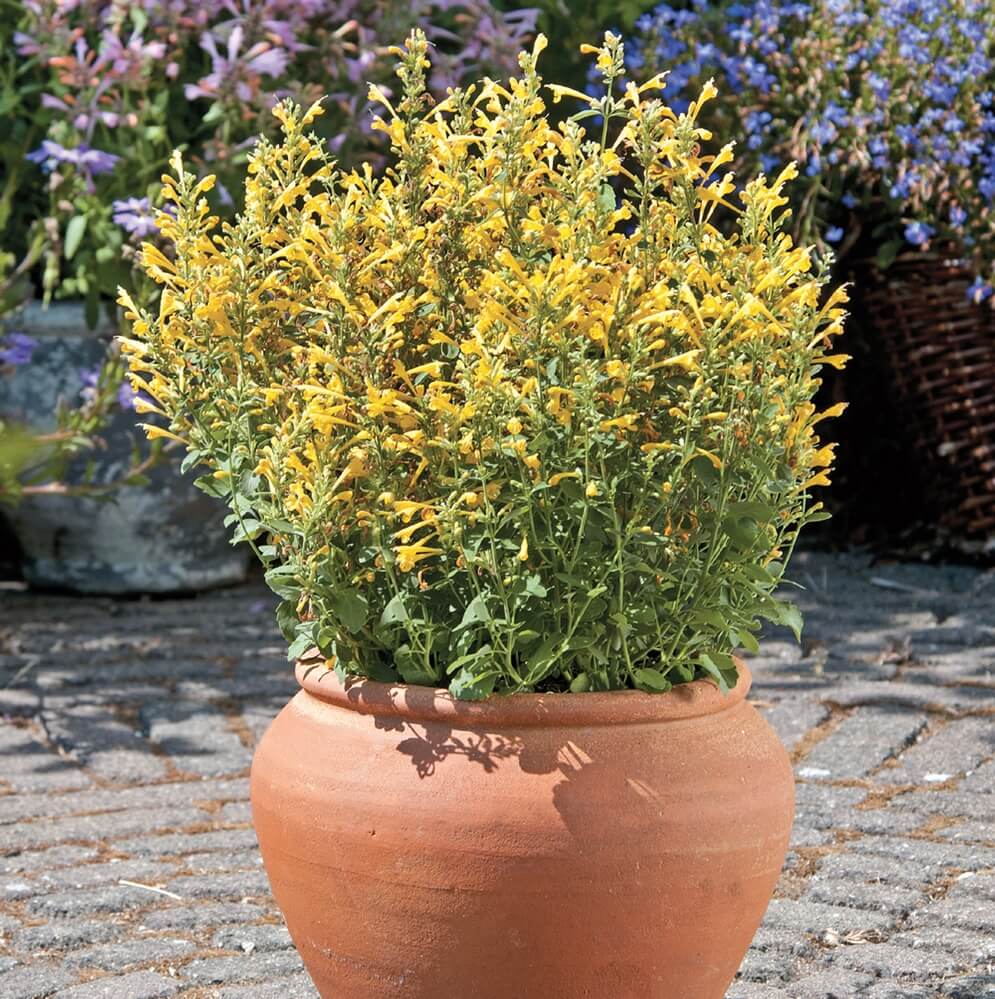 Container size and type are things that most gardeners don't consider as water-saving, but the larger and more water-impermeable the pot, the more it will conserve water. Think about how plants move water. They take it up through the roots, the water travels through the plant, and then it's released from tiny pores in the plant's leaves and stems. Basically, the plant pulls water from the soil. A larger pot holds more water and provides more root space—offering a bigger well of needed moisture. And, an impermeable pot surface simply means that less water will be lost due to evaporation. Terra cotta pots are the worst when it comes to evaporation while glazed ceramics and plastic or resin pots keep water at the root zone.
Soil and Additives
Some soils and amendments like peat moss hold water well and others like perlite encourage drainage. Our best water-holding potting soils contain lots of rich organic matter in addition to water-reserving additives, such as the Moisture Pro™ water-holding crystals Fafard® Ultra Container Mix with extended feed and RESiLIENCE®. The RESiLIENCE® additive, which is OMRI-listed for organic gardening, helps plants further by helping plants reduce water stress during hot, dry times. The addition of coco coir (we recommend Black Gold Just Coir) or Fafard Canadian Sphagnum Peat Moss further enhanced water-holding to reduce the need to water every day.
Drought-Tolerant Plants
There are so many beautiful container-friendly garden flowers that stand up to heat. For containers, it's great to choose heavy-flowering annuals that look nice until frost—either with their foliage, flowers, or both. It's also nice to try new garden center offerings, in addition to solid standbys, that will wow and impress.
For warm container color, try the new Bidens Campfire® Fireburst with its tiny hot daisies of orange-red and gold. Annual Bidens bloom continuously and look great alongside the red and orange flower of Lantana Rose Bandana, and gold-, -orange, and magenta-flowered Zinnia Pinwheel Mix, which are also compact. All stand up to hot, dry weather once established.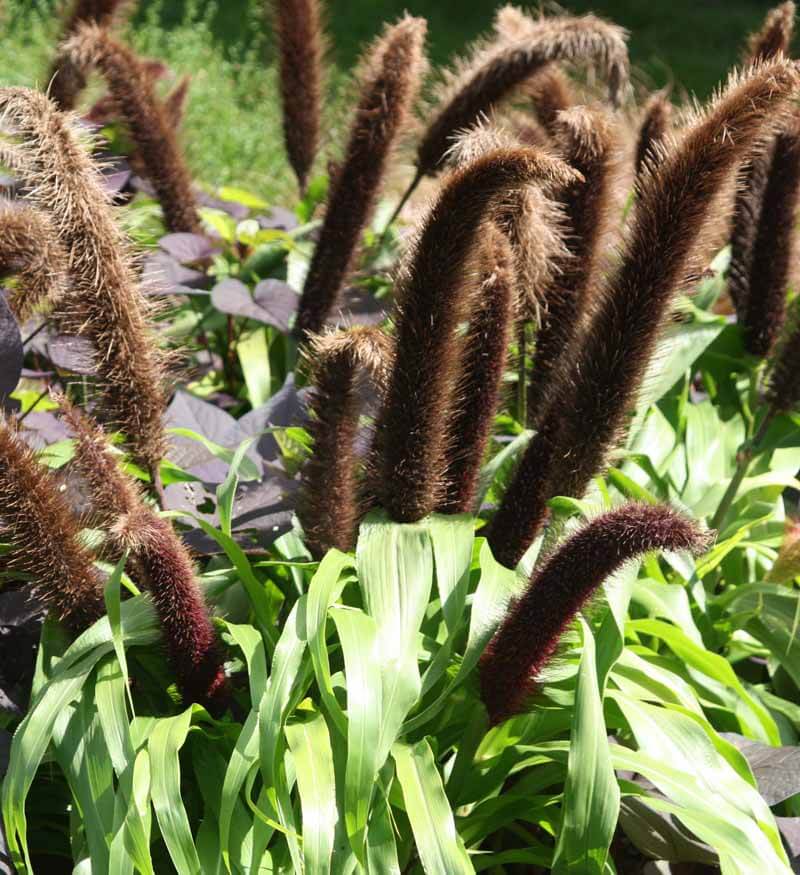 The outstanding Cuphea Vermillionaire® is another super tough, super pretty bloomer producing lots of orange-red, tubular flowers through summer that attract hummingbirds. These glow container plantings when placed alongside tall, Angelonia Angelface® Superwhite and soft, airy Mexican hairgrass (Nasella tenuissima). Another great hummingbird flower for heat and containers is the new Salvia Ablazin'™ Tabasco with its taller stature and scarlet flowers that shine alongside the chartreuse leaves and purple plumes of Pennisetum glaucum 'Jade Princess'.
Containers of bold succulents are also welcome for those wishing to water as little as possible. Pots of colorful Agave, Aloe, cacti or sedums look great through summer and can be brought into a sunny indoor spot through winter. The only caveat is that these plants tend to want a better-drained soil, such as Black Gold Cactus Mix.
Container Placement
Where you place your plants can make a big difference in how quickly they lose water. Exposed areas with hot sun and wind will always dry plants out more than protected areas shielded from the wind and sheltered from the sun during the hottest time of day. Morning and afternoon sun is always less beating, so place planters in spots where this level of sun dominates and light shade it provided around noon.
Planning ahead with these four steps for water-wise containers will save water, time, and headaches through summer. Your containers will still need regular care and water for the best health and looks, but you will be able to enjoy them more and worry less about summer container instant-wilt.