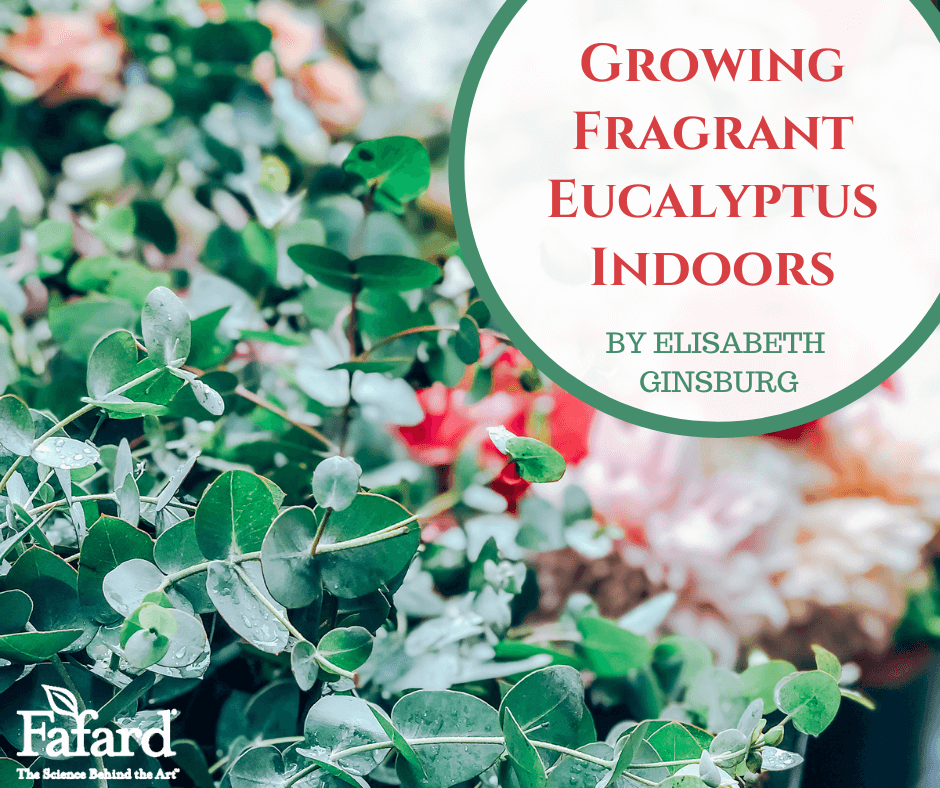 What do American gardeners have in common with the cute and cuddly Australian koala? Both animals and humans appreciate the aromatic leaves of the eucalyptus or gum tree (Eucalyptus spp.). Eucalyptus trees are primarily Australian natives, so Koalas have no trouble finding their tasty leaves that comprise their entire diet. But, Americans, especially those in cold winter climates, have to look farther afield to find eucalyptus leaves and branches for winter decorating, crafts, and herbal remedies.
Some indoor gardeners shorten the trip by growing eucalyptus trees at home in containers. Since the trees are normally fast growers, pruning is a must, but that just means more aromatic material with no need for a trip to the craft store.
About Eucalyptus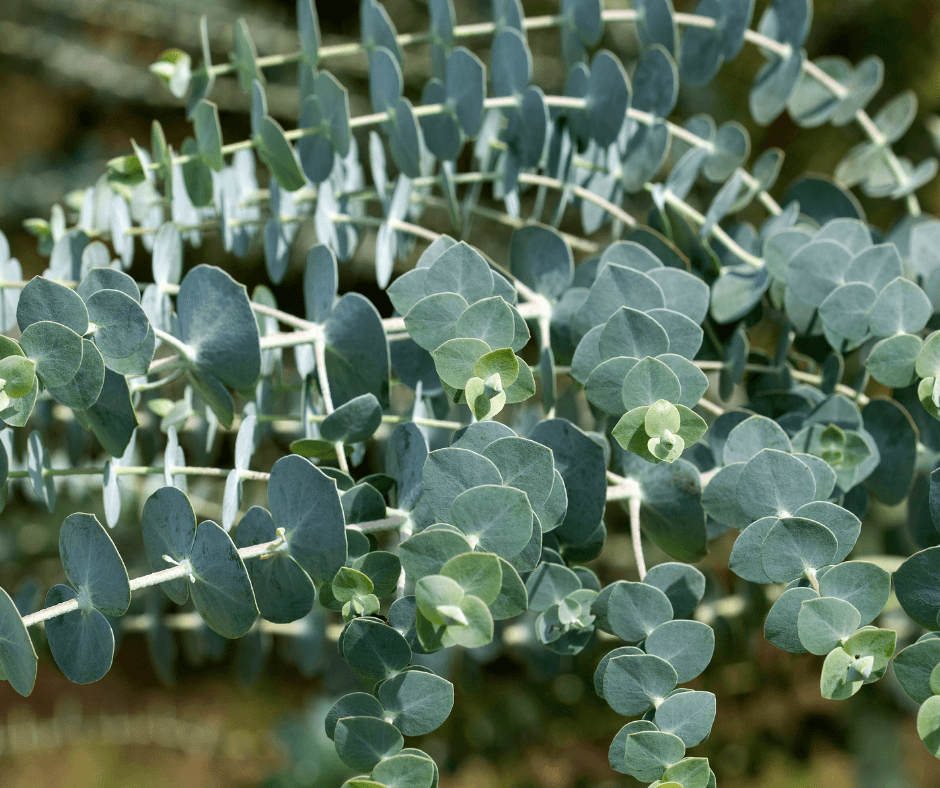 A member of the myrtle family (Myrtaceae), most eucalyptus species are from Australia, with a few others native to Malaysia and the Philippines. Many lose their leaves during the cold or dry season, but some are evergreen. Depending on which source you consult, there are between 500 and 700 eucalyptus shrub and tree species. The characteristic menthol- or camphor-like fragrance comes from many essential oils present in all parts of the plant. While koalas can digest the leaves, they are toxic to humans and other animals. Eucalyptus has long been used for decoration, woodworking, and medicines.
If you live in a warmer US zone it is nice to know that some eucalyptus trees sport silvery gray bark that peels or exfoliates. The green, gray-green, or blue-green rounded leaves, most commonly used by crafters, are generally the juvenile shoots of the plants. Older leaves are elongated or sickle-shaped but retain the characteristic eucalyptus fragrance. While eucalyptus generally bears small, fragrant white flowers when grown in the ground, it is unusual for container-grown plants to bloom.
Eucalyptus for Indoor Growing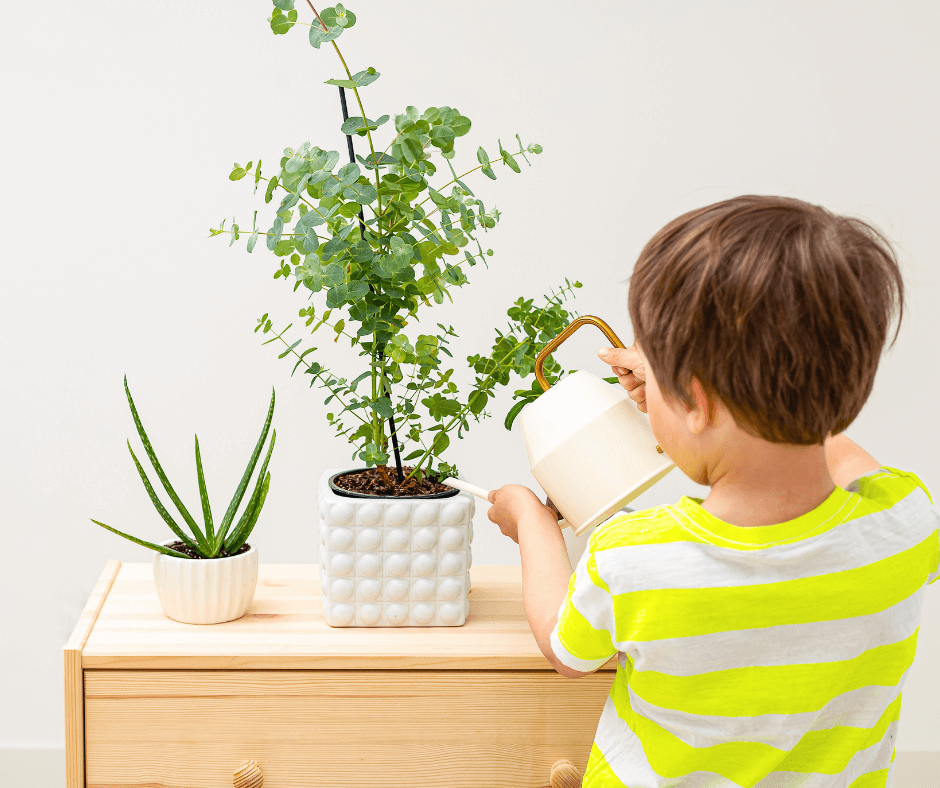 Nurseries, garden centers, and mail-order vendors carry a number of species that are suitable for container culture. Among them are:
Lemon Eucalyptus (Eucalyptus citriodora (syn. Corymbia citriodora)): As the name suggests, this eucalyptus features leaves with an overlay of lemony or citrusy fragrance. Left to its own devices, lemon eucalyptus may reach 6 to 10 feet tall and 2 to 4 feet wide, but a containerized specimen can be kept much smaller. The bark is smooth and gray, and the evergreen leaves are elongated. It is easily grown from seed and grows very quickly.
White-Leaved Eucalyptus (Eucalyptus albida, Zones 8-10): The young shoots of this shrubby, white-leaved eucalyptus are actually bright grayish blue, eventually growing longer and turning green. It is relatively slow-growing and easy to prune to shape. Outdoor specimens can reach 4 to 9 feet tall if left unpruned.
Cider Gum (Eucalyptus gunnii, Zones 9-11): Native to Tasmania cider gum has several compact varieties good for indoor growing. 'Silver Drop' is a compact variety (2 to 3 feet high and 1 to 1.5 feet wide) perfect for pots, with small, silvery leaves. It is also easily grown from seed. Steel Tower is another vigorous gunnii variety of similar dimensions.
Caring for Eucalyptus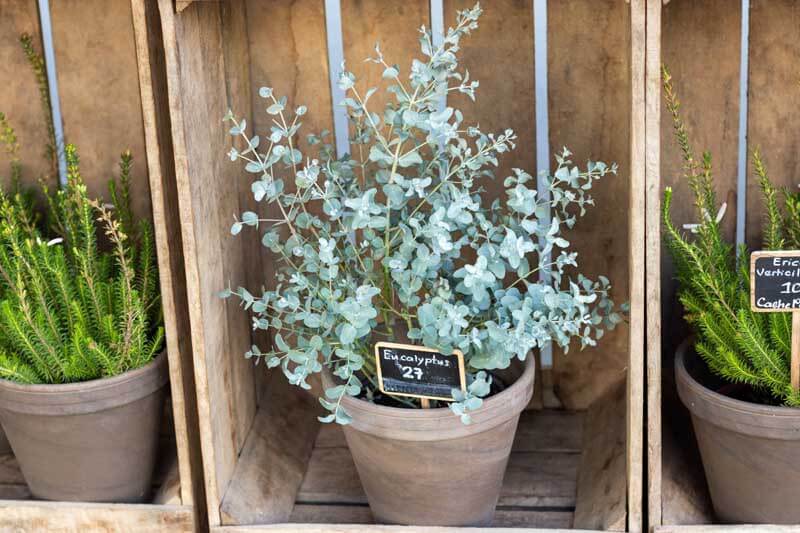 Some garden centers and big box stores carry young eucalyptus trees and shrubs, especially during the growing season. Alternately, you can start eucalyptus from cuttings, which will root readily in water, or from seed. Start seeds, cuttings or young specimens in large pots, because the plants dislike being repotted.
Sun: A full-sun exposure (at least six to eight hours per day) is necessary to keep eucalypts growing to their fullest. It helps to take containers outdoors in summer when the weather is warm. During the cold months, position eucalyptus in the sunniest available space, preferably near a south-facing window. Turn plants to keep them growing evenly if light is one-sided.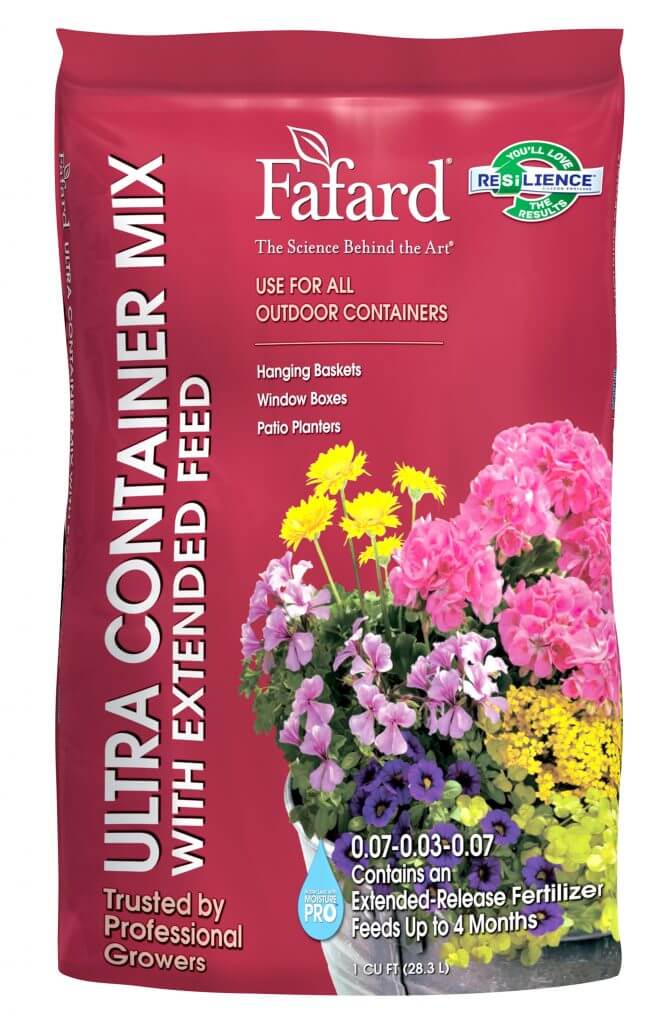 Soil and Fertilizer: Plant in large, fast-draining pots filled with well-drained soil, and fertilize regularly with all-purpose plant food. It helps to give them a leg up with an enriched potting mix, like Fafard Ultra Container Mix With Extended Feed.
Water: Water regularly when the top few inches of soil feel dry. Reduce watering significantly when you bring pots indoors during winter.
Pruning: To keep growth in check, promote fullness, and ensure an ongoing supply of young branches, the most important thing you can do is pinch off older growth and prune and shape the plant regularly.
Drying Eucalyptus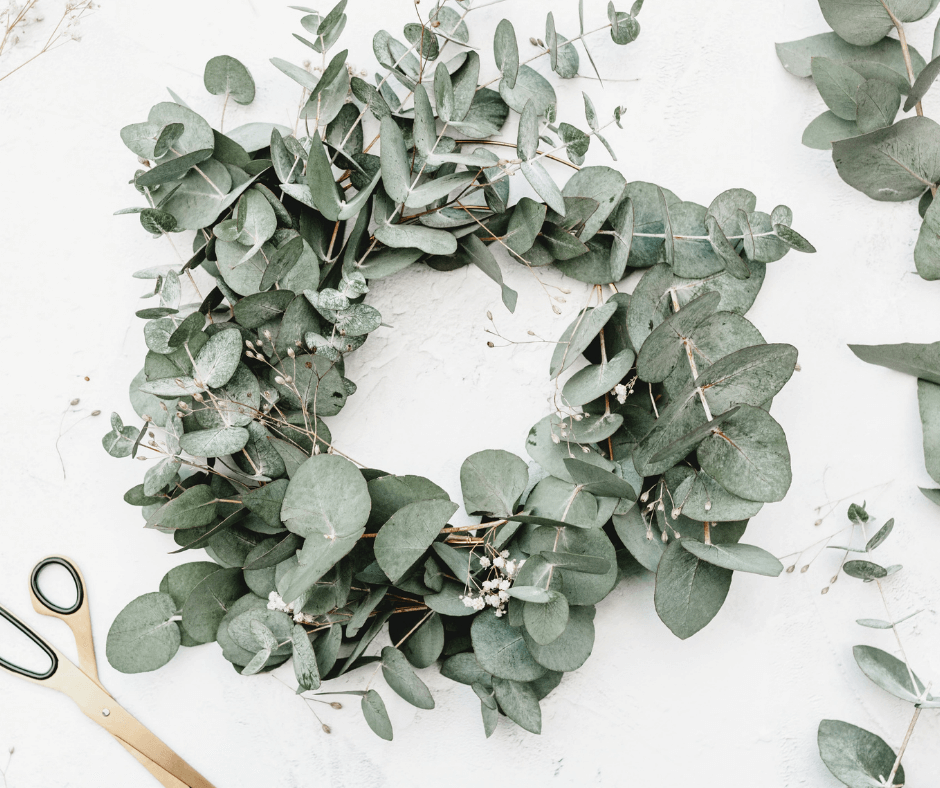 The most common way to preserve eucalyptus is by drying—hanging branches upside down in bunches, or spreading them on a screen placed in a cool, dry location.
For applications like wreaths, where a more natural look is desirable, it is best to treat stems with glycerin to keep them more pliable and long-lasting. Cut fresh, 12-inch stems, and crush 2 inches at the base of the cuts. Place the branches in jars filled with two parts water to one part glycerin (heat water to 180°F, add glycerin, stir well, and let cool). Allow the branches to cure in the solution for two to six weeks. Refresh the solution as needed within this time.
Using Eucalyptus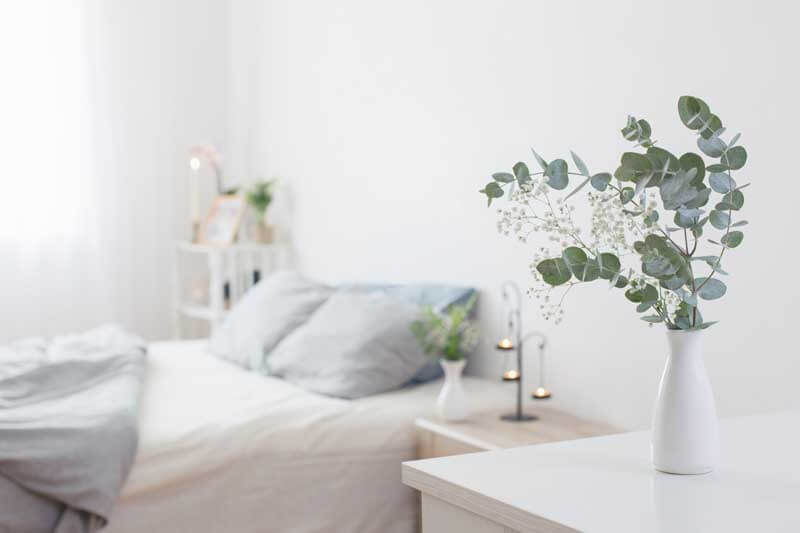 Eucalyptus oil should never be taken internally or rubbed directly on the skin, but many books and online resources supply directions for making infusions, ointments, and other aromatic remedies. Insect pests don't care for the scent of eucalyptus, especially lemon eucalyptus, so it makes a good repellent when tucked into sachets or included in potpourri.
Most of us will only experience koalas via nature shows or zoos, but we can channel their sunny Australian homeland by growing beautiful and fragrant eucalyptus indoors.