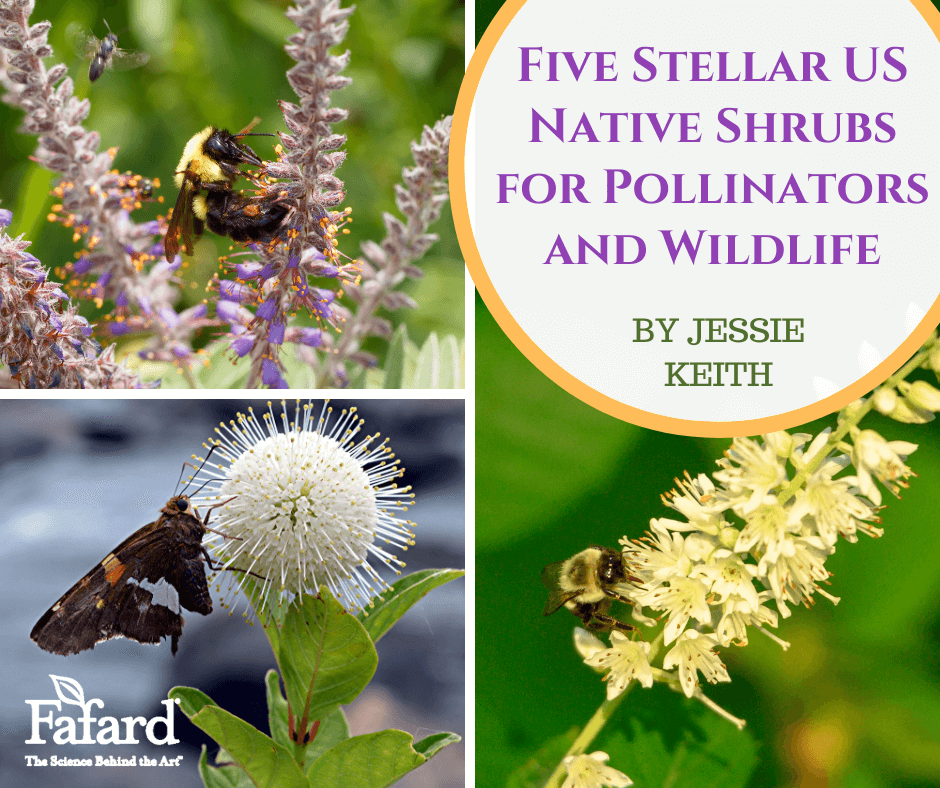 Some shrubs look beautiful in their natural form. Those on this list are elegantly beautiful in the wild or a garden. They offer aesthetic value and benefit our yard's ecosystems.
These five shrubs are givers, providing season-long beauty as well as food for multiple pollinators and wildlife at different times of the year. They've been selected from personal experience. I've observed them in the wild, in gardens, and in landscapes. There are no ornamental or environmental losers in this bunch. Plant them, and your yard will smile.
Five Beautiful Shrubs for Pollinators
1. Serviceberries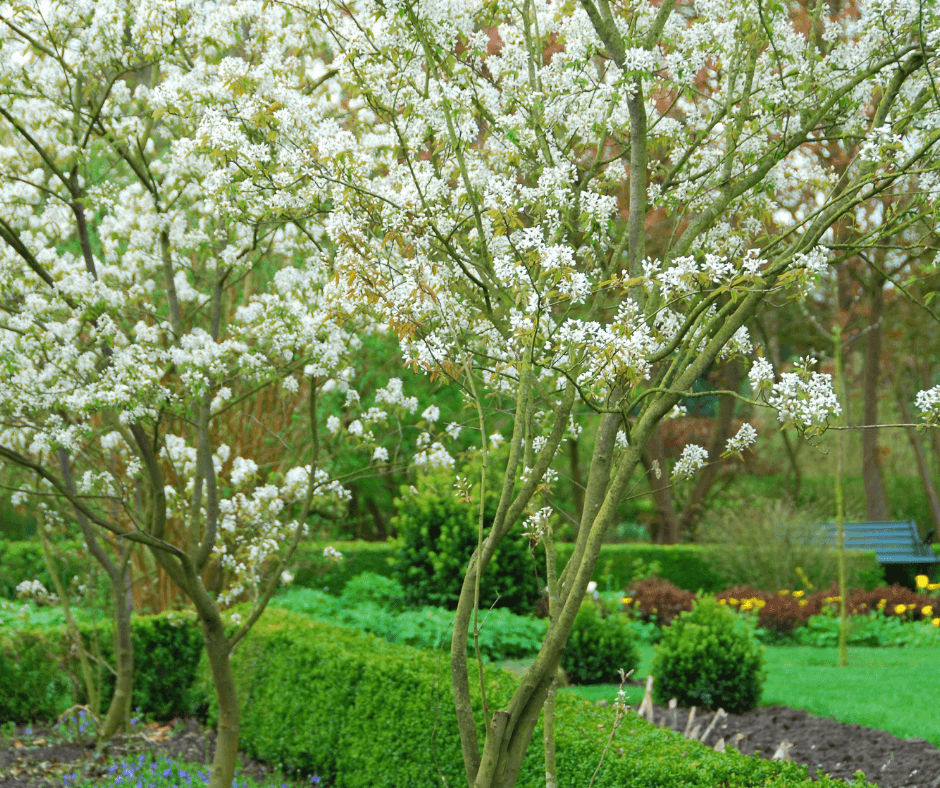 Across North America, there are approximately 20 species serviceberry species (Amelanchier spp.). All are exceptionally beautiful, have high wildlife value, and many are in cultivation. Most grow as shrubs, but some develop into multi-stemmed small trees at maturity. Here are some better species and selections to grow.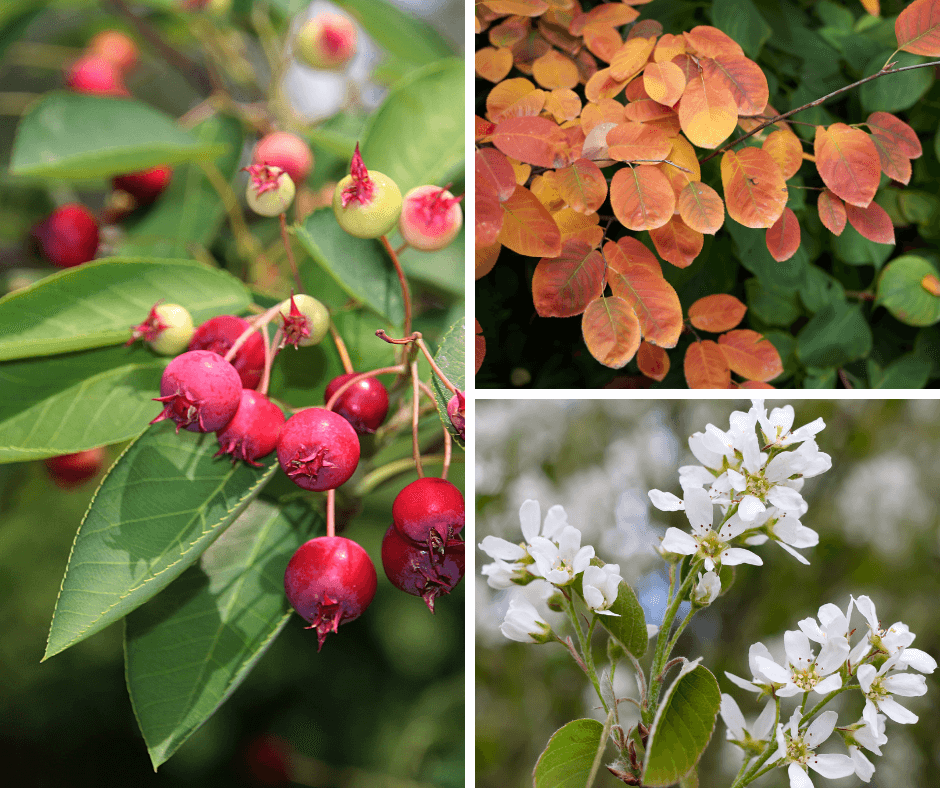 Saskatoon Serviceberry (Amelanchier alnifolia, 4-15 feet, USDA Hardiness Zones 2-8) is of special interest to bees, birds, and a couple of butterfly species. Its fragrant white spring flowers feed bees and butterflies, birds and mammals enjoy its sweet, edible, blue-black fruits, and it is the larval host to striped hairstreak and California hairstreak butterflies. In fall, the leaves turn brilliant shades of red, orange, and yellow, and its smooth, gray bark and pleasing habit stands out in the winter landscape. The variety 'Regent' is compact (4-6 feet) and bears copious flowers and delicious fruit for jam making and baking.
Canada serviceberry (Amelanchier canadensis, 15-30 feet, Zones 3-8) feeds early bees with its bright white clusters of spring flowers. Its reddish summer fruits are tasty and edible. Birds and mammals love them, and they can also be used for baking or jam making. The fall leaves turn shades of orange, red, and yellow.
laevis
2. Lead Plant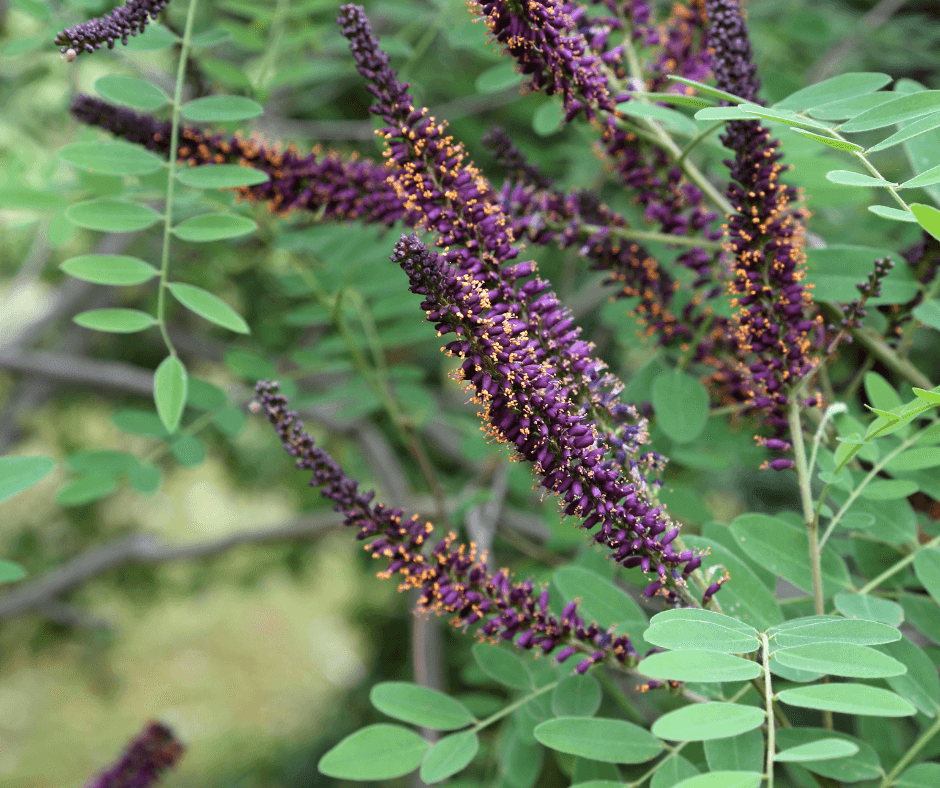 Native to American prairies, leadplant (Amorpha canescens, 1-3 feet, Zones 2-9) is an attractive, hardy shrub to subshrub in the pea family that sets spikes of purplish pea flowers against silvery-green compound leaves in early to midsummer. The fragrant flowers are highly valuable to native bees. Once established, the plants are quite drought-tolerance and set deep roots–reaching as much as 4-feet down. The denser, green-leaved dwarf false indigo (Amorpha nana, 2-3 feet, Zones 3-9) has reddish-purple summer flower spikes with a strong honey fragrance.
3. Summersweet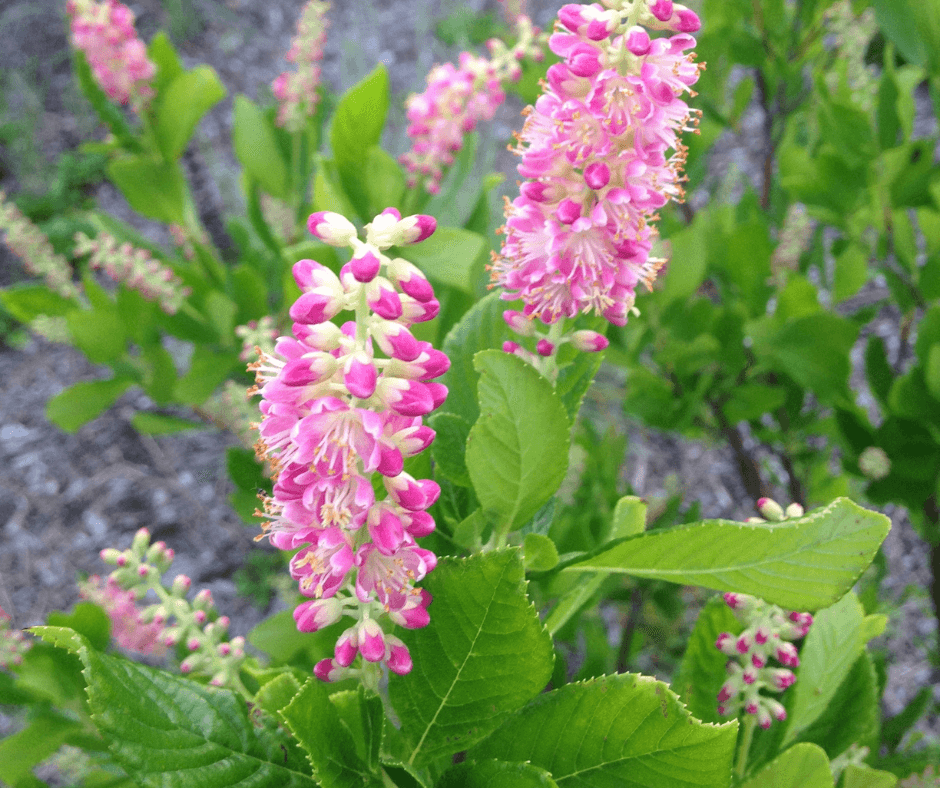 The ivory flower spikes of summersweet (Clethra alnifolia, 3-8 feet, Zones 4-9) appear in summer and are followed by little brown fruits that are eaten by many birds and mammals. Butterflies can't get enough of the flowers, including a wide variety of swallowtail species. Bees and hummingbirds also enjoy them. New growth is bronzy, ages to deep green, and then turns shades of orange and yellow in fall.
Though usually ivory-flowered, pink summersweet variants exist in the wild. 'Ruby Spires' (6-8 feet) is a commonly sold variety with especially deep pink flowers and golden fall foliage. Some varieties are also more compact for smaller gardens. 'Compacta' (3-4 feet) is a uniformly compact, shrubby, white-flowered form that is a bit more upright and compact than the comparable 'Hummingbird', which flops a bit but is just as lovely.
4. Purple-Flowering Raspberry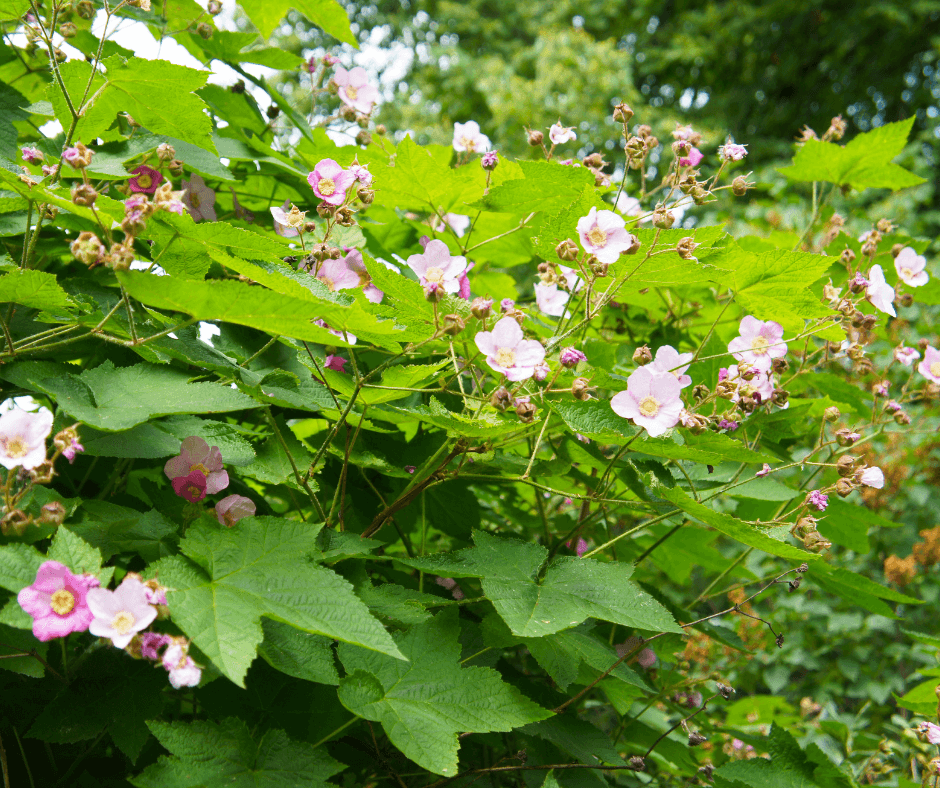 The pink-flowered purple-flowered raspberry (Rubus odoratus, 3-6 feet, Zones 3-8) is probably the prettiest of all the North American raspberries. The eastern North American native inhabits open woods. Large, pink, or pinkish-purple flowers bloom throughout summer above suckering shrubs with pretty maple-shaped leaves. The fragrant flowers are pollinated by bees and butterflies. Edible, but dry and not-so-appealing raspberries ripen through summer and feed birds and wildlife. Plant it along a wooded or shady area where it can spread.
Buttonbush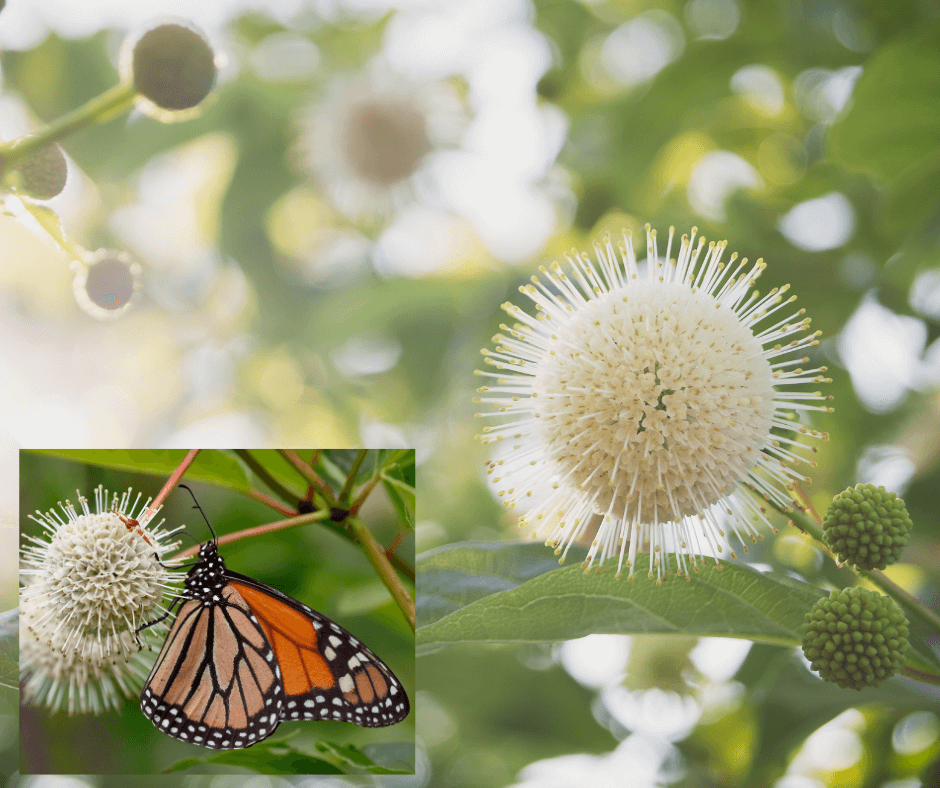 The unique white, celestial-looking flowers of buttonbush (Cephalanthus occidentalis, 8-12 feet, Zones 5-9) are big butterfly attractors. Monarchs, swallowtails, painted ladies, and silver-spotted skippers are all common visitors. Native bees like them, too. Natural shrubs grow quite large and favor moist soils. Full sun encourages the best flowering. Some desirable shorter varieties exist, namely the 4-foot-tall Sugar Shack® from Proven Winners.
Plant for wildlife as well as beauty and reap the rewards. It's a pleasure to watch pollinators, birds, and other wildlife enjoy your plantings. Adding a good balance of natives will ensure that you are serving regional pollinators well as the honeybees.