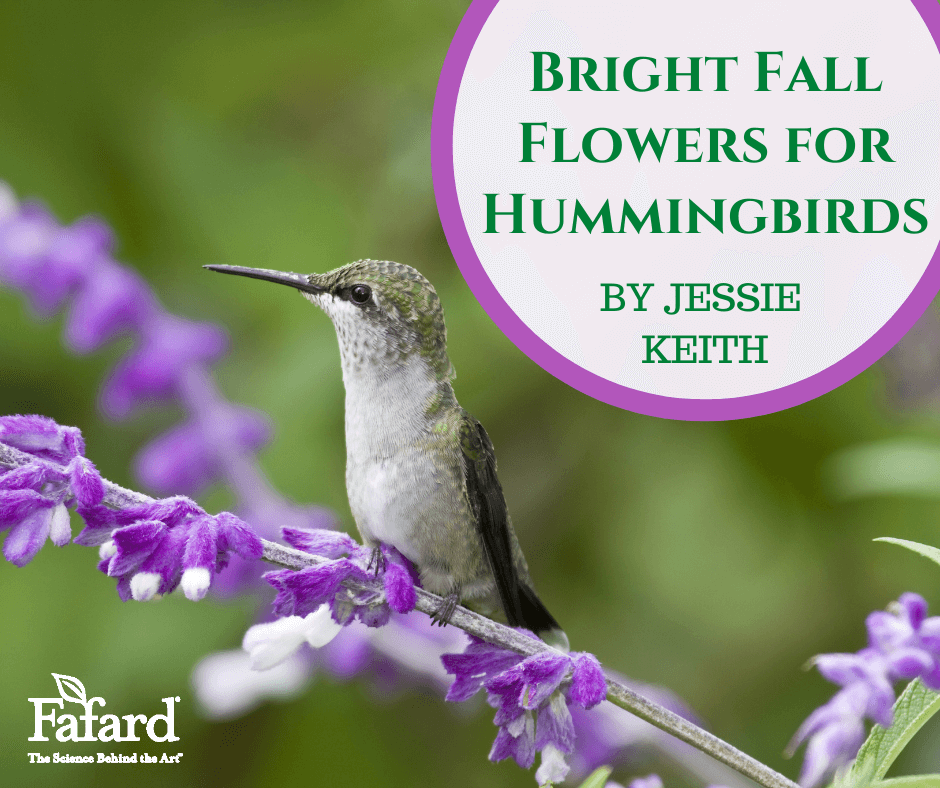 Bright tubular flowers are nectar-filled beacons of hope for hummingbirds making their fall journey south. North American hummingbirds begin their great migration in late summer–some starting as far north as New Brunswick, Canada. It's a long journey; an adult ruby-throated hummingbird can travel up to 20 miles and consume twice its weight in nectar and insects per day. Good food sources are essential, so reserve some space for their nectar-rich flowers in your fall garden. The beautiful blooms come in flaming colors, so it's no chore.
Hummingbird Mints that Keep on Blooming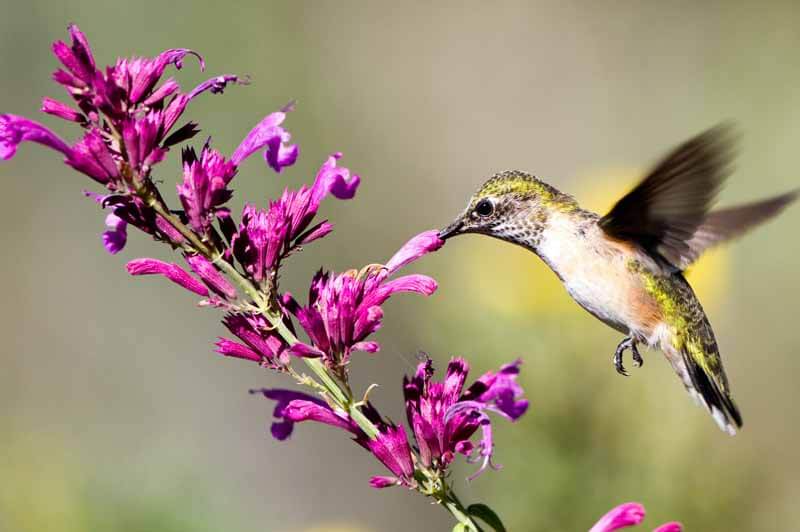 Hummingbird mints (Agastache spp.) bloom from summer to fall and have fragrant foliage and flowers. The southwestern orange hummingbird mint (Agastache aurantiaca, Zones 4-9) is one of the prettiest with its loose spires of bright orange blooms. Try the 2.5-foot 'Coronado' with its silvery foliage and profuse tangerine-orange flowers. Mexican giant hyssop (Agastache mexicana, Zones 7-10) produces tall spikes of bright pink flowers on 3-foot plants. Both Agastache bloom into fall, adding bright pops of color that are sure to lure many hummingbirds. Deadhead regularly.
Mexican Cigar Flower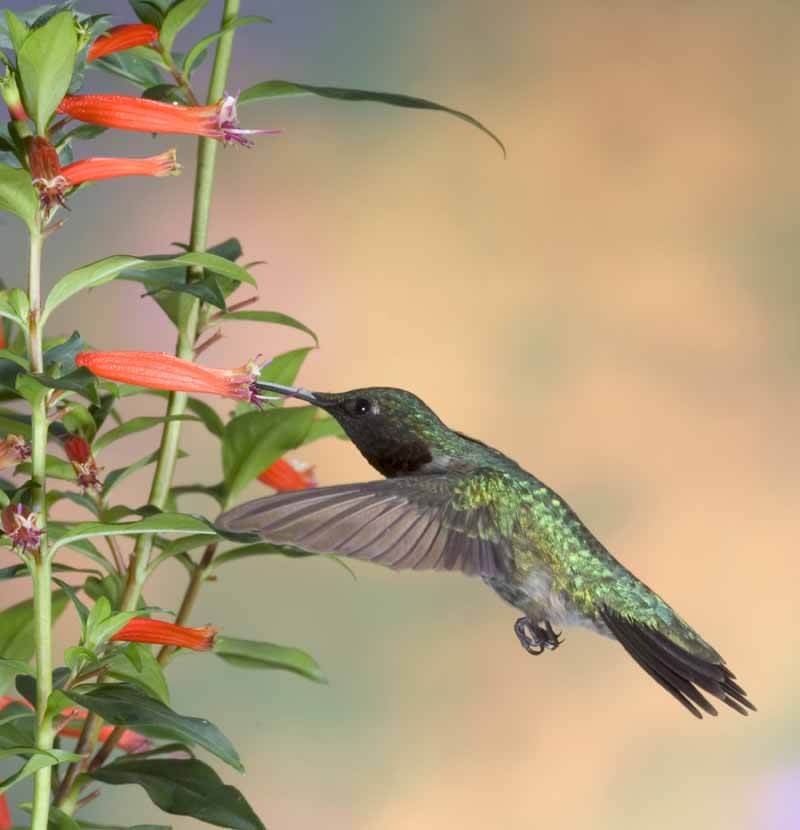 Vermillionaire® Mexican cigar flower (Cuphea ignea Vermillionaire®, Zones 8-11) is a bushy tender perennial that will bloom from summer to frost. Its numerous, orange-red, tubular flowers are excellent hummingbird food. Another added bonus is that the cigar flower is exceptionally heat and drought tolerant. It will shine through the worst of the summer weather and keep on shining when it cools down.
Hybrid Foxglove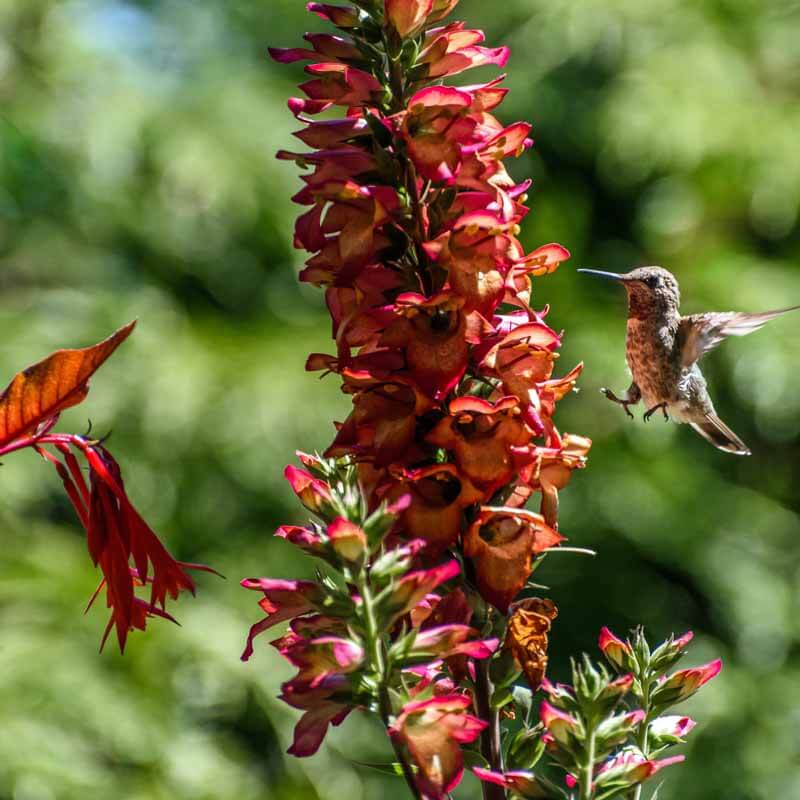 One of the coolest new perennials in recent years is Digiplexus, a hybrid cross between the spring-flowering European foxglove (Digitalis purpurea) and Canary Island foxglove (Isoplexis canariensis). Brilliant raspberry-pink flower spikes cover the impressive Digiplexus 'Illumination Raspberry Improved' from summer to frost. It will overwinter in Zones 8-11, and hummingbirds can't get enough of the blooms.
Cannas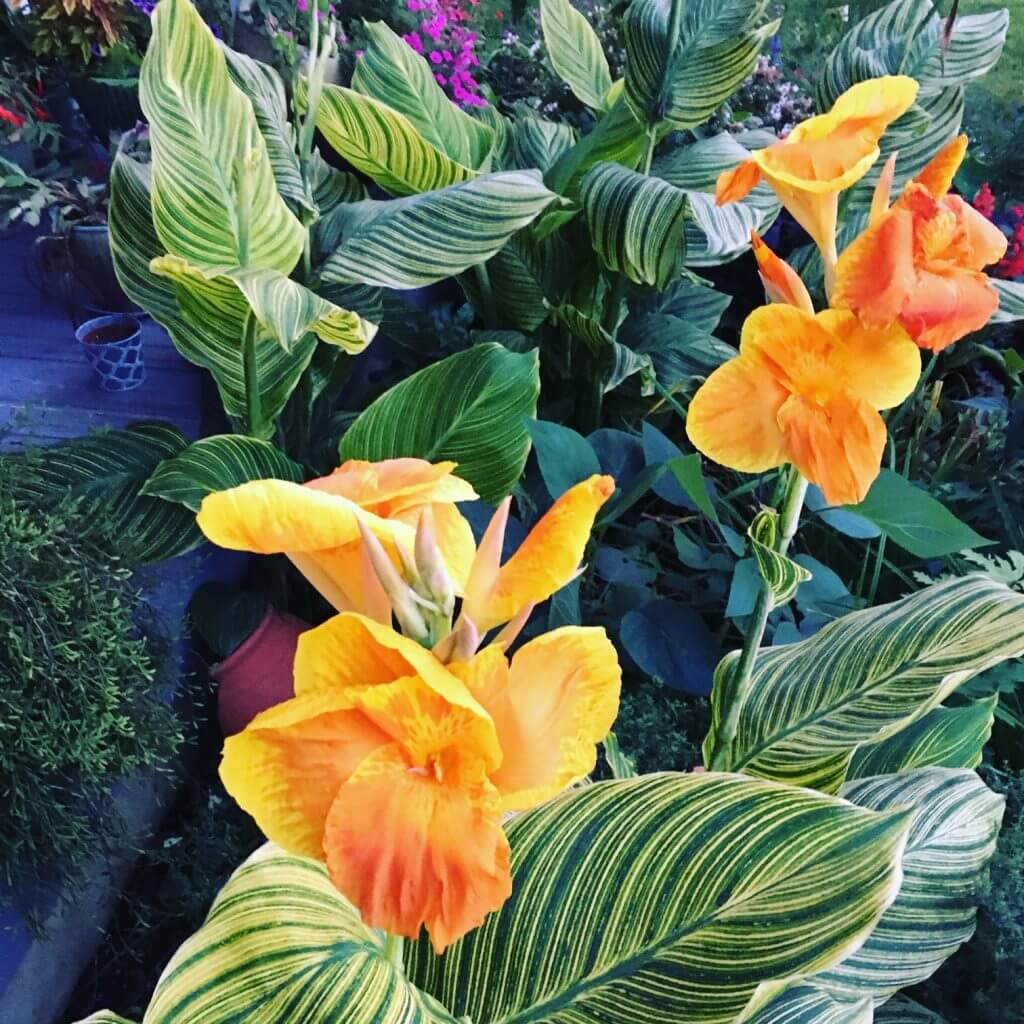 Cannas tall and short have colorful flowers that hummingbirds cannot resist. Whether you plant them in containers or gardens, they make a nonstop garden statement. My garden is never without 'Striata'
(syn. 'Pretoria', 'Bengal Tiger'). Its 4- to 5-foot plants have yellow-striped leaves and electric orange flowers. Gardeners with less space can try the 2-foot 'Cleopatra', which has red and yellow flowers and green foliage with purple blocks of color. It grows beautifully in pots filled with Fafard® Ultra Container Mix with Extended Feed. Right after the first frost, I cut my cannas back, dig the tubers, and store them in my cool, dark basement through winter.
Salvias for Hummingbirds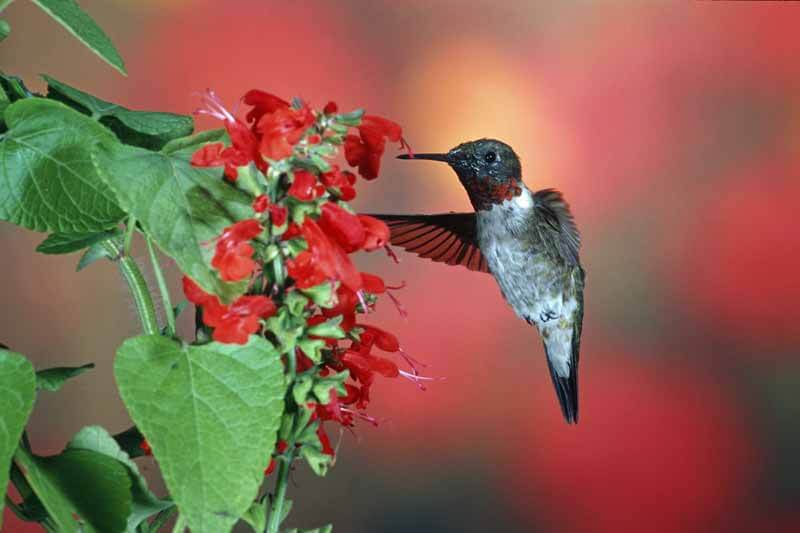 Late-blooming salvias are some of the finest flowers for traveling hummers. Each fall, my Hummingbird Forest Fire Texas sage (Salvia coccinea Hummingbird™ 'Forest Fire') looks the best in September. Its wands of deepest red flowers wake up late-season gardens. I also grow the pink-flowered 'Brenthurst Pink' Texas sage, which blends well with soft-colored plant compositions. Both of these plants are easily grown from seed in spring.
Mexican bush sage (Salvia leucantha, Zones 8-10) bears its arching spikes of small, fuzzy, purplish-red flowers in fall. Make space for the bushy, 2- to 3-foot plants through summer. When they produce their big show of flowers, you will see that they were worth the wait.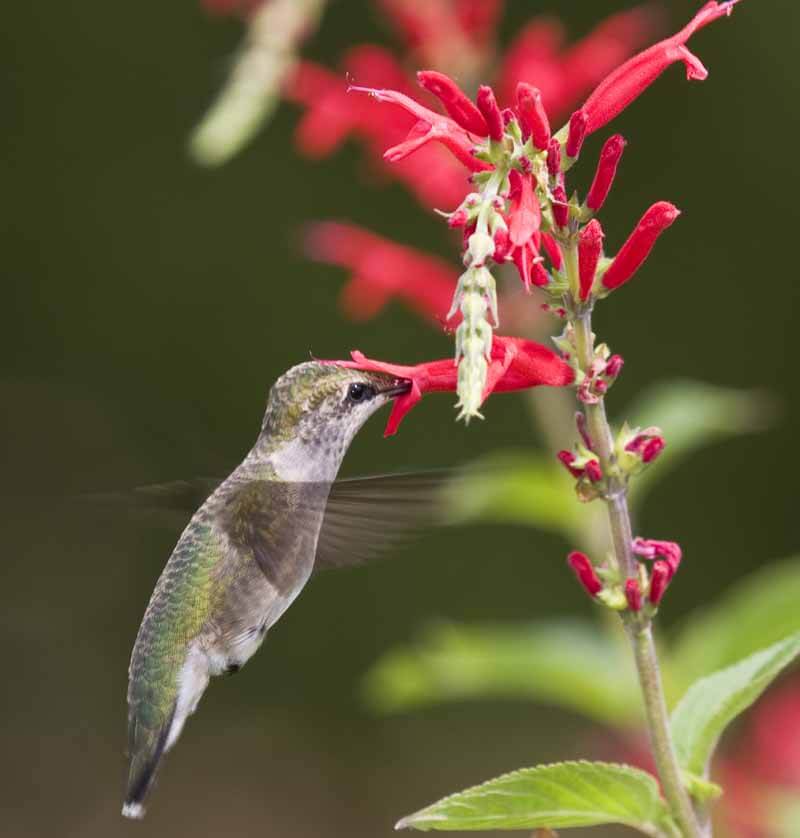 Another salvia with fall-only flowers is the herbal Golden Delicious pineapple sage (Salvia elegans Proven Accents® Rockin'® 'Golden Delicious'). Each large, bushy plant is covered with soft, golden leaves that smell of mint and pineapple. They can be used to flavor drinks, tea, and desserts. Mid-fall is when the real show begins when contrasting spikes of scarlet flowers appear. The hummingbird flowers are also edible to humans.
Hummingbirds live for five to nine years, and once they find a good yard filled with their floral foods, they will return to it. Adding any of these colorful flowers to your fall garden will extend its value to hummingbirds down to the last flowering day of the season.