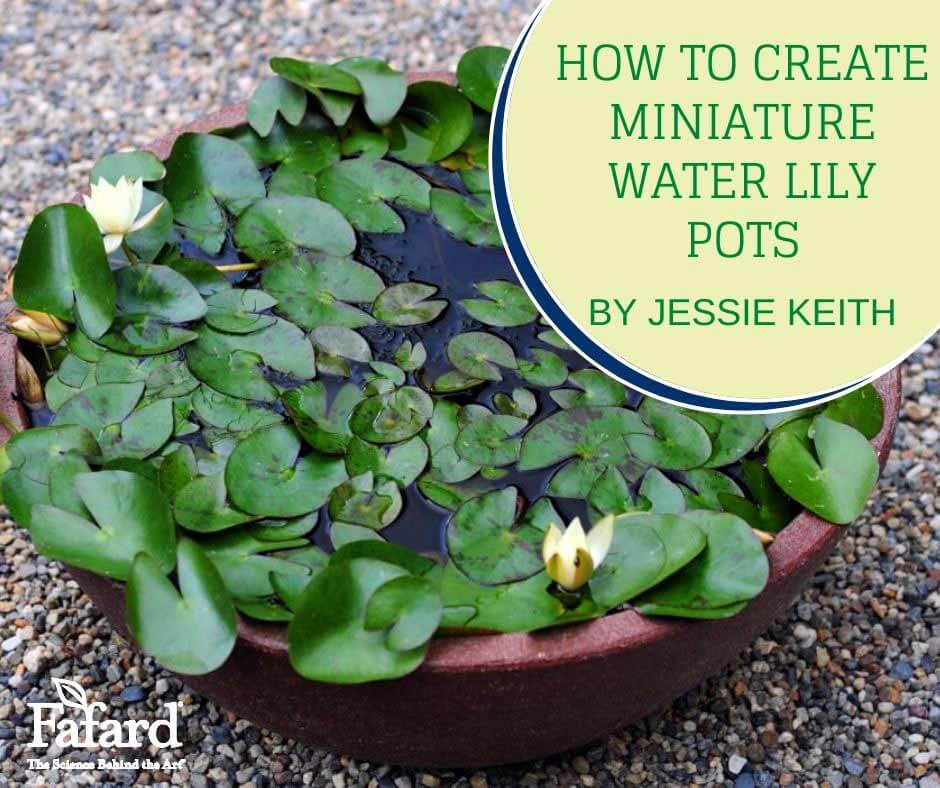 Nothing is more pleasing and cool in summer than a water garden filled with water lilies. Most gardeners don't consider growing these beautiful aquatic flowers because they lack the desire or space for a pond, but ponds are not needed if you grow small. Watertight, spacious troughs or pots can be converted into tiny water gardens for miniature water lilies. If you have a partially sunny patio, deck, or garden space that can take the weight of a water-filled pot, you are set!
Choosing a Container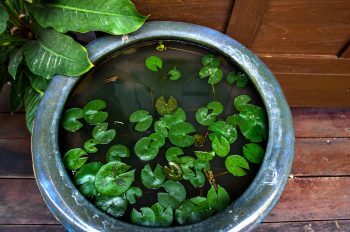 Water lily pots have to be large and spacious, so start by choosing a container that's at least 15-18 inches deep and 24-40 inches wide. This will give you enough space for your lilies. Pots must be watertight. Specialty "no hole" pots designed for aquascaping are sold, but you can also line large pots with pond liner, which is often a cheaper option. Simply cut the liner to a size that will fit in your pot and place it snugly along the inner lip of the pot. It helps to apply a strong, non-toxic adhesive along the edge to keep it in place.
Choosing Miniature Waterlilies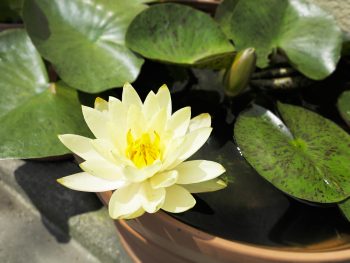 True miniature water lilies are so tiny that some have flowers the size of a quarter. Many are pygmy waterlily (Nymphaea tetragona) variants, which are very hardy—surviving winters as cold as USDA Hardiness Zones 4-11 with good protection. They come in a suite of colors that include ivory, pale yellow, pink, and red. The best for home gardens are easy to find online or in specialty stores.
One of the tiniest miniatures is the white pygmy water lily (Nymphaea tetragona 'Alba'). The hardy plants reach 18 to 24 inches across and sport tiny white flowers that float alongside teensie lily pads. Another beautiful white-flowered variety with much bigger, tulip-shaped flowers but a small growth habit is 'Hermine'.
The peach-pink-flowered 'Berit Strawn' (Nymphaea 'Berit Strawn') has larger flowers (3 to 4 inches across) and pads of deep green with some reddish mottling. The little plant is perfect for container growing, very hardy, and will bloom nonstop from early summer to fall. Plants will spread between 24 and 30 inches.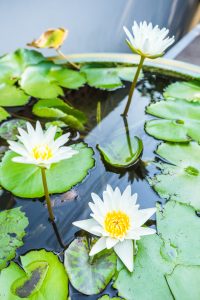 One of the smallest red-flowered miniatures is 'Perry Baby Red' (Nymphaea 'Perry Baby Red'). Its rosy-red flowers compliment dark green pads. Plants spread 12 to 36 inches across.
An older, classic mini water lily is the hardy 'Indiana' (Nymphaea 'Indiana'). Its tricolored, 2- to 3-inch flowers are in shades of rose-red, yellow, and orange. The diminutive plants have a spread of 12 to 28 inches across and small green pads with reddish spots.
One of the best yellow-flowered water lilies is the cheerful 'Yellow Pygmy' (Nymphaea 'Helvola'). Its flowers are only 2 inches, but they are bright and pretty. Plants reach 18 to 36 inches across.
There are lots of great sources for miniature water lilies. Lilypons and Texas Water Lilies are good sources that offer quality selections.
Planting Waterlilies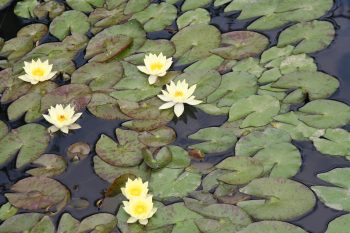 Water lilies grow from fleshy tubers that must be grounded in smaller pots and sunk below the surface of your water container. Choose a wide, shallow pot that will provide plenty of space. Planting depth can be 10 to 24 inches from the water surface. Pots should be placed where they can get 6 hours of sun per day or more. These planters can only be prepared after the threat of frost has passed.
Line the pots with porous but tight-knit plastic burlap bag. Fill it with a 3:1 mixture of heavy loam and Fafard Premium Natural & Organic Compost. Add just enough to fill the pot bottom and hold the waterlily tuber. The compost and soil must be well combined before planting. Finally, add a teaspoon of a slow-release, all-purpose fertilizer to the mix. Overfertilization can cause algal bloom, so don't add more during the season.
Cut a small hole in the bag and sink the tuber into the soil, so the top of the plant meets the soil line. Once it is planted, line the top 2 inches of the pot with pea gravel to help keep the soil and plant in place. Place a 1- to 2-inch thick rock along one side of the pot, so it sits at a slight angle. Doing this helps with gas exchange for healthy root growth. Small- to medium-sized water pots don't need aeration filters.
Gently fill the pot with clean tap water to a depth a couple of inches below the lip of the pot. Soon the plant will put forth fresh pads followed by flowers.
Maintaining Potted Waterlilies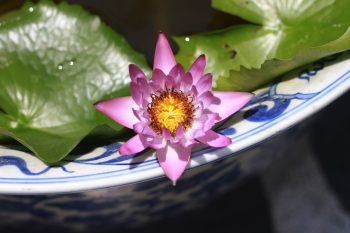 Keeping the water clean in your water lily pot is essential. Remove any debris that falls in the water, and cut old leaves from your water lilies. Refresh the water regularly as it recedes.
Water-filled containers cannot be allowed to freeze in winter, even if your water lily is hardy. They are too exposed above ground and freezing and thawing will cause the containers to crack. The best course of action is to drain the container before the first freeze of the season, remove the lily from the pot (being sure to cut back the leaves), and store it in a water-filled bucket in a cool, dark place through winter. Water lily tubers should be divided every two to three years.
These cool, impressive containers will brighten any summer garden spot. If you want the tranquil beauty of a pond without all the work and hassle, plant a water lily pot this season.