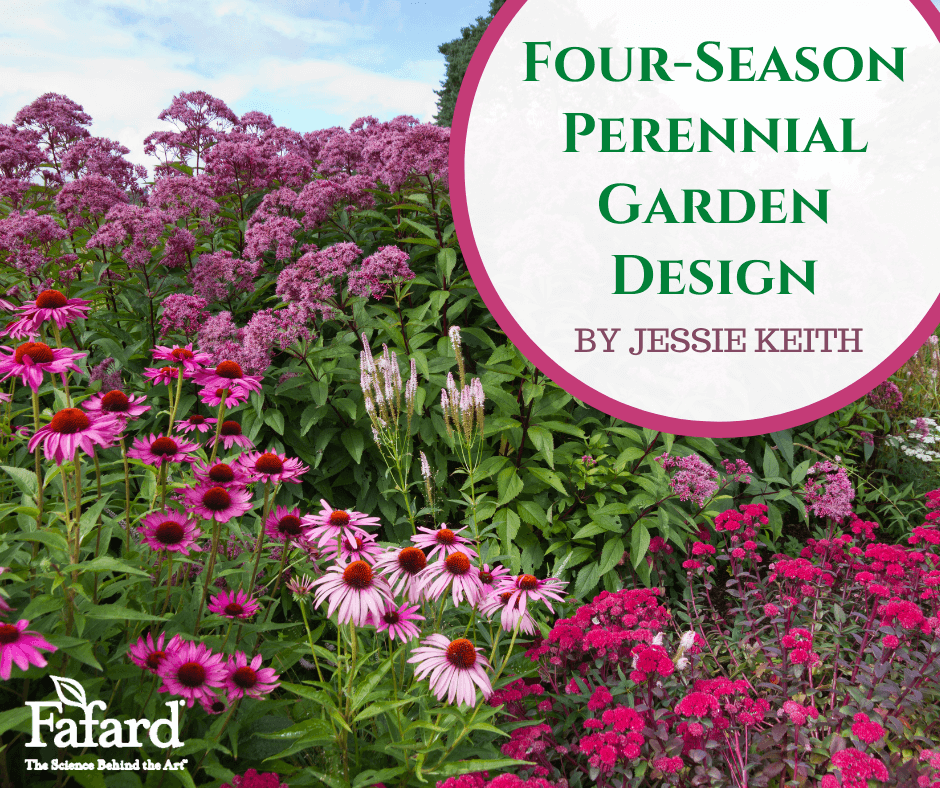 Perennials are garden workhorses that save money by returning yearly, but most do not bloom nonstop. That's why seasonality is an essential design factor when creating perennial gardens. Designing a beautiful bed with seamless seasonal appeal takes a little skill and knowledge, and it all starts with knowing your plants.
Consider this a starter course in perennial garden design. The focus will be on spring, summer, and fall bloomers that offer a big show. Plant heights, colors, and textures will also be considered. Intermingle any of these plants, and you should have a show-stopping perennial garden. Some of the plants listed are suitable for sun, shade, or both. At planting time, don't forget to amend perennial beds with Fafard Premium Natural & Organic Compost.
Good Spring-Blooming Perennials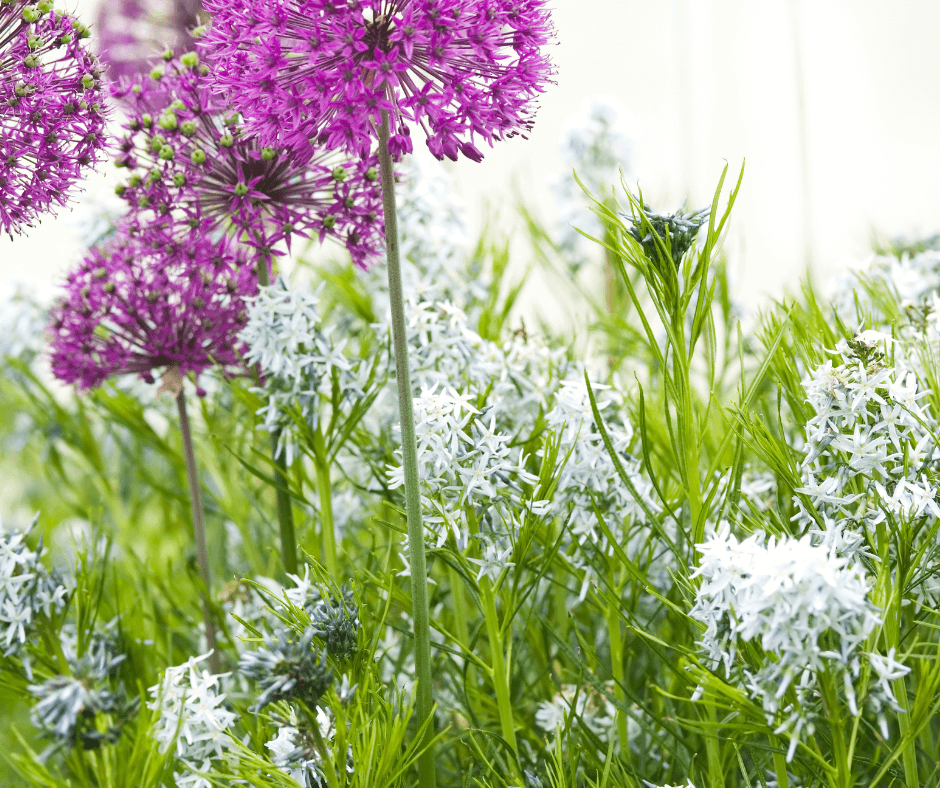 Hubricht's Bluestar (Amsonia hubrichtii, USDA Hardiness Zones 4-9, 2-3 feet, full to partial sun) is an eastern US native with a spring-to-fall appeal. It has palest-blue spring flowers that attract bees, bold mounds of feathery foliage through summer, and golden fall color. Bluestar may bloom from mid-spring to early summer, depending on how far north you live.
False indigo (Baptisia species and hybrids, Zones 4-9, 3-4 feet, full to partial sun) are some of the larger, bolder perennials for gardens. Most forms develop large, strong-stemmed, vase-shaped mounds. In late spring to early summer, upright wands of sweet-pea-like flowers appear in shades ranging from purple, white, yellow, or pink. Proven Winners' Decadence® Series are some of the best. My favorite is Decadence® Deluxe 'Pink Lemonade' with its pale yellow flowers that age to a rose-pink. The blooms are followed by stems of blackish pods that rattle in the wind and continue to offer appeal into winter if you leave them up.
Jack Frost Siberian bugloss (Brunnera macrophylla 'Jack Frost', 1-1.5 feet, Zones 3-8, full to partial shade) is a pretty foliage plant that bears small but numerous blue flowers in springtime. The tiny blooms are borne on airy stems above the foliage and look just like forget-me-nots. After spring, the large, heart-shaped, silver-gilded leaves of 'Jack Frost' brighten shade gardens until late fall. Their bright leaves make the biggest statement when planted in bold sweeps.
Wild Blue Phlox (Phlox divaricata, Zones 3-8, 1-1.5 feet, full to partial shade) is a gentle spreader that will dot your shaded perennial garden with 10-12-inch stems of blue, lavender-blue, pink, or white flowers in the spring, depending on the variety. The lavender-blue 'Blue Moon' is an exceptional bloomer with fuller flowers than average. Let these perennials weave between others and always plant them with those that bloom later in the season. Once wild blue phlox stops blooming, it offers little other seasonal interest.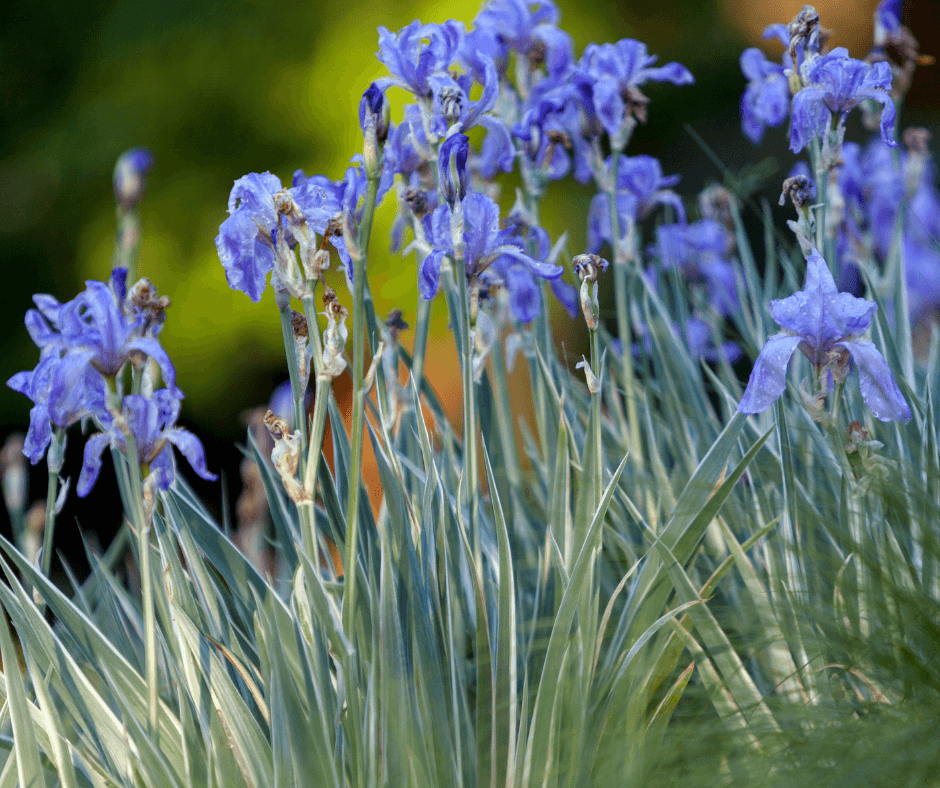 Variegated Sweet Iris (Iris pallida 'Variegata Silver', 2-3 feet, Zones 4-9) blooms from late spring to early summer with sweetly scented, classic, clear violet-blue iris flowers. Its tidy, crisp, variegated foliage adds interest to the garden all season. Remove any browning leaves to keep plants looking nice. They provide an attractive colorful, vertical accent, especially if planted in sizable clumps. They do spread over time and eventually need to be divided.
Golden Barrenwort (Epimedium × versicolor 'Sulphureum', Zones 5-9, 1 foot, partial sun to shade) is a mid-spring bloomer with 'capped' yellow flowers in nodding clusters. The attractive leaves look like fluttering wings and are reddish in spring, green through summer, and turn reddish shades again in fall. Established plants will tolerate dry shade. Plant them in sweeping clumps to make the most of their attractive summer and fall foliage.
Summer-Blooming Perennials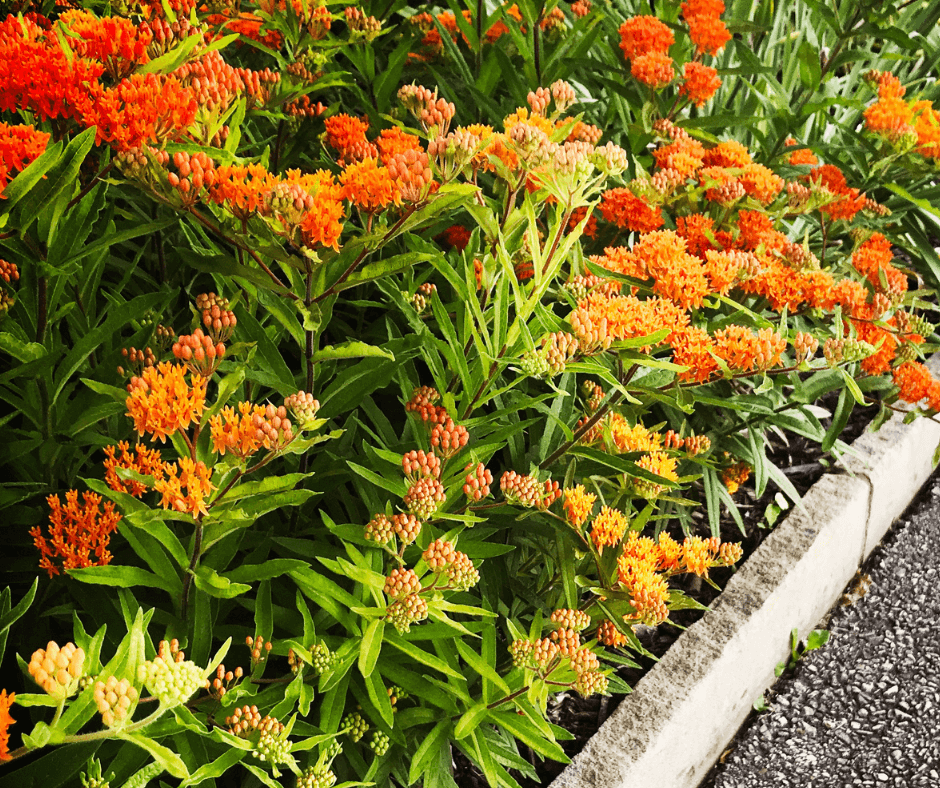 Butterflyweed (Asclepias tuberosa, Zones 3-9, 1-2.5 feet, full sun) is arguably the finest milkweed for the summer garden with its low, spreading stems covered in bright orange flowers. Flowering begins in early to midsummer. Once it stops, trim off the old blooms for another flush later in summer. If you see black-yellow-and-white-striped caterpillars on butterfly weed, leave them alone. They are monarch larvae.
Coneflowers (Echinacea species and hybrids, Zones 2-8, 1.5-3 feet, full to partial sun) come in so many wonderful varieties these days, and they always perform beautifully. They are some of the lowest-care and prettiest of all perennial garden flowers. They come in many colors and heights for endless design possibilities, and bees and butterflies love them! Lakota™ Fire is a very compact variety, reaching just 16 inches, that has brilliant flowers in shades of orange-red and hot pink. The decadent, fuchsia-colored flowers of Delicious Candy are also exceptional and stand 2-feet high. These perennials are excellent mixers that pair well with many other garden plants. The dry seedheads are favored by songbirds.
Daylilies (Hemerocallis hybrids, Zones 3-9, variable heights, full sun) are essential members of the perennial border. There are thousands of varieties from which to choose, but the best-sellers are often superior bloomers that rebloom. Try the compact 'Happy Returns', which has pretty butter-yellow flowers that will rebloom if you cut off the old flower stems. Another favorite is the fantastic Rainbow Rhythm® 'Ruby Spider', which has curly red lilies that reach up to 9 inches across. For another look, try Rainbow Rhythm® 'Sound of My Heart'. Its frilly pink and burgundy blooms stand tall on 28-inch stems and reliably rebloom through summer with deadheading.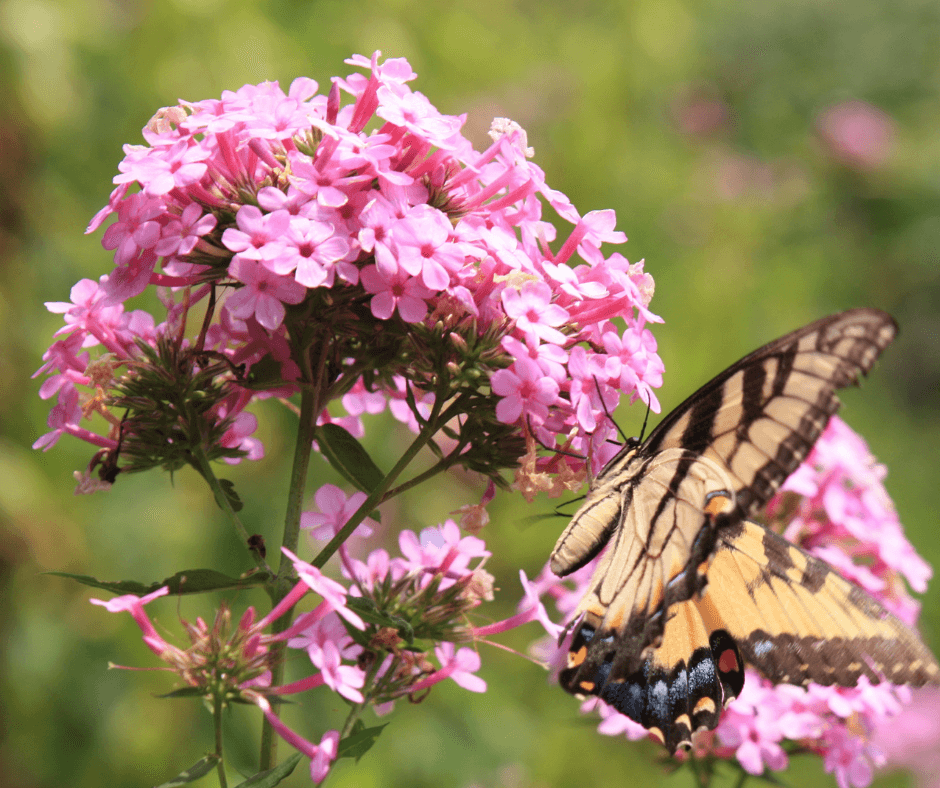 Tall Phlox (Phlox paniculata hybrids, Zones 3-8, 2-4 feet, full sun) is a big, showy late-summer bloomer that comes in lots of colors and is sure to draw loads of butterflies. Of the many cultivated varieties, 'Jeana' is exceptional. Its large, upright flower clusters consist of tiny, pink blooms with a sweet scent. Butterflies and bees cover the showy blossoms. 'David' is a lovely white-flowered selection that is tall with mountains of flower clusters. Both varieties are resistant to powdery mildew, a disease that makes the foliage look mottled with unsightly powdery white spots.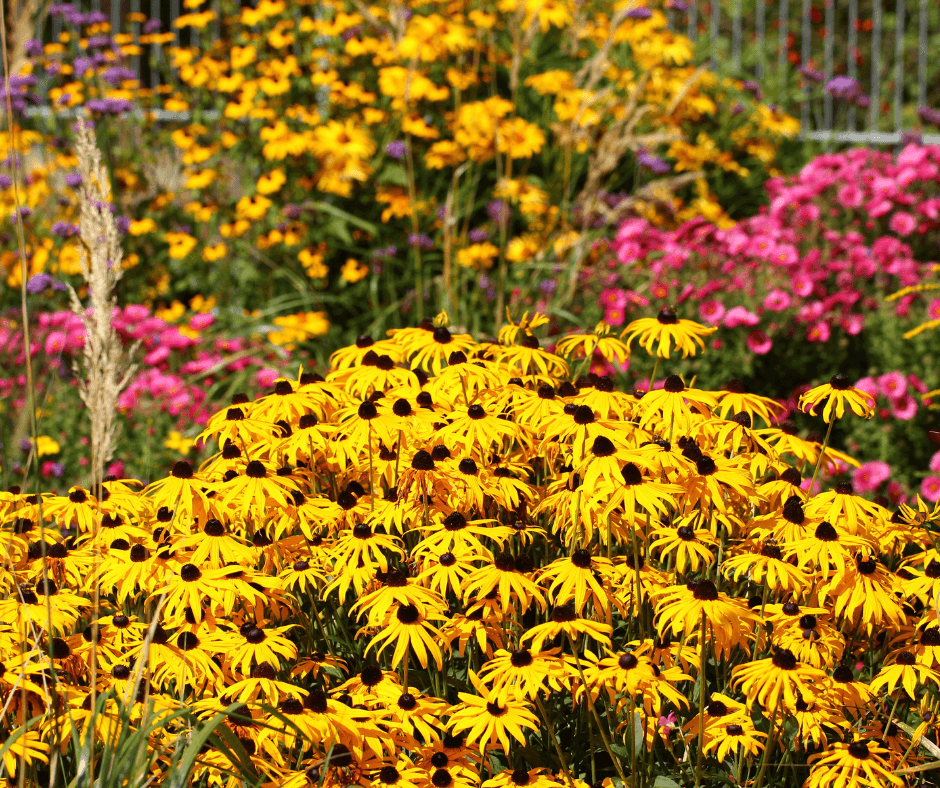 Black-Eyed Susans (Rudbeckia fulgida hybrids, 1.5-2 feet, full sun) are garden standbys. They are tough and always look bold and beautiful with their golden, dark-eyed flowers. Tall, branched stems bloom over a long period from mid to late summer. Pollinators cannot get enough of them. Leave the seedheads up for songbirds to feast upon. Some varieties will continue blooming into fall. 'Goldsturm' is the most classic variety, but keep in mind that its clumps spread over the years, so plan to divide and share them with friends. The more compact 'Forever Gold' is equally pretty.
Fall-Blooming Perennials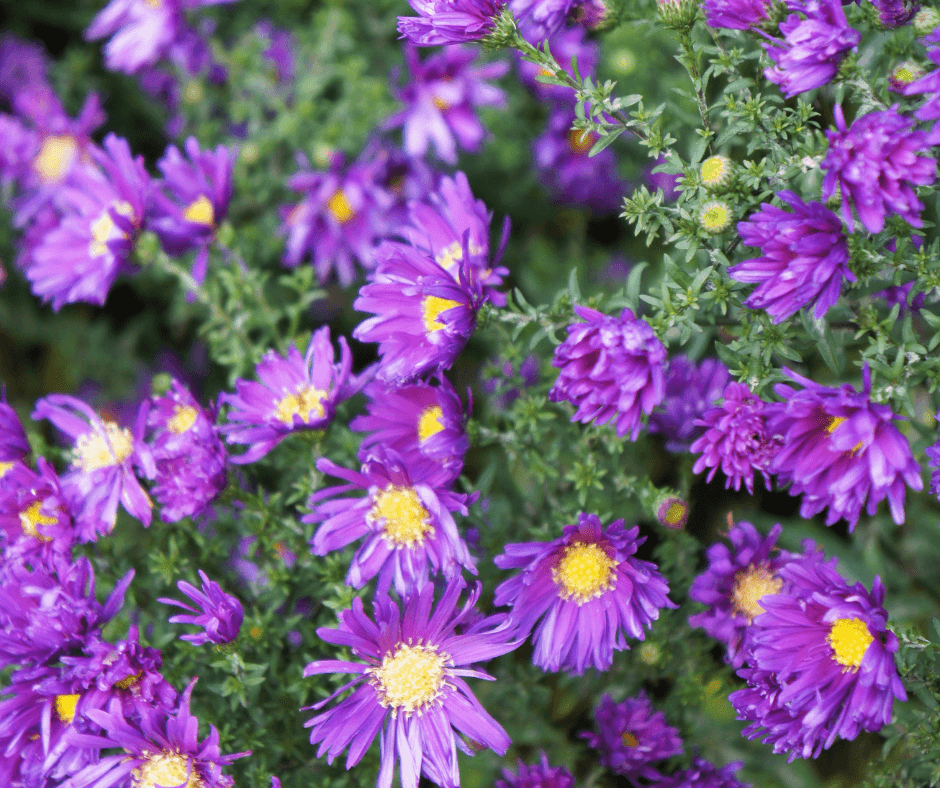 Baby Joe Joe-Pye Weed (Eutrochium dubium 'Baby Joe', 2-3 feet, full to partial sun) is one of the best late perennials for moist to average soil. Wild forms of this coastal-plain species can reach up to 5-feet tall, but the variety 'Baby Joe' stays smaller. Its airy puffs of dusty-pink flowers are a sure pollinator lure.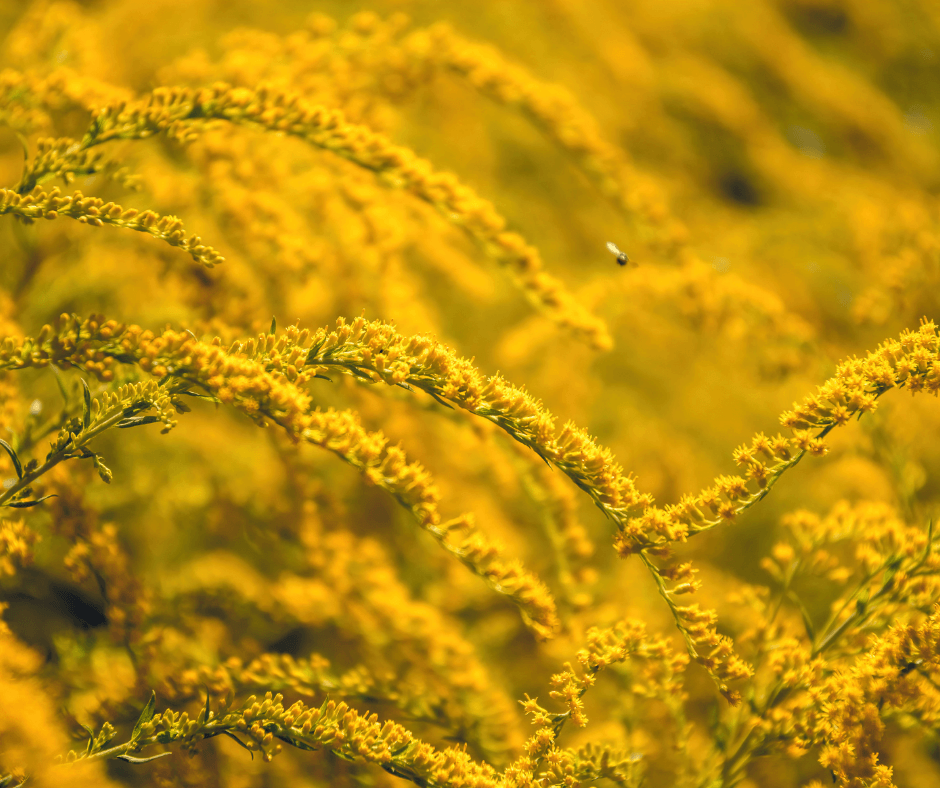 Goldenrods (Solidago spp, full sun) provide a bright golden glow of color that native bees and migrating monarchs cannot resist. The bold, bright Fireworks goldenrod (Solidago rugosa 'Fireworks', Zones 4-9, 3 feet) is a tall variety that spreads over time and provides a big fall display of golden flower strands that truly resemble garden fireworks. The arching flowers make an impressive statement and pair well with asters. Golden Fleece goldenrod (Solidago sphacelata 'Golden Fleece', Zones 4-8, 12-18 inches) is boldly flowered, but compact, variety for smaller gardens.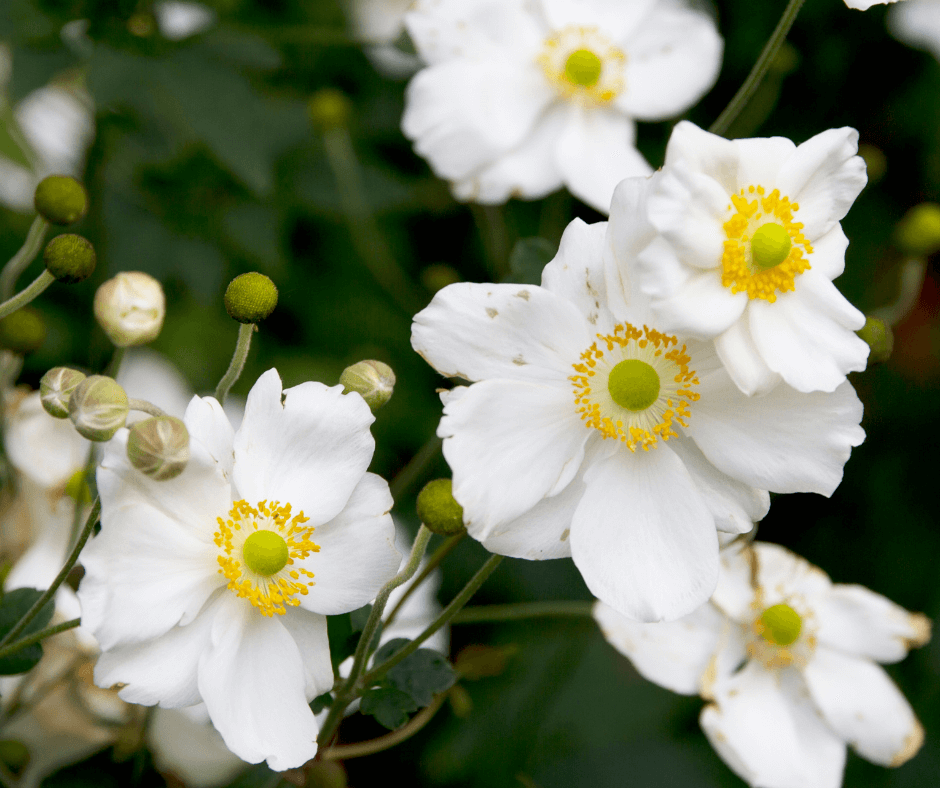 Fall Anemones (Anemone x hybrida varieties, 2-3 feet, full to partial sun) have delicate blooms of white, pink, or rose-purple produced in impressive long-stemmed clusters. Place these along the center or rear of a flower border. The large, white-flowered 'Honorine Jobert' reaches up to 3 feet and spreads over time. 'Serenade' is a delicate pink variety with semi-double flowers on 2-foot stems. The clumps spread and require division every few years.
New England Aster (Symphyotrichum novae–angliae, Zones 3-8, variable heights, full sun) is a native wildflower with purple to reddish-pink flowers that cover the plants in fall. There are many cultivated varieties, such as the double-deep-pink-flowered 'Alma Pötschke', which reaches 3-4 feet, and the classic 'Purple Dome' with its deepest purple flowers and compact height of 1.5 to 2 feet. Plant these where you wish to have a bright pop of color in the fall perennial garden.
Tall Sedums have broken the mold of the old-fashioned, dusky pink Autumn Joy sedum (Sedum telephium 'Autumn Joy', Zones 3-8, 1-2 feet, full sun), though it is a fine variety. Extra bright flowers and unique foliage colors, like bronze, purple and near-black, mark some of the newer varieties. Some are extra tall while others are very compact and more densely flowered. The knock-your-socks-off 'Mr. Goodbud' (Sedum telephium 'Mr. Goodbud', Zones 4-9) an award-winner that is compact with brilliant domed flower heads of purplish-pink.(Click here for more tall sedum options.)
To extend flowering interest in my perennial beds, I always leave a few pockets for ever-blooming annuals. Fire-hot cuphea and marigolds, tall summer snapdragons, and annual salvias of all shades and colors give perennial gardens extra pizazz.