Any low, wet area in the yard where rainwater runoff collects after a storm has the potential to be a spectacular, flower-filled rain garden. Maintaining these landscape reservoirs as beneficial gardens rather than stressed turf will save time and headaches and improve your yard's looks—as long as you plant the right plants and create a design for all-season bloom.

What is a Rain Garden?
Rain gardens are attractive stormwater capture sites filled with plants that will temporarily withstand wet soil conditions. They help homeowners and communities with water management, but they also have a wider environmental benefit. Stormwater that runs off of roofs, patios, driveways, and lawns carries sediments, chemicals, and excess nutrients that flow into natural waterways and are detrimental to wildlife. Rain garden plants actually remove the majority of these unwanted substances before they reach our waterways. They also quickly soak up excess water, which reduces mosquito-breeding habitat. And, if they feed pollinators, they also benefit wildlife.
So, don't let your lawn depressions bring you down. See them as opportunities to help the environment and create something beautiful!
Beautiful Rain Garden Flowers
As with any garden, design your rain garden to look beautiful all year round. Choose colorful bloomers for each season to maintain visual appeal. All of the plants in this list are not too tall, which will make for tidier rain gardens that are easier to maintain. All of the flowers on the list are hardy, sun-loving perennials unless otherwise noted.
Spring Bloomers
Blue Ice Eastern Bluestar (Amsonia 'Blue Ice', 12-18 inches): From April to May, this hardy, bushy perennial bears clusters of pale violet-blue flowers. Through the rest of the season, its attractive green foliage looks lush and lovely.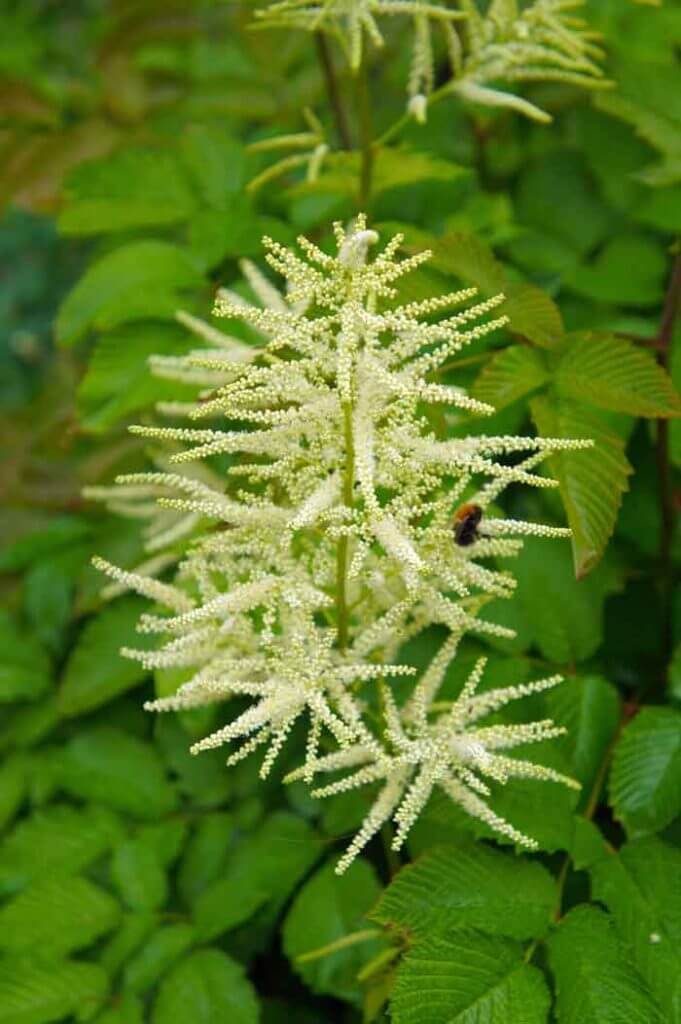 Compact Goatsbeard (Aruncus dioicus ''Kneiffii', 2-3 feet): This moisture-loving perennial is a shoo-in for rain gardens. It has ferny green leaves and produces large, airy wands of ivory flowers in May. It is also very hardy, growing in USDA Hardiness Zones 3-7. It will withstand both full and partial sunlight.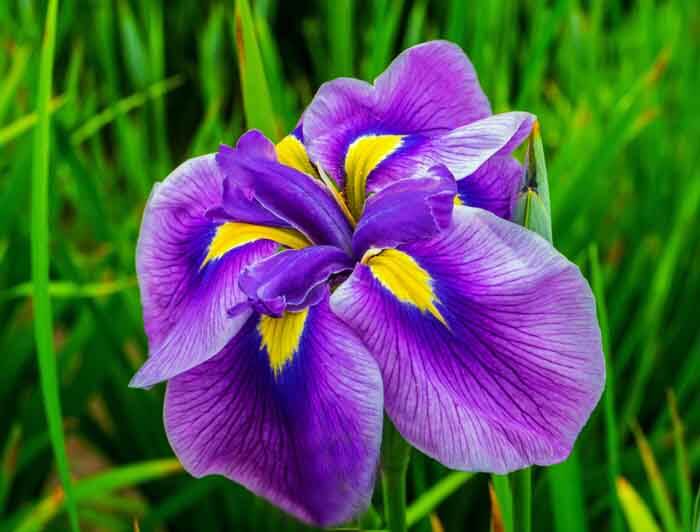 Japanese Iris (Iris ensata, 2-4 feet): There are so many beautiful varieties of this showy Asian iris, it's hard to choose just one. They come in shades of purple, lavender, pink, white and rose-red and bloom in late spring or midsummer, depending on how far north you live. It is a preferred iris for rain gardens because it does not spread aggressively, unlike many other iris for wet or moist soils.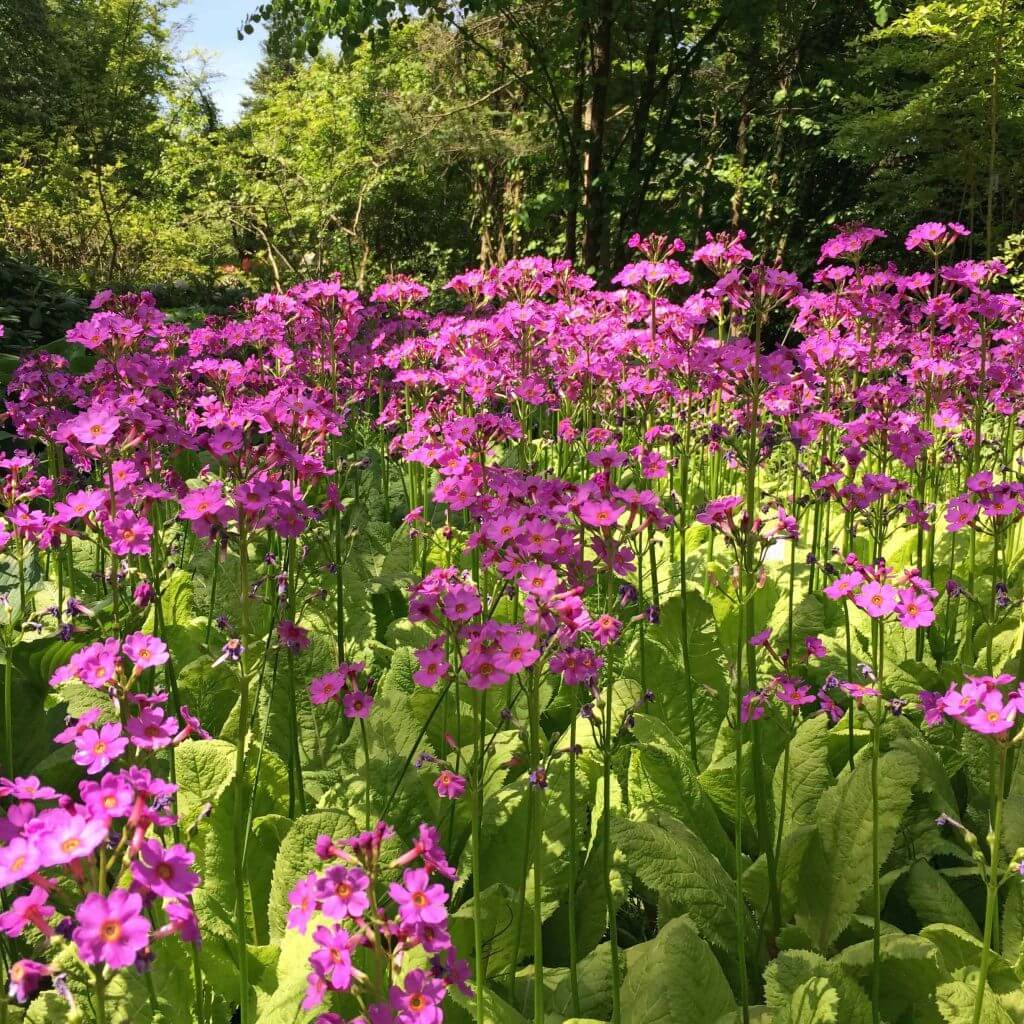 Japanese Primula (Primula japonica, 1-2 feet): Blooming from late spring to early summer, this elegant primrose produces tall wands of colorful flowers. The hardy plants will gently naturalize over time. Plant this in rain gardens with partial sunlight.
Summer Bloomers
Red Milkweed (Asclepias rubra, 2-4 feet): The bright reddish-pink flowers of this moisture-loving milkweed are exceptional. It is very hardy, blooms from mid to late summer, and is an essential plant for monarch butterflies.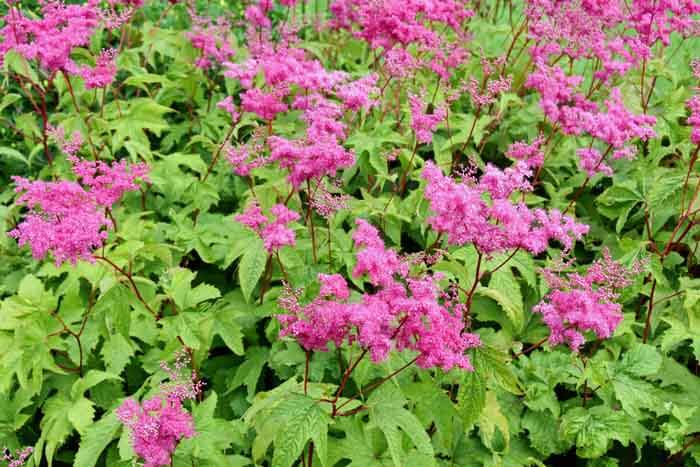 Japanese Meadowsweet (Filipendula purpurea, 1.5 to 2 feet): Meadowsweet of almost any kind grows well in rain gardens, but this species is particularly pretty. It has attractive cut-leaf foliage and frothy clusters of delicate rose-pink flowers in summer.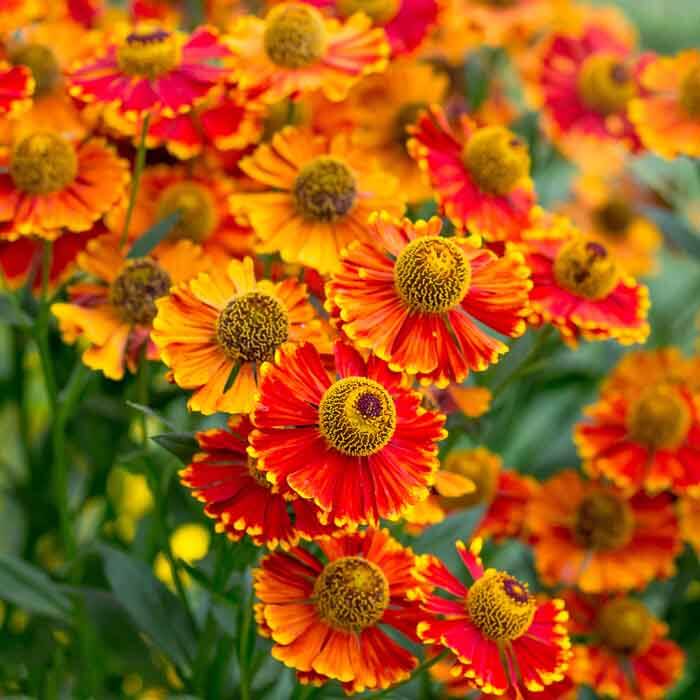 Sneezeweed (Helenium autumnale, 2-4 feet): Small, gold, orange, or red daisies decorate sneezeweed in mid to late summer. (Don't worry about its common name, it won't make you sneeze.) They are long-blooming and pair well with other brightly colored bloomers for moist ground. Try the 2-3 foot variety 'Mardi Gras', which has multicolored blooms of yellow and orange-red that bloom for up to eight weeks.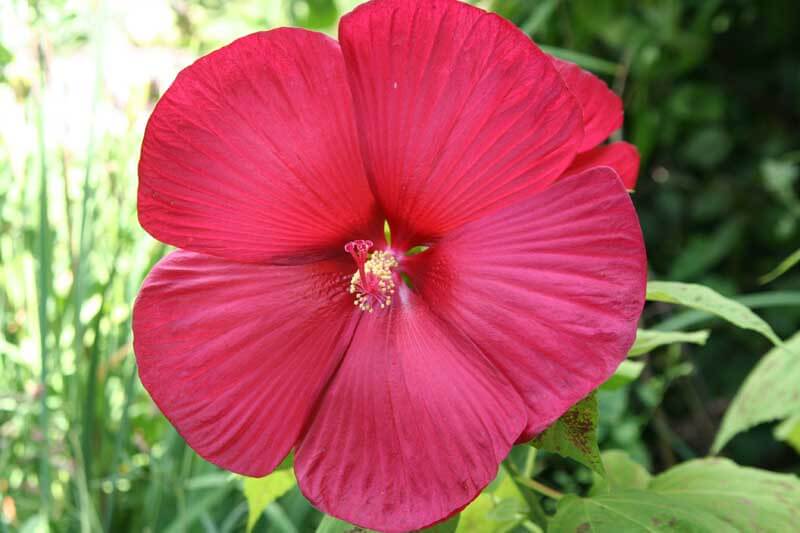 Rosemallow (Hibiscus moscheutos, 2-6 feet): Once this hardy perennial starts blooming with its colorful, platter-shaped summer flowers, it doesn't stop until fall. There are lots and lots of great varieties, such as the deep-red 'Luna Red' and the 3-foot Summerific® Perfect Storm, which has purple foliage and flowers of white decorated with pink and deep rose.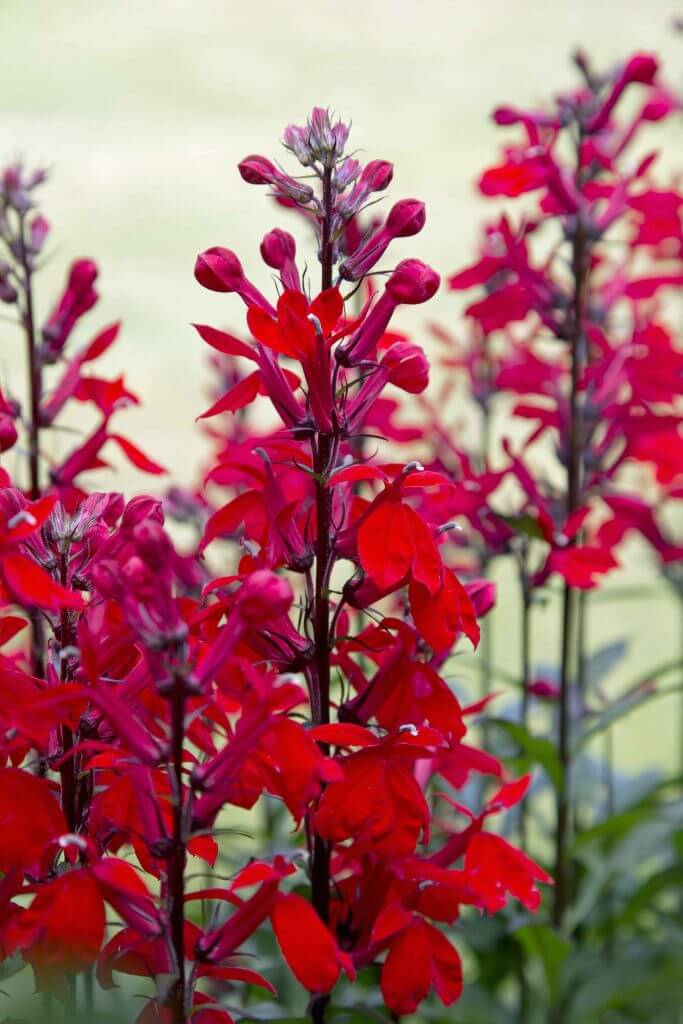 Cardinal Flower (Lobelia cardinalis, 3-6 feet): If you want an impactful vertical flower for your rain garden, plant cardinal flower. In summer it has spires of cardinal red flowers that attract hummingbirds. It will grow well in full or partial sunlight.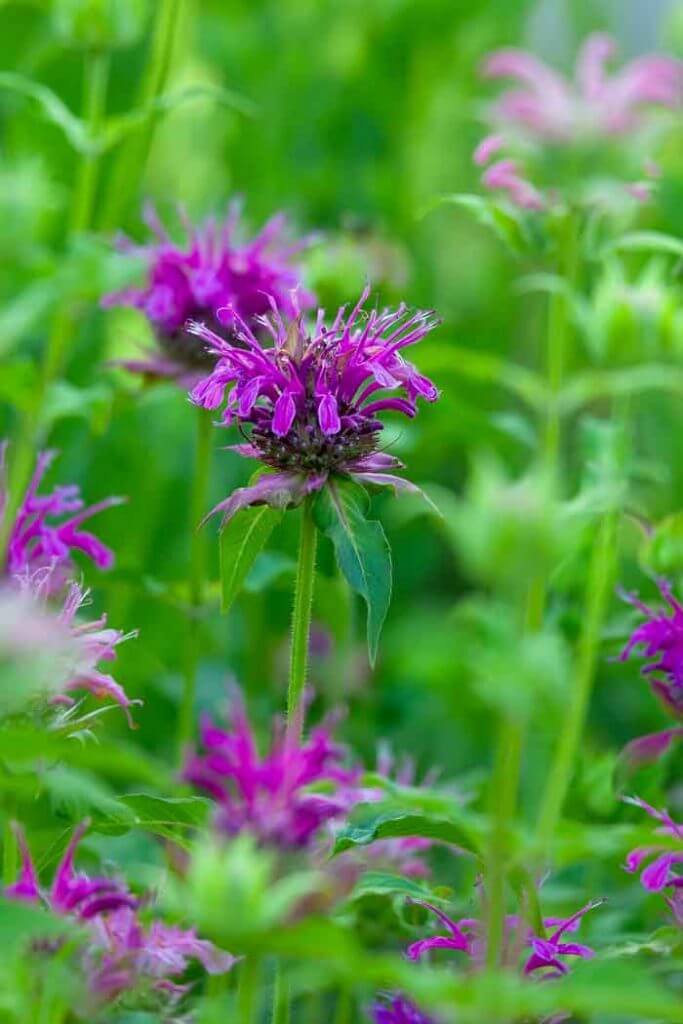 Beebalm (Monarda fistulosa, 1-3 feet): Fragrant, lavender flowers that attract bees are produced by beebalm through summer. It tends to spread, forming substantial clumps, but it is a great plant for rain gardens. Try the variety Monarda fistulosa 'Claire Grace', which is upright, mildew resistant, and blooms for a long time producing lots of purple-pink flowers.
Fall Bloomers
First Light Swamp Sunflower (Helianthus salicifolius 'First Light', 3-4 feet): Wild swamp sunflower reaches a massive 8-10 feet high, but this variety remains far more compact and becomes covered with small, golden sunflower blooms from late summer to early fall. Bees love it!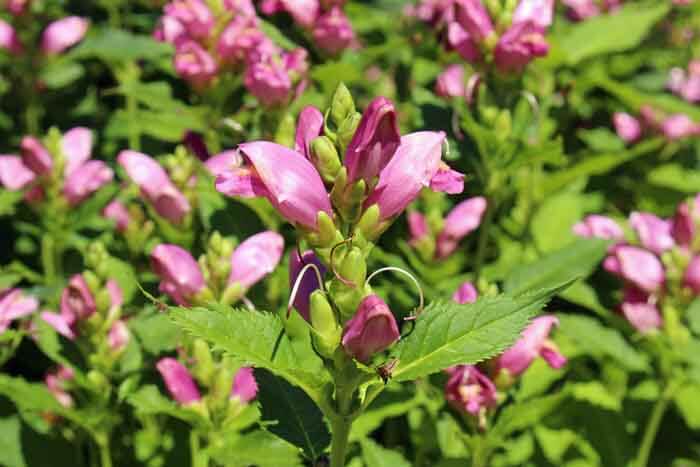 Hot Lips Pink Turtlehead (Chelone lyonii 'Hot Lips', 2-3 feet): Late in the season, this perennial relative of the snapdragon has deep pink flowers that attract bees. It forms tidy clumps that slowly spread and thrives in moist or average garden soils with good fertility.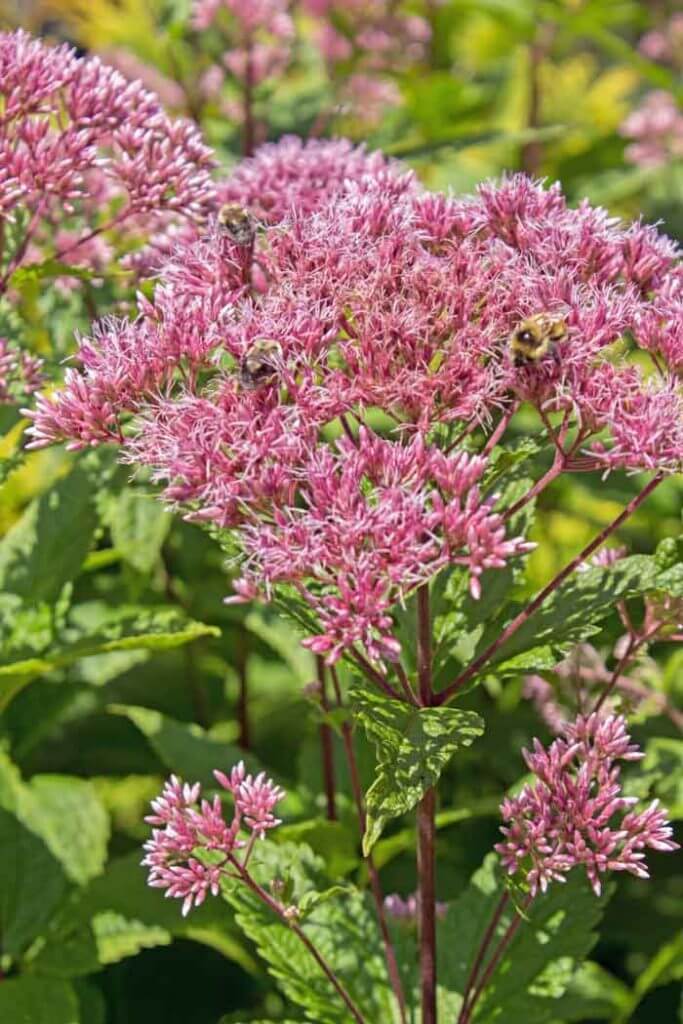 Coastal Plain Joe-Pye Weed (Eutrochium dubium 'Baby Joe', 2-3 feet): Joe-Pye weed is one of the best late perennials for moist ground. Wild forms of this coastal plain species can reach up to 5-feet tall, but the variety 'Baby Joe' stays smaller. Its airy puffs of deep lavender-pink flowers attract bees and butterflies.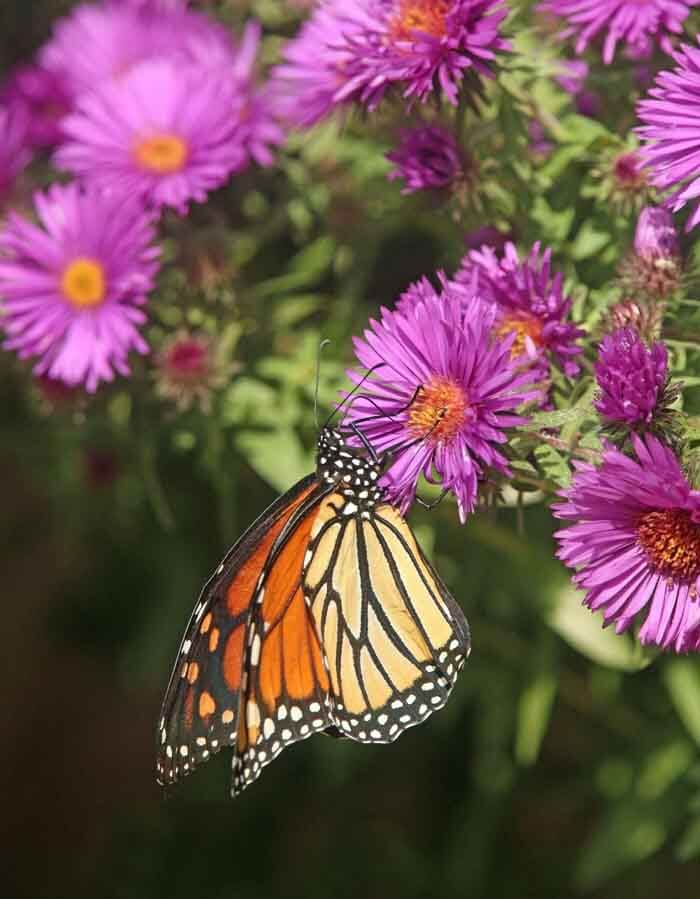 New England Aster (Symphyotrichum novae–angliae, 2-5 feet): Purple to reddish-pink flowers cover this aster into late fall, and they are essential for late-season pollinators. There are many cultivated varieties from which to choose. The classic 'Alma Pötschke' reaches 3-4 feet and has very deep pink flowers, and the classic 'Purple Dome' has purple flowers and only reaches 1.5 to 2 feet.
Rain Garden Preparation
When preparing your rain garden, begin to work on it when the ground is drier and can be easily worked. Amending it with topsoil and compost will increase fertility and encourage good growth. Plant a series of flowers that bloom in spring, summer, and fall to provide beautiful flowers throughout the season. Be sure to plant taller plants towards the center of the bed. Then, once late fall arrives, cut back the browning stems, though you may want to consider leaving up the sunflowers, asters, and Joe-Pye weed, which all provide winter birds with seed.
The great thing about rain garden plants is that they should require little to no water. Keep them weeded and cared for and they will remain an asset in the landscape for years to come.