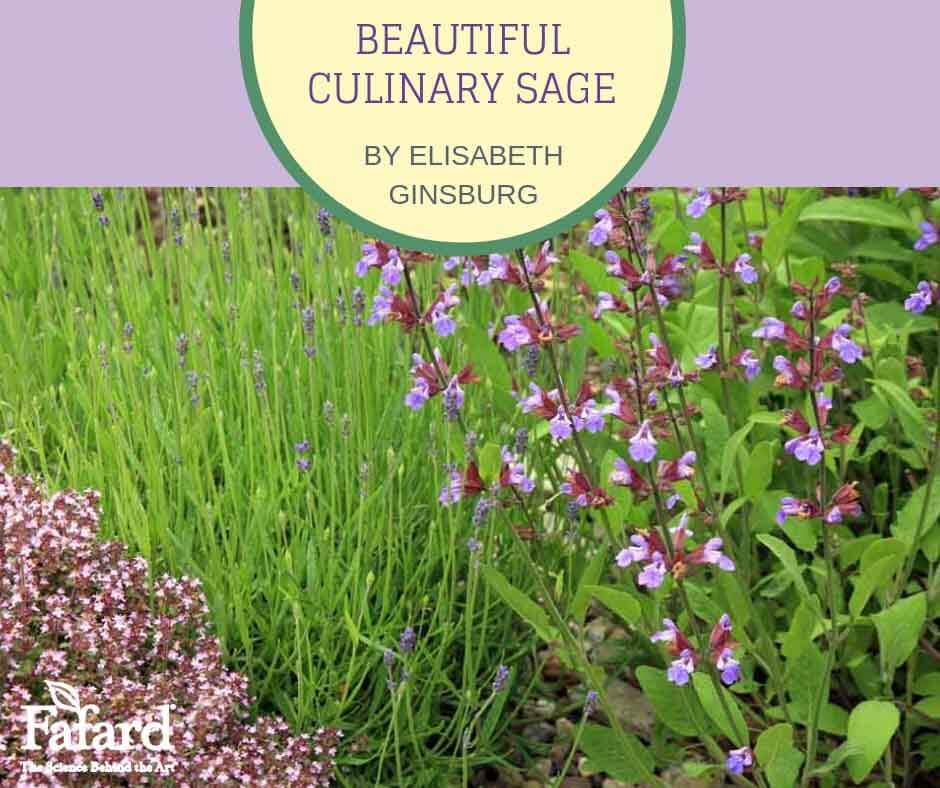 For better or worse, we live in the age of multitasking, when the ability to do at least two things at once has become a common goal. As we multitask through our days, we gardeners can't help but ask our plants to do the same. Fortunately, the enormous salvia clan has been multitasking for millennia. Ornamental forms of culinary sage, mostly Salvia officinalis, are champion multitaskers, contributing flavor to our food and beauty to our landscapes. Gardening and life don't get much better than that.
Culinary sage is a pungent herb. For many families, it does a star turn at Thanksgiving in turkey dressing. It also has affinities to pork, poultry, eggs, sausage, and savory ravioli. When food is rich, a little sage can save the day by cutting tastefully through heavy flavors.
Sage also remains beautiful in the garden from fall and through winter. Its evergreen leaves may droop on the coldest winter days, but they maintain substance and can still be harvested.
Growing Sage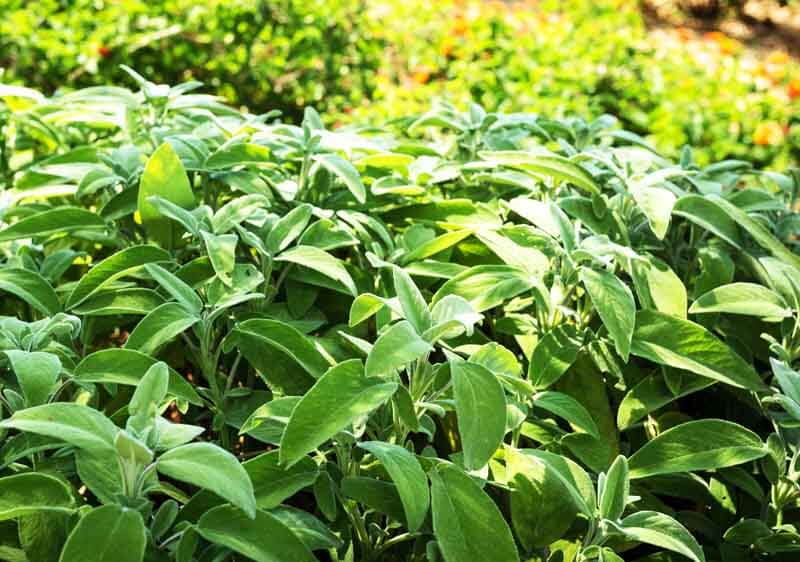 The plants are shrubby perennials that generally grow 12- to 18-inches tall and wide but can be kept shorter by timely light pruning in late spring or after flowering. Standard varieties have elongated oval leaves that are velvety and a little wrinkled on the surface. Lavender-blue or purple flowers appear in May or June. These are also edible.
In the garden, sage favors sunny, well-drained spaces, and benefits from quality soil amendments like Fafard Premium Natural and Organic Compost and Garden Manure Blend. Once established, sages require little care and offer a steady supply of evergreen leaves for fresh or dry use. (Dry by hanging tied stems in a cool, dry place until crisp.) Hardiness depends on the variety but sage can generally withstand quite cold winters. It is wise to check plant tags at purchase time for hardiness specifics.
Culinary Sage Varieties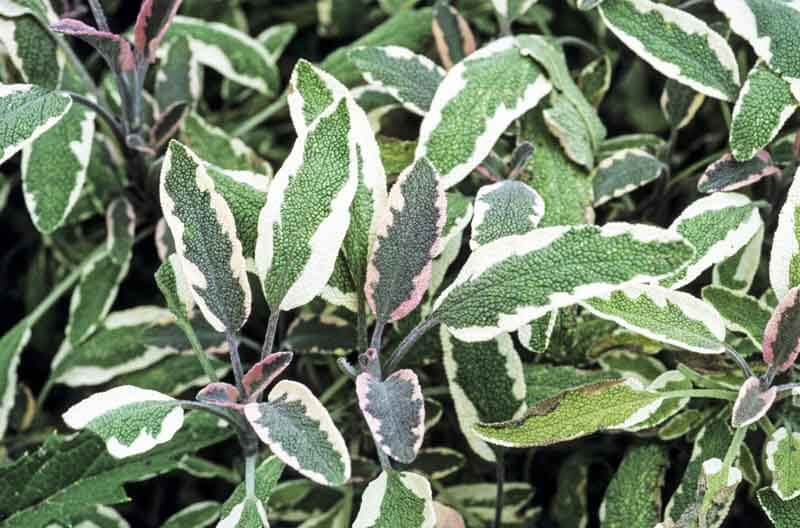 One of the most beautiful varieties is 'Tricolor' (USDA Hardiness Zones 6-9). The plants feature elongated gray-green leaves edged and marked with cream. New growth is both purple and ivory edged. Equally suitable for pots, herb gardens, or front- to mid-border positions, 'Tricolor' is also a useful, aromatic filler for bouquets.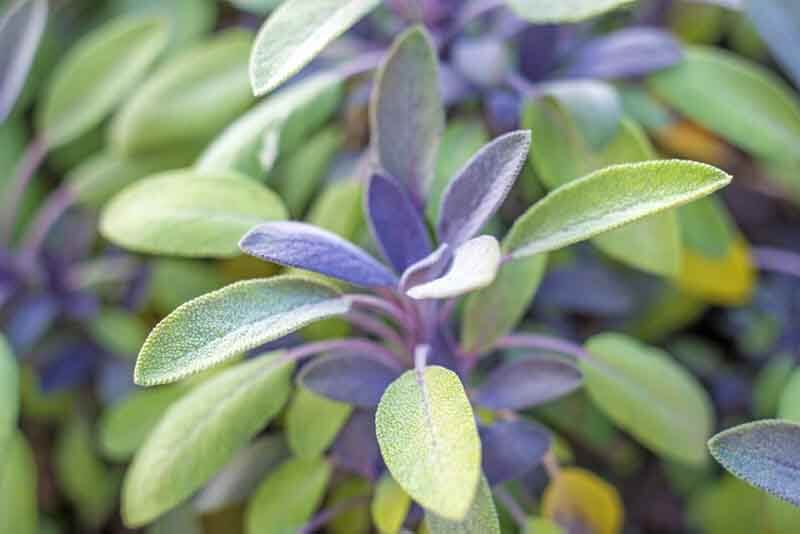 Another eye-catching variety is 'Purpurescens' or purple sage (Zones 6-9). The young leaves are purple, while older ones age to gray-green. Its flavor is as intense as any culinary sage, and the colors bring real life to beds and borders.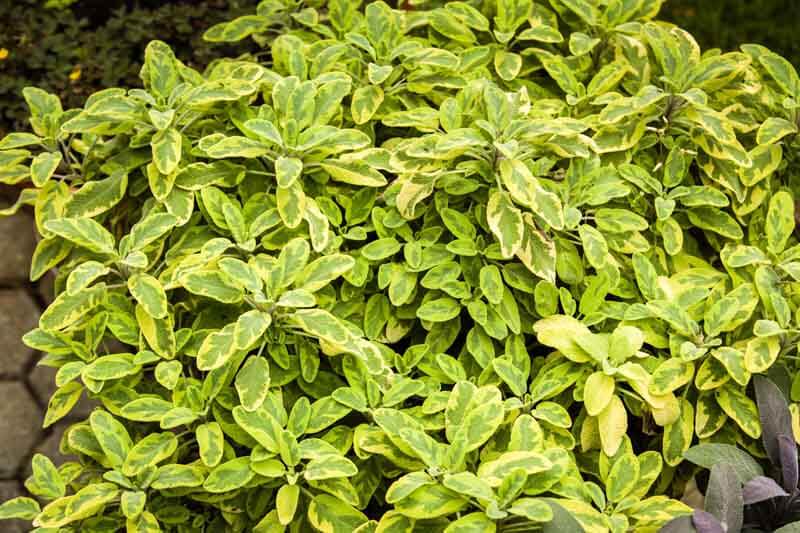 For something a little more luxurious, try 'Aurea'. Featuring brighter green leaves, it attracts attention with its golden edging. 'Icterina' is similar to 'Aurea', but the foliage is more subdued and edged in pale green. Like 'Ictarina', the less common 'Woodcote' also boasts pale-green leaf edges, contrasting with darker green centers.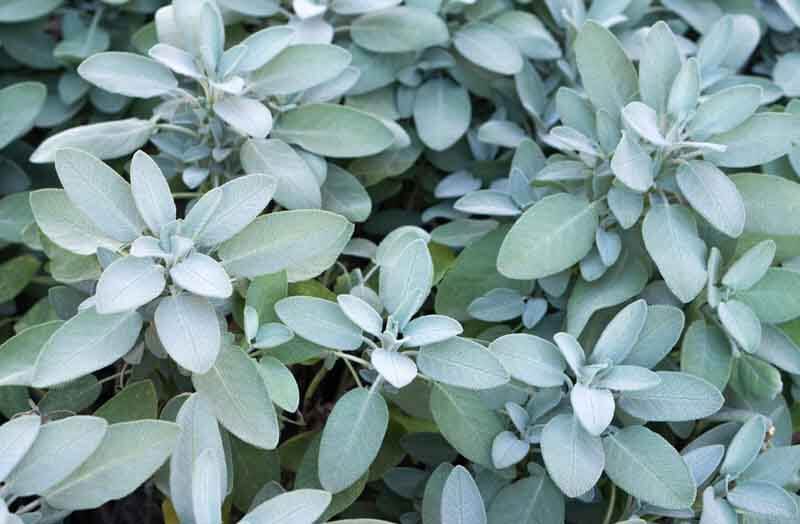 'Berggarten' features more silvery leaves that are fatter. Its habit is also neater and mounded, making it especially useful for flower gardens and container culture. For dramatic edging in a large bed, alternate 'Berggarten' with its bi-colored sport, 'Variegated Berggarten', which features leaves with creamy-yellow leaf edges.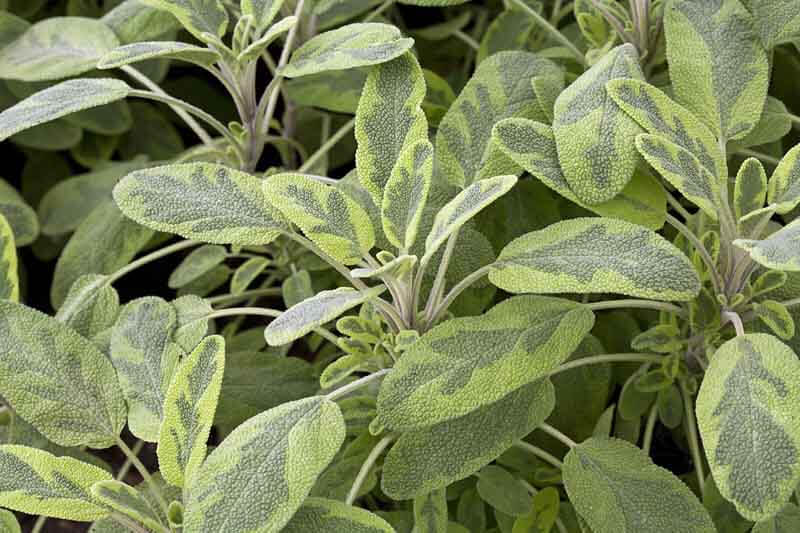 In addition to pretty leaves, culinary salvia produces spikes of lavender-blue or purple blooms that attract bees while discouraging deer and other marauding creatures. For flower contrast and culinary prowess, choose pink-flowered 'Rosea'. The leaves are solid green and aromatic, growing on plants that may be a little larger (36 inches tall and wide) than some other salvias.
Decorative culinary sages can also work well in smaller spaces. The petite 'Compacta' tops out at about eight inches. Its flowers are vivid purple and aromatic leaves contribute the same flavor punch.
Pineapple Sage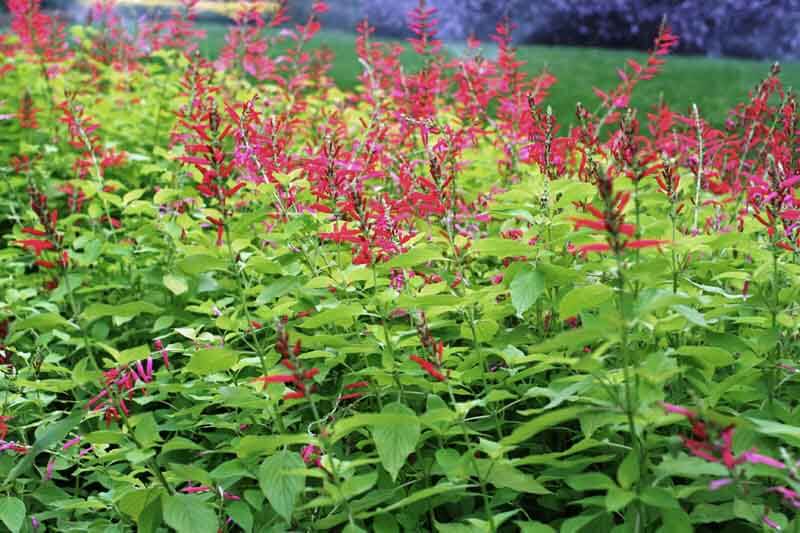 Other species are also edible and ornamental. Bushy pineapple sage (Salvia elegans, Zones 8-10) reaches a great height of 3-4 feet. The tender perennial grows quickly and should be treated as an annual in cold-winter climates. It features intensely aromatic leaves that exude the fruity scent of fresh pineapple. Minced in fruit salad or muddled in hot or cold drinks, the leaves are a great addition to the home cook's herbal arsenal. It is a fall bloomer that sports vivid scarlet blooms that lure migrating hummingbirds.
The 'Golden Delicious' variety adds an extra dimension to the landscape with the brightest golden-green, aromatic leaves. This one also reaches great heights, so it needs ample space, but don't let this deter you from growing it. Judicious pruning can reduce its overall dimensions and stimulate branching and more flowers.
You can use culinary sages to adorn herb gardens, but don't stop there. Beds, borders, containers (mixed or single variety) and window boxes all become more interesting when decorative culinary sage is added to the mix.